Trump Opposes Selling TikTok to U.S. Company, as Microsoft Considers Buying
President Donald Trump told reporters on Friday that he would ban social media platform TikTok in the U.S. possibly as soon as Saturday.
TikTok, which has over 800,000 users, has been singled out as a potential security risk for U.S. users. Some observers have voiced a concern that data sent through the app could be accessed by the Chinese government. India has already banned the application, citing national security threats.
Computer giant Microsoft has shown interest in purchasing TikTok. President Trump said he was not in favor of that business decision and would prevent the app from being used in the U.S. completely.
"As far as TikTok is concerned we're banning them from the United States," Trump said, indicating he had the authority to invoke emergency economic powers to ban the platform.
"Well, I have that authority," Trump said. "I can do it with an executive order or that."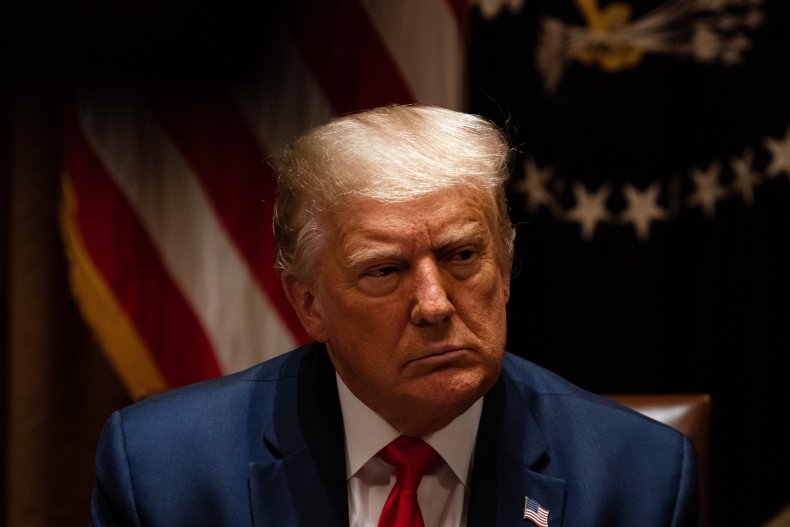 Secretary of State Mike Pompeo alluded to the potential TikTok ban during a July interview with Fox News, when he said that the app should only be used "if you want your private information in the hands of the Chinese Communist Party." Pompeo said blocking apps owned by Chinese companies was "something we're looking at."
In a statement sent to Newsweek on Saturday, a TikTok spokesperson said data from TikTok users in the U.S. "is stored in the U.S., with strict controls on employee access. TikTok's biggest investors come from the U.S.. We are committed to protecting our users' privacy and safety as we continue working to bring joy to families and meaningful careers to those who create on our platform."
Microsoft, which currently does not own a social media platform, has reportedly investigated purchasing TikTok. How much such a potential deal could be worth is currently unknown. ByteDance, TikTok's parent company, is worth more than $100 billion.
Branches of the U.S. military have already banned the usage of TikTok on phones issued by the government. In July, both the Republican National Committee and the Democratic National Committee advised staffers not to use the app. "If you are using TikTok for campaign work," read a July email from the Democratic National Committee, "we recommend using a separate phone and account."
Worry about TikTok as a tool to relay user information to the Chinese government has been expressed by other countries. India blocked 59 Chinese-owned apps including TikTok in June, saying the Indian government had "received many representations from citizens regarding security of data and breach of privacy impacting upon public order issues" concerning the usage of the apps.
Indonesia and Bangladesh have also banned TikTok.
TikTok CEO Kevin Mayer addressed the controversy surrounding the app in a Wednesday blog post. "The entire industry has received scrutiny, and rightly so," Mayer wrote. "Yet, we have received even more scrutiny due to the company's Chinese origins."
"We accept this and embrace the challenge of giving peace of mind through greater transparency and accountability," Mayer continued. "We believe it is essential to show users, advertisers, creators, and regulators that we are responsible and committed members of the American community that follows U.S. laws."
Updated 8:40 a.m. EST 8/1/2020: This story has been updated with a statement from TikTok.