Trump Orders Flags to Be Flown at Half-Mast in Honor of Coronavirus Victims
President Donald Trump has ordered all national flags to be flown at half-staff for the next three days in memory of Americans who have died during the ongoing coronavirus epidemic.
"I will be lowering the flags on all Federal Buildings and National Monuments to half-staff over the next three days in memory of the Americans we have lost to the CoronaVirus.... On Monday, the flags will be at half-staff in honor of the men and women in our Military who have made the Ultimate Sacrifice for our Nation," Trump wrote in two tweets published Thursday evening.
Flags are typically lowered to half-staff during a time of national mourning, usually to honor the deaths of national officials and first responders.
As of May 21, the U.S. has had over 1.6 million confirmed coronavirus cases and 94,965 related deaths.
On Thursday, Democratic House Speaker Nancy Pelosi and Democratic Senate Minority Leader Chuck Schumer sent a letter to Trump asking for flags be flown at half-staff when the nation's coronavirus death toll reaches 100,000.
"It would serve as a national expression of grief so needed by everyone in our country," Pelosi and Schumer wrote.
There's no known record of the U.S. flag ever being lowered to half-staff to honor people who died in a pandemic.
Trump last ordered flags to fly at half staff last summer in mourning of mass shootings victims in Dayton, Ohio and El Paso, Texas, records showed.
While Trump has publicly mentioned the death toll in previous press briefings, on April 28 he said he hadn't yet called to console any American families who lost loved ones to the coronavirus epidemic.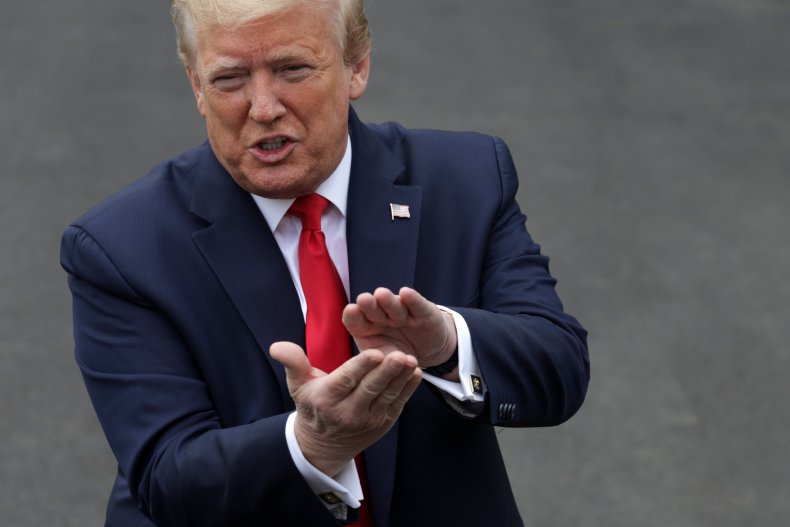 The U.S. flag is often flown at half-mast on Memorial Day, a federal holiday day meant to honor the military members killed in the defense of the country.
The president and First Lady Melania Trump are expected to spend the federal holiday at Fort McHenry National Monument and Historic Shrine in Baltimore, Maryland. There, they will participate in a ceremony to honor the nation's fallen soldiers.
Trump's visit will mark one of his first public events outside of Washington D.C. amid the ongoing coronavirus epidemic. His visit will also occur a little over a week after Maryland begins gradually reopening from its stay-at-home restrictions meant to stop the spread of COVID-19.
In April, Vice President Mike Pence predicted that the worst of the coronavirus pandemic would largely be over by Memorial Day. However, in response to his comment, White House coronavirus response coordinator Dr. Deborah Birx said social distancing will likely have to continue through the entire summer to help prevent new outbreaks of COVID-19.
Newsweek reached out to the White House for further information. This story will be updated with any response.