Trump Organization To Pay Out $750,000 Over 'Misspent' Inauguration Funds
The Trump Organization is to pay $750,000 in a civil lawsuit brought by the Washington D.C. Attorney General over allegations it misused funds raised for former President Donald Trump's 2017 inauguration.
The agreement between Trump's family business and Attorney General Karl Racine was announced in court filings on Tuesday, but is not an admission of guilt by the former president or the Trump Organization.
The lawsuit alleged that a number of businesses illegally used nonprofit funds donated for the inauguration to instead benefit Trump and his family.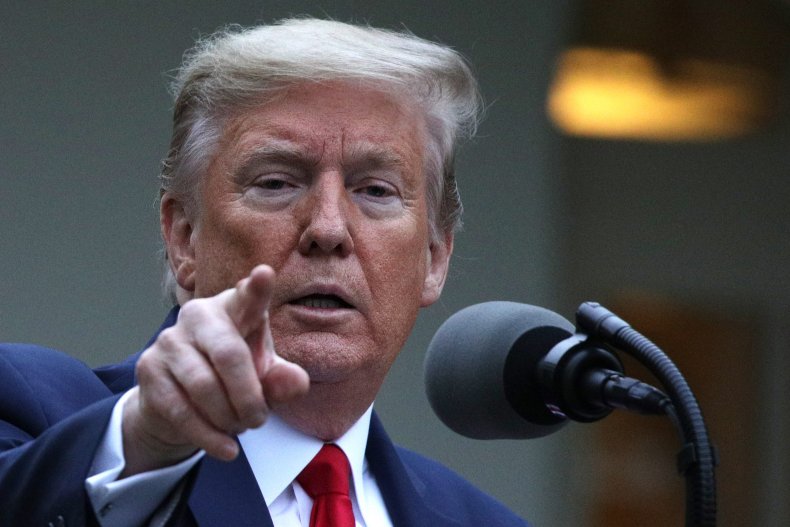 It also alleged that the Trump International Hotel in Washington D.C., just a short distance from the White House, illegally received excessive payments from the inauguration committee.
Trump's organization was also accused of improperly using nonprofit funds to throw a private party on January 20, 2017 for three of Trump's adult children—Donald Jr., Eric and Ivanka—which cost $300,000, according to The Washington Post.
In a statement following the ruling, Racine said the District of Columbia has "clawed back" $750,000 from the Trump Organization which is to ultimately be given to local nonprofits educating youth about democracy and civics.
"We're resolving our lawsuit and sending the message that if you violate D.C. nonprofit law—no matter how powerful you are—you'll pay," Racine said.
"We filed this lawsuit against the Trump Hotel, Trump, Inaugural Committee, and Trump Organization to recover misspent nonprofit funds and ill-gotten gains. With today's successful resolution, we're returning the money to D.C. through D.C. Action and Mikva Challenge D.C."
In a statement to Newsweek, Trump said: "Given the impending sale of The Trump International Hotel, Washington D.C., and with absolutely no admission of liability or guilt, we have reached a settlement to end all litigation with Democrat Attorney General Racine.
"This was yet another example of weaponizing Law Enforcement against the Republican Party and, in particular, the former President of the United States. So bad for our Country!"
"It was my great honor to have built this truly great hotel out of a structure that had laid dormant for thirty years, creating jobs and so many other benefits for the people of D.C., and indeed, our Country itself. A true landmark has been created out of nothing!"
Trump's flagship hotel in Washington, D.C. was reportedly sold off for $375 million in November 2021 and will soon be converted to a Waldorf Astoria.
The move follows reports that the Trump International Hotel had been losing vast amounts of money in recent years, including $70 million while Trump was in office.
Lee Blalack, Counsel for the Presidential Inaugural Committee (PIC) said: "As the settlement states, the PIC continues to dispute all of the Attorney General's claims and remains confident that had this case gone to trial, the PIC would have prevailed based on the evidence.
"While the Attorney General sought no monetary damages from the PIC, the PIC and its insurer determined that settlement was prudent simply to avoid the significant costs of litigating these baseless allegations through trial," Blalack said.
"Indeed, it would have required the PIC's insurer to spend double the amount of this insurance settlement just to try this case to verdict, and thus this modest settlement payment only makes common sense.
"Now more than five years after completing its 2017 inaugural responsibilities, the PIC, which today exists exclusively to respond to this litigation, can finally wind down its affairs."
A PIC official said the committee's insurance company paid its portion of the settlement, which was $350,000.
Update 5/3/22, 11:20 a.m. EDT: This article has been updated to include more details throughout and comment from Lee Blalack.