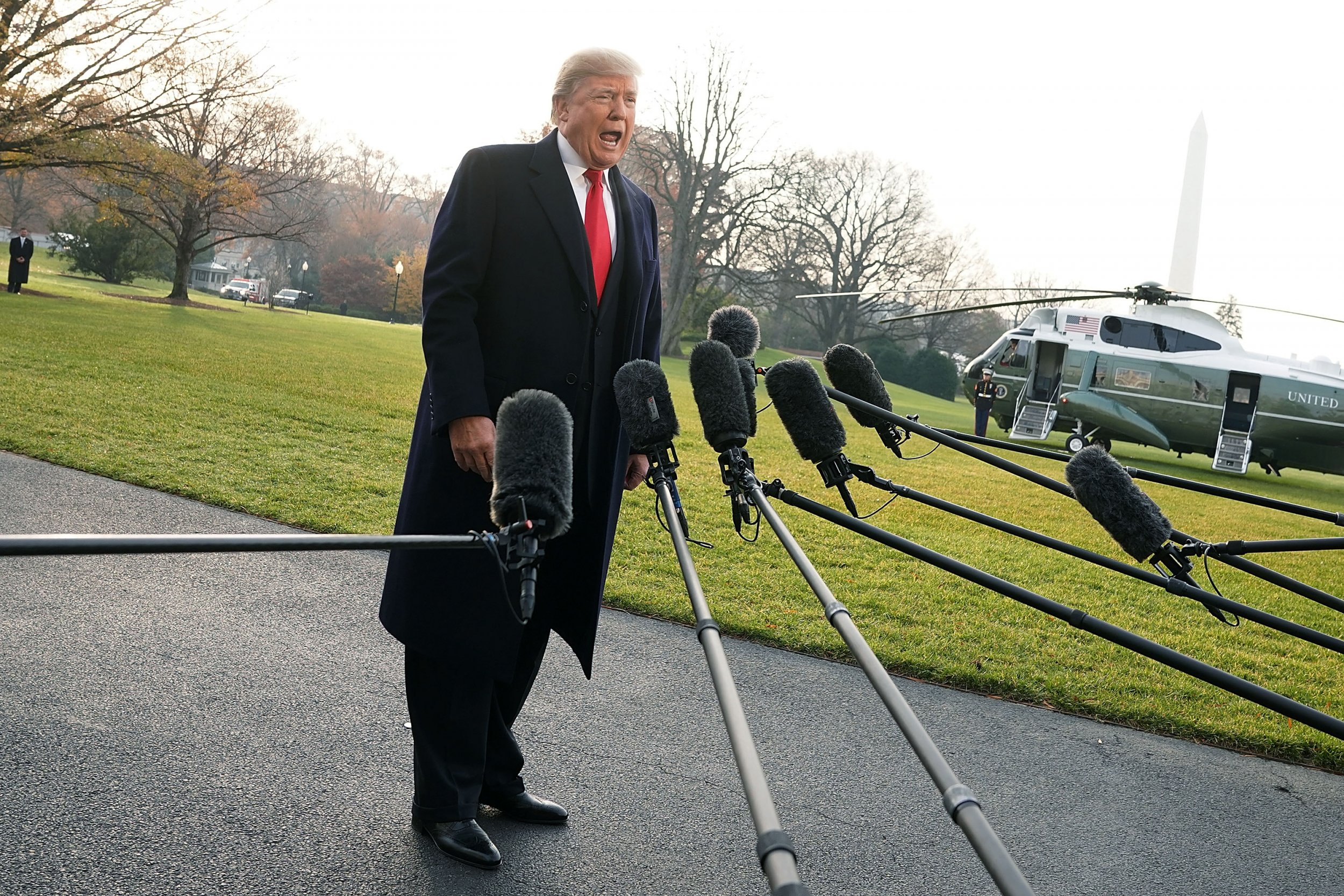 President Donald Trump should pardon anyone caught in Robert Mueller's probe—including himself. That's the opinion of conservative activists and Trump supporters, following the special counsel's latest indictments regarding Russian election meddling.
The pardon cries were specifically for former Trump campaign manager Paul Manafort, former deputy campaign manager Rick Gates, former campaign foreign policy adviser George Papadopoulos and former national security adviser Michael Flynn, Politico reported Monday.
All four face charges from Mueller, with Flynn and Papadopoulos both pleading guilty and cooperating with the investigation.
"I think he should be pardoning anybody who's been indicted and make it clear that anybody else who gets indicted would be pardoned immediately," senior vice president at the conservative Center for Security Policy Frederick Fleitz told Politico.
Another top conservative also stated Trump should pardon himself.
"It's kind of cruel what's going on right now and the president should put these defendants out of their misery," conservative legal activist Larry Klayman also told Politico. "I think he should pardon everybody — and pardon himself."
While Manafort awaits trial, Gates was reportedly expected to change his plea of not guilty and testify against Manafort, according to the Los Angeles Times. The pair were business partners and faced charges of laundering millions of dollars offshore and other charges. Gates also stayed on with the Trump campaign after Manafort was fired in August 2016.
Flynn's indictment, which asserted he lied to the FBI about contact with foreign nationals, was announced in December. Trump was later asked about potentially pardoning the former general. The president told reporters: "I don't want to talk about pardons for Michael Flynn yet. We'll see what happens. Let's see."
Trump's ability to pardon himself had reportedly come up for discussion among his personal lawyers. The president asked about his ability to pardon himself, aides and even family members, the Washington Post reported in July, while his legal team though up ways to "undercut" Mueller's investigation.
Mueller's indictment of 13 Russian nationals and three Russian entities for their alleged roles in meddling in the 2016 presidential election was made public Friday, and it also detailed the Russia's strategies to prop up Trump, U.S. Senator Bernie Sanders (I-Vermont) and former Green Party candidate Jill Stein over Democrat Hillary Clinton.
Following the latest indictment, Trump took to Twitter to again assert his campaign did not collude with Russia.
"Russia started their anti-US campaign in 2014, long before I announced that I would run for President. The results of the election were not impacted. The Trump campaign did nothing wrong - no collusion!" Trump tweeted Friday.
Trump fired off several more tweets over the weekend, accusing the "Fake News Media" of poor coverage over the indictment. He also said the FBI had spent too much time on the Russia investigation when it could have been stopping the alleged Florida high school shooter from killing 17 people last week. There is no evidence to suggest Trump's claim is correct.
"Very sad that the FBI missed all of the many signals sent out by the Florida school shooter. This is not acceptable. They are spending too much time trying to prove Russian collusion with the Trump campaign - there is no collusion. Get back to the basics and make us all proud!" Trump tweeted Saturday,