Trump Is a 'Pathetic Little Man-child,' Says Former Trudeau Policy Adviser
The Canadian Prime Minister's former policy adviser called Donald Trump a "pathetic little man-child" on over the weekend in response to the president's attacks on Justin Trudeau following the G7 summit.
In a series of tweets on Saturday, Trump slammed Trudeau for acting "very dishonest & weak" at the Quebec meeting and announced that the U.S. will not sign the G7 traditional joint communique.
"PM Justin Trudeau of Canada acted so meek and mild during our @G7 meetings only to give a news conference after I left saying that, "US Tariffs were kind of insulting" and he "will not be pushed around." Very dishonest & weak. Our Tariffs are in response to his of 270% on dairy!" the president wrote on Twitter.
He added: "Based on Justin's false statements at his news conference, and the fact that Canada is charging massive Tariffs to our U.S. farmers, workers and companies, I have instructed our U.S. Reps not to endorse the Communique as we look at Tariffs on automobiles flooding the U.S. Market!"
Soon after, Roland Paris, an former foreign policy adviser to Trudeau, responded to Trump's tweets, criticizing the president for only being capable of firing insults from the comfort of his personal plane rather than in person at the meeting.
"Big tough guy once he's back on his airplane. Can't do it in person, and knows it, which makes him feel [weak]. So he projects these feelings onto Trudeau and then lashes out at him. You don't need to be Freud. He's a pathetic little man-child," Paris wrote.
Trump and Trudeau tensions appears to have been sparked by America and Canada's recent clashes over trade tariffs. Prior to the president's comments, Trudeau said that all the G7 members were set to sign the communique. Trudeau's team defended his actions on Saturday by claiming that he had been completely consistent with Trump during the summit.
"The Prime Minister said nothing he hasn't said before—both in public, and in private conversations with the President," the Prime Minister's Office said in a statement.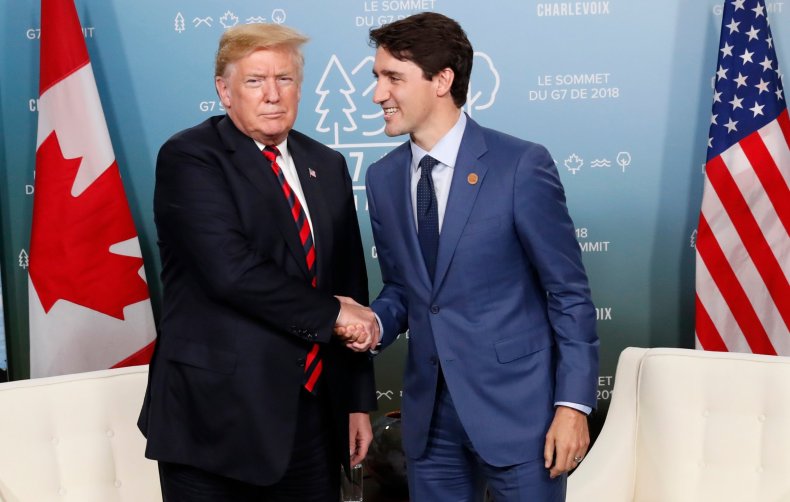 Canadian Foreign Minister Chrystia Freeland hit back at Trump during a press conference on Sunday where she said that the president's attacks on Trudeau were not "appropriate or useful." "Canada does not believe that ad hominem attacks are a particularly appropriate or useful way to conduct our relations with other countries," Freeland said.