Trump, Pence Say Soleimani Strike Launched After 'One American Life Was Lost' Weeks Ago During Toledo Rally
Vice President Mike Pence on Thursday evening told the crowd at President Donald Trump's rally in Toledo, Ohio that the president launched the airstrike that killed top Iranian military commander Qassem Soleimani after "one American life was lost at the hands of Iranian-backed militia" weeks ago.
"When one American life was lost at the hands of Iranian-backed militias just a few short weeks ago, President Trump launched the first airstrikes against Iranian-backed militias in ten years," Pence said to resounding applause.
He added: "And when militants stormed our embassy in Baghdad, President Trump sent in the Marines, secured our embassy and this president said 'no more Benghazis.'"
Later in the rally, Trump echoed Pence's sentiments. "When [Soleimani] directed the recent rocket strikes that wounded four American service members, badly wounded, and killed an American citizen, that was just before we happened to hit him."
"Solemani was actively planning new attacks and he was looking very seriously at our embassies, and not just the embassies in Baghdad. And we stopped him. We stopped him quickly and we stopped him cold," the president added.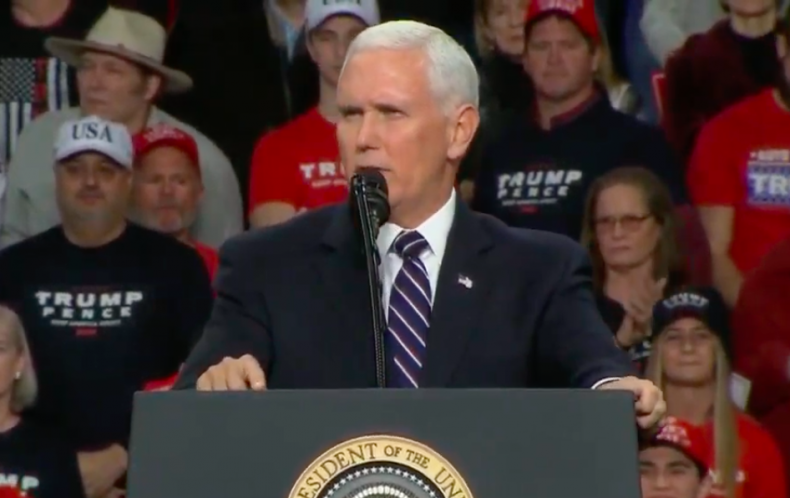 Thursday's rally, Trump's first since the death of Soleimani, came hours after the Democrat-led House passed the non-binding War Powers Resolution which seeks to limit Trump's powers with Iran. Trump has characterized the resolution as "PRESIDENTIAL HARASSMENT!" and "Democrat fraud," on his Twitter account.
The president suggested to his supporters in Toledo that he didn't brief congressional leaders about the strike on Soleimani until after the fact because Democrats—including House Speaker Nancy Pelosi and "little pencil-neck" Adam Schiff—would have leaked the details of the attack to the press.
"They're saying, 'You should get permission from Congress, you should come in and tell us what you want to do—you should come in and tell us, so that we can call up the fake news that's back there, and we can leak it,'" Trump said. "Lot of corruption back there."
"The radical left Democrats have expressed outrage over the termination of this horrible terrorist," he added. "Instead, they should be outraged by Soleimani's savage crimes and the fact that his countless victims were denied justice for so long."
During his nearly two-hour-long address, Trump also touted America's low unemployment rates and strong economy under his administration. "Unemployment has reached the lowest level in over 51 years," he said. "African American, Hispanic American and Asian American unemployment have all reached the lowest rates ever, ever, ever recorded. Wages are rising fast, and the biggest percentage increase—makes me happy—are for blue-collar workers."