Trump Negotiates 'Like a Pinball Machine,' Top Republican Says
President Donald Trump's way of conducting government business was described by a high-ranking Republican as similar to that of a "pinball machine," albeit a somewhat effective one, on almost any issue that has come across his desk in his first year in office.
Related: Unseen Christopher Steele Memo Claimed Russia Stopped Trump From Appointing Romney as Secretary of State: Report
Representative Peter T. King of New York suggested that Trump could appear to be all over the place when issues were discussed among lawmakers but that the president eventually managed to move things along.
"It's totally not on a straight line," King told The Washington Post. "It's zigzagging, something like a pinball machine. But he does move [the ball] down."
King's sentiment was shared by several other lawmakers, and Trump's ability to speak off the cuff and wildly throw ideas around on matters has long been established—even issues on which he'd previously drawn a hard line.
Trump's fight with Democrats and Congress in general over the Deferred Action for Childhood Arrivals (DACA) policy and immigration reform two months ago was one pertinent example of the president's negotiating style.
"I think my positions are going to be what the people in this room come up with," Trump said following a meeting with lawmakers in January. "If they come to me with things I'm not in love with, I'm going to do it. Because I respect them."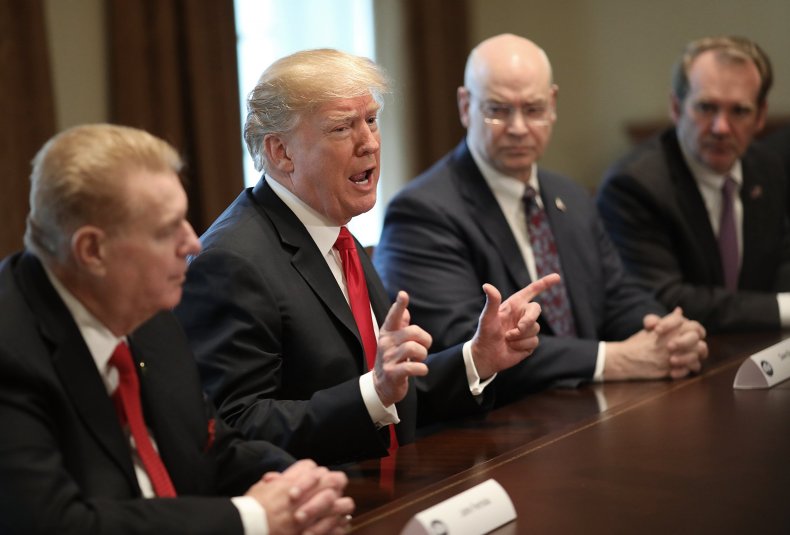 Trump campaigned on tougher immigration laws and a massive border wall between the United States and Mexico, and described some immigrants as "rapists" and "drug dealers," but appeared ready to sign legislation that would likely allow those under DACA to stay in the country.
More recently, Trump appeared to pivot on the fly on the issue of gun control following the deadly mass shooting at a Florida high school last month. The president ran as a staunch Second Amendment defender and received heavy backing from the National Rifle Association.
Yet last week he suggested raising the legal minimum age to purchase a gun despite the NRA's previous resistance.
"The NRA is opposed to it, and I'm a fan of the NRA. No bigger fan. I'm a big fan of the NRA," Trump said. "These are great people. Great patriots. They love our country, but that doesn't mean we have to agree on everything. It doesn't make sense that I have to wait till I'm 21 to get a handgun but I can get [an AR-15-style weapon]."
The effectiveness of the president's style remains to be seen. To date, neither immigration reform nor more stringent gun control measures have passed.