Is Pocahontas a Racial Slur? Native Americans Say They're Insulted by Trump's Remarks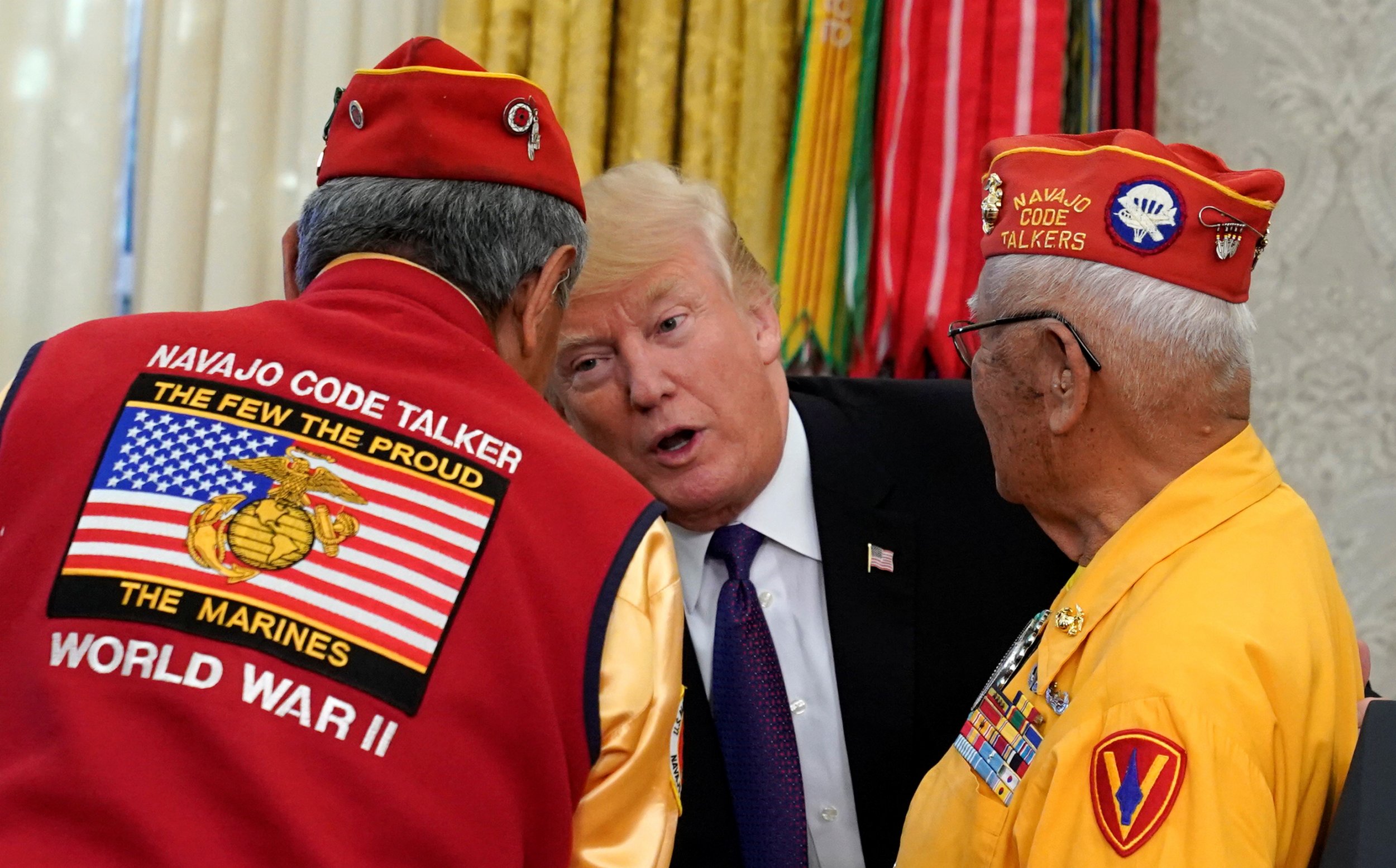 The White House is trying to argue that the nickname "Pocahontas" is "not a racial slur" against Native Americans after President Donald Trump used it Monday as an insult during a ceremony honoring the Navajo code talkers.
Native Americans do not agree.
"Pocahontas is used a racial slur in the United States all the time," Andrew Curley, a postdoctoral fellow in geography at the University of North Carolina at Chapel Hill and a citizen of the Navajo Nation, told Newsweek.
"I grew up with these kinds of remarks. It's not the name itself but the way it's used. Trump is using it to attack Senator [Elizabeth] Warren and belittle Native Americans at the same time. I take it as a personal insult."
The name refers to the nickname for the Native American teenager who associated with colonial settlers in Virginia in the early 1600s, and who inspired a popular 1995 Disney film. Curley, whose research focuses on indigenous sovereignty, believes that "Pocahontas" belongs in the same category as "Redskins," the disparaging name of Washington, D.C.'s professional football team.
He also argues that when it comes to Native Americans, Trump's actions speak louder than words. Notably, his approval of the Dakota Access Pipeline four days after taking office told Corey all he needed to know.
"If Trump really cared about Native Americans, he would've listened to the people at Standing Rock," he said, referring to the heated Native American protests against the project.
Other scholars say Pocahontas is more than just a racial slur—it's a colonial tool of domination.
"Scholars have stated that the myth of Pocahontas helps to perpetuate white Eurocentric values because she leaves her tribe and becomes a Christian, and this insinuates that Christianity is better than traditional Indigenous religion. Thus, the myth of Pocahontas becomes a method of promoting Eurocentric values and norms and is a tool of colonialism," Roxanne Dunbar-Ortiz, professor emeritus at California State University, East Bay, wrote in her 2016 book, "All the Real Indians Died Off": And 20 Other Myths About Native Americans
Dunbar-Ortiz also argues that the European imagination of Pocahontas "borders on child pornography, given that the historical Pocahontas was a child when she met John Smith."
Dunbar-Ortiz told Newsweek that Trump's continued usage of the term is "sickening."
"He took the opportunity to belittle Indians and attack a Democrat at a ceremony. People tell him he needs to stop calling [Warren] Pocahontas and he just won't stop," she said.
Trump has been using the slur since last year to discredit Senator Elizabeth Warren (D-Mass.), one of his most outspoken critics in Congress. He claims Warren lied about Native American heritage to advance her career, something the senator has denied.
Trump tossed the jab into the White House ceremony honoring the Navajo code talkers, a group of Native American World War II heroes.
"You were here long before any of us were here," Trump told the code talkers.
"Although, we have a representative in Congress who has been here a long time, longer than you. They call her Pocahontas." His remark was met with silence.
Trump also seemed to admit that he wasn't even familiar with the heroes he was honoring. He said during the ceremony that he had asked his chief of staff John Kelly, "How good were these code talkers?"
Warren swiftly fired back at Trump after he threw off the event with his insult.
"This was supposed to be an event to honor heroes, people who put it all on the line for our country, and people who because of their incredible work saved the lives of countless Americans and our allies," Warren said on MSNBC. "It is deeply unfortunate that the President of the United States cannot even make it through a ceremony honoring these heroes without having to throw out a racial slur."