Trump Praises China's 'Powerful Death Penalty' for Drug Dealers, Says He's Unsure if America's 'Ready for That'
President Donald Trump raved about China's policy of executing drug dealers during a meeting with U.S. state governors at the White House on Monday.
Trump made the remarks during a White House business event with the governors, who are in Washington D.C. for the annual National Governors Association winter meeting. In response to a question about the importation of the powerful opioid fentanyl from China, the president complimented Chinese President Xi Jingping's decision to criminalize the drug and execute offenders.
"Now they've put it into their criminal statutes. And criminal in China for drugs by the way means that's serious, they're getting a maximum penalty," said Trump. "And you know what the maximum penalty is in China for that, and it goes very quickly."
Trump then praised countries that execute drug dealers after "fair but quick" trials, although he added that he wasn't sure if the U.S. was "ready" for such a scheme.
"It's interesting. Where you have Singapore, they have very little drug problem. Where you have China, they have very little drug problem," Trump said. "States with a very powerful death penalty on drug dealers don't have a drug problem. I don't know that our country is ready for that, but if you look throughout the world, the countries with a powerful death penalty... with a fair but quick trial, they have very little, if any drug problem."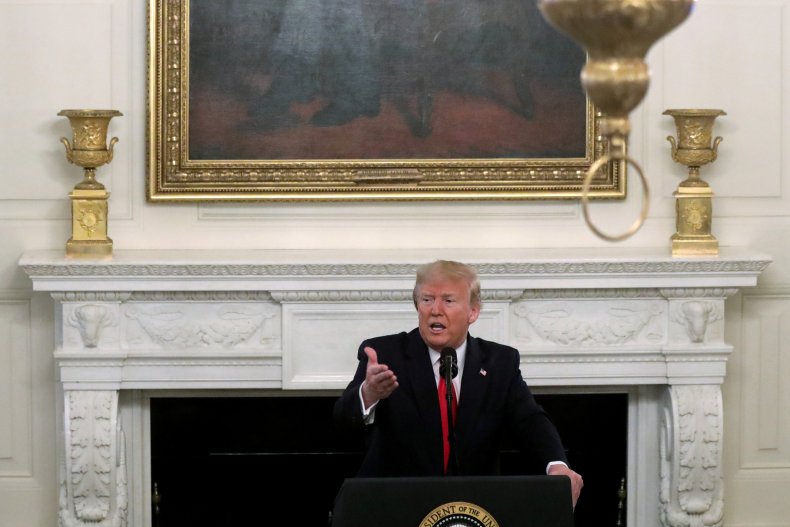 Trump has spoken highly of using the death penalty for drug offenses in the past. Before China changed laws regarding fentanyl, Trump spoke in favor of them executing dealers and "pushers" of the drug.
"If China cracks down on this 'horror drug,' using the Death Penalty for distributors and pushers, the results will be incredible," wrote Trump in a tweet on December 5, 2018.
A few months later, Trump recalled a conversation with Xi, saying that he had urged the Chinese president to pursue policies that would allow them to execute people for offenses that involved fentanyl.
"I said listen, we have tremendous amounts of fentanyl coming into our country. Kills tens of thousands of people, I think far more than anybody registers, and I'd love you to declare it a lethal drug and put it on your criminal list," Trump told reporters on February 15, 2019. "Their criminal list is much tougher than our criminal list. Their criminal list, a drug dealer gets a thing called the death penalty. Our criminal list, a drug dealer gets a thing called, 'How about a fine?'"
Although there have not been any proposals to implement the death penalty for U.S. drug offenses, the administration released their drug control budget for the upcoming fiscal year on Monday, which rose $94 million to $35.7 billion.
Newsweek reached out to the White House for comment but did not receive a response in time for publication.