Trump Praises His Relationship With Kim Jong Un for Preventing Nuclear War
Former President Donald Trump on Wednesday extolled his relationship with Supreme Leader Kim Jong Un for helping to prevent a "nightmare" war between North Korea and the United States.
In 2019, Trump met with Kim and became the first sitting U.S. president to step foot into North Korea, one of the most closed nations in the world. Trump's friendliness toward Kim, a ruthless dictator, drew criticism, but he stood by his approach to North Korea for helping to maintain peace and move toward denuclearization.
On Wednesday, Trump told Newsmax former President Barack Obama told him that North Korea and Kim were the "single biggest problem" the United States was facing as the White House was changing administrations.
"I have a great relationship with [Kim]," Trump said. "We didn't have a war. It would have been a nuclear nightmare. It would have been a bad one."
During Trump's first year in office, Kim tested a missile that had the potential to reach the U.S. for the first time. It prompted Trump to threaten him with "fire and fury like the world has never seen" and kicked off an insult war, with Trump calling Kim "rocket man." However, in the wake of tougher sanctions from the United Nations, Kim invited Trump to meet with him and the former president agreed.
In 2018, Kim became the first North Korean leader to meet with a sitting U.S. president, when he and Trump had a summit in Singapore. At the end of the meeting, Trump said the two developed a "very special bond" that would help push North Korea to denuclearize.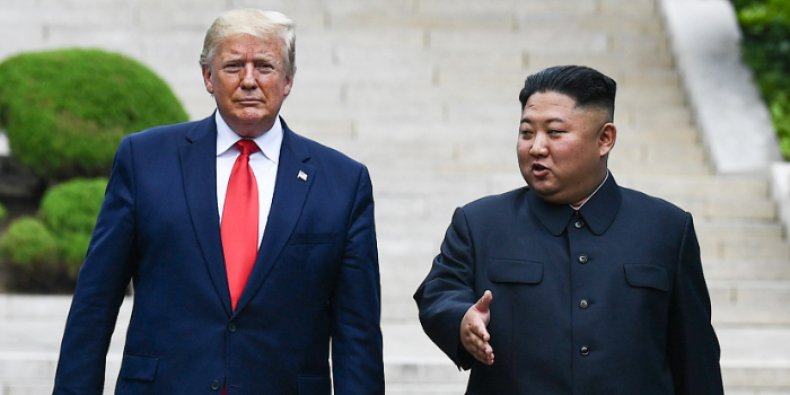 However, his meeting with Kim and his continued praise over the years for the dictator came under critical scrutiny. Some saw it as delivering a win for North Korea's propaganda machine, while others thought it gave unnecessary legitimacy to a brutal dictator who caused the deaths of thousands of people.
Two of those critics were the parents of Otto Warmbier, a college student who was arrested in North Korea and died shortly after being returned to the United States. Trump said during a 2019 summit that Kim was unaware of the torture Warmbier was put through while incarcerated in North Korea for 17 months.
"We have been respectful during this summit process. Now we must speak out. Kim and his evil regime are responsible for the death of our son Otto," Fred and Cindy Warmbier, Otto's parents, said in a statement. "Kim and his evil regime are responsible for unimaginable cruelty and inhumanity. No excuses or lavish praise can change that."
While Trump lauded his approach to Kim as a winning strategy, it resulted in little substantive change. Since President Joe Biden took office, tensions have continued to escalate. In April, North Korea warned that the U.S. and South Korea were risking a "serious security crisis" by conducting joint military drills.
Kim has ignored Washington's attempts to restart negotiations on nuclear weapons. Biden has said he is open to meeting with the North Korean leader, but the approach would significantly differ from Trump's.