'President For All Americans'? Trump Has Visited Less of the Country Than Any President in Almost 40 Years
Donald Trump will visit the United States' most populous state for the first as president next week—almost 14 months after he entered the White House. It is not just the Golden State that Trump has neglected, however. No president since Ronald Reagan, almost 40 years ago, has visited as little of the country at this point in his presidency, according to a USA Today analysis published Thursday.
Revealed: New Secret Service Costs for Trump at Mar-a-Lago Revealed
Plenty of attention has focused on Trump's travel since his inauguration, particularly how much time he has spent away from the White House. Yet, whether it's at his Mar-a-Lago resort in Florida or at another of his golf clubs in Bedminster, New Jersey, the vast majority of those trips have been to his own properties.
Indeed, the real estate billionaire has spent stayed just two nights domestically at properties he did not own.
"He seems to be traveling a lot, but so much of it seems to be traveling to second homes," Brendan Doherty, a political science professor at the U.S. Naval Academy who tracks official presidential travel," told USA Today.
As well as visiting his properties, when Trump has traveled for specific business reasons, he has, more often than not, seemingly focused on boosting his 2020 re-election chances. Trump's most visited state, outside of Florida and New York, where he lived before moving into the White House, has been the key battleground state of Pennsylvania.
Trump will be back in Pennsylvania this weekend, just days after signing tariffs on steel—one of the state's major industries.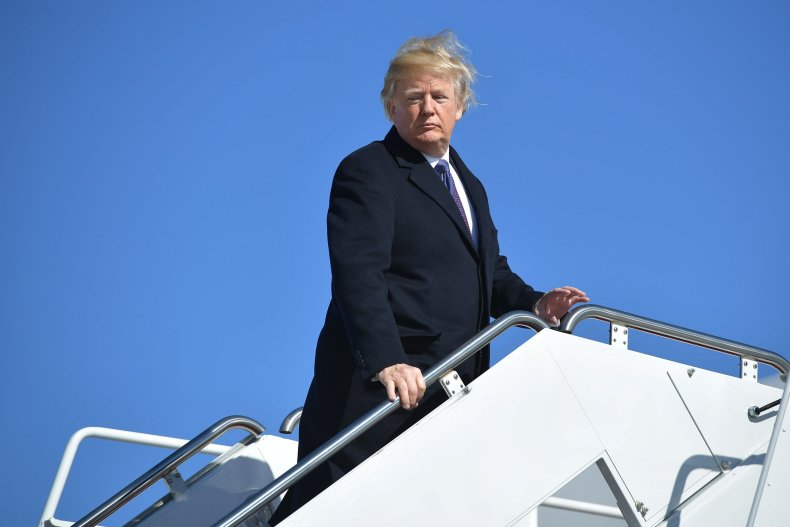 Certainly, his schedule suggests a departure from his words on the night of his election victory 16 months ago.
"I pledge to every citizen of our land that I will be president for all Americans, and this is so important to me," he said.
Throughout his presidency to date, Trump has rarely strayed outside his comfort zone, shying away from venturing out into public life, something both current and former White House officials told Politico in a report this week. As the first celebrity president, without a background in political life, it is perhaps hardly a surprise.
"President Trump has never lived a governing life before the White House," Andy Card, former chief of staff to President George W. Bush told Politico. "When you lead an institution and you have to govern, you create a climate of invitation. You invite people to be part of the initiative rather than dictate."