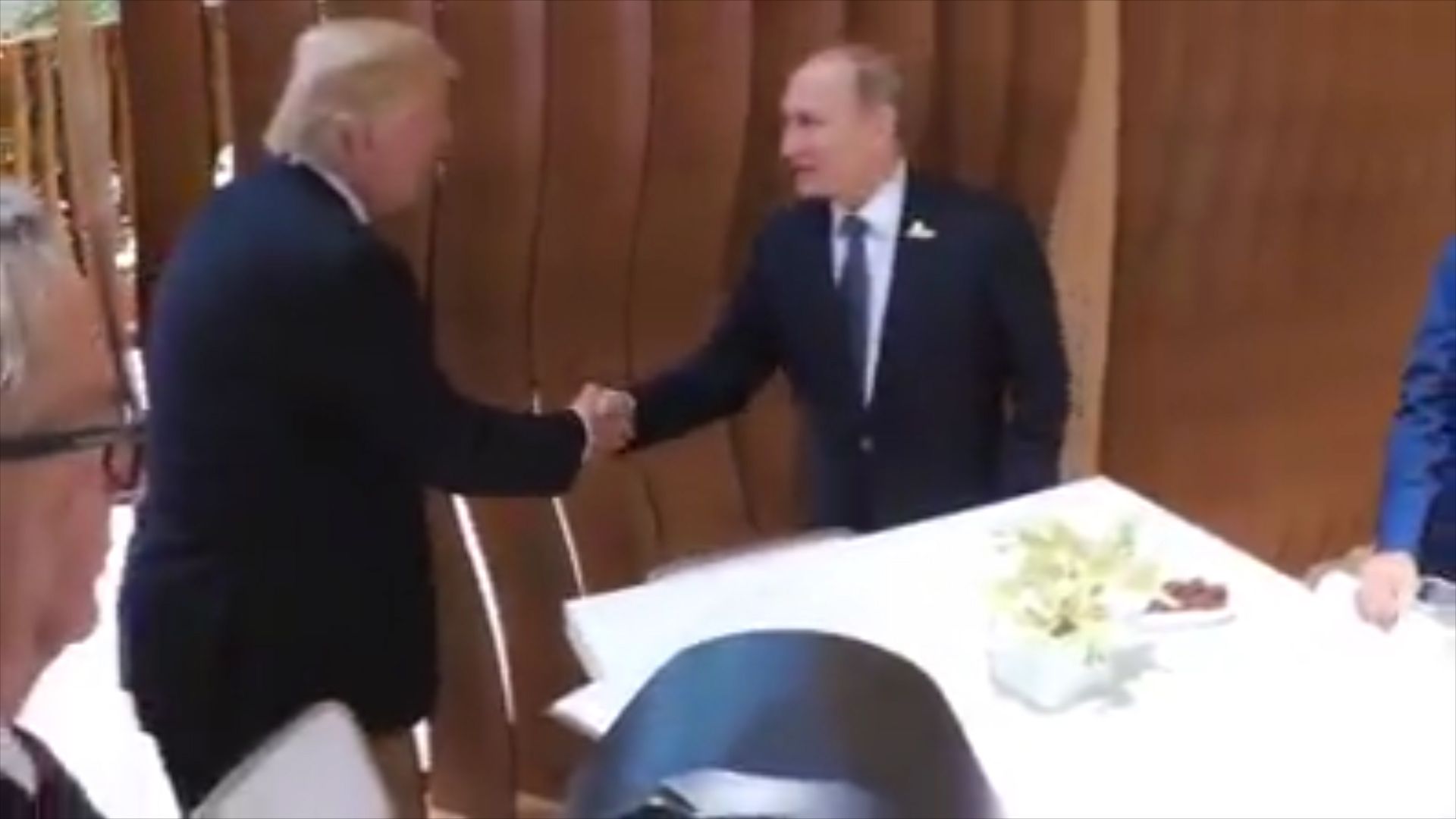 The much anticipated handshake between Russian leader Vladimir Putin and President Donald Trump during an all-time "low point" in the relationship between the two nations has happened. And it was underwhelming.
The handshake can be viewed roughly thirty seconds into a video captured by a German government photographer on Friday.
Trump is seen reaching for Putin's hand as the two men greet each other at the G20 Summit in Hamburg, Germany. The meeting of global leaders is scheduled to conclude on Saturday.
The two men are set to meet in a formal bilateral session at 3:45 p.m. local time (9:45 a.m. ET) to discuss the frosty relationship between the countries that started to sour with Russia's invasion of Crimea in 2014. Trump is not expected to raise the issue of Russian interference in the 2016 American election.
Despite the buildup, there was nothing extraordinary about the handshake. Trump touches his counterpart's arm and Putin responds by pointing a finger back. Trump is known for vigorous handshakes that appear to try to outmuscle other world leaders, members of his administration and others.
Videos and photographs have shown him yanking the arm of Supreme Court Justice Neil Gorsuch and a viral video of Trump squeezing the hand of Japanese Prime Minister Shinzo Abe in February took the internet by storm. The handshake with Putin does not follow that pattern.
Read more: Trump shouldn't smile when he meets Putin, says ex-U.S. diplomat
On Thursday, former U.S. ambassador to Ukraine Steven Pifer, told Newsweek that Trump should avoid smiling in official photographs with Putin.
Trump was criticized when Russia released photos of him joking and smiling with Russia's Foreign Minister Sergey Lavrov and U.S. ambassador to Russia, Sergey Kislyak, during a May 10 meeting in the Oval Office. Kislyak is at the center of several investigations into Russian interference into the U.S. election.
Trump should "avoid a sense of jocularity in the photos. He shouldn't be rude. But it doesn't help his image back here if he's yuking it up with Putin," said Pifer, who is now a senior foreign policy fellow at the Brookings Institution think tank in Washington.
Pifer added that Trump needs to stress the gravity of Russia's actions in the runup to the election and the battered relationship between the two countries.