Donald Trump Sides With Putin, Sparking Outrage From U.S. Intelligence Community
Members of Congress, national security attorneys and members of the U.S. intelligence community—both current and former—expressed outrage Monday over President Donald Trump's comments during a joint press conference held in Helsinki, Finland, with Russian President Vladimir Putin. During the meeting between the two leaders, Trump declined to side with assessments from the U.S. intelligence community as he undermined his own Justice Department's investigation into Russian interference in the 2016 U.S. presidential election.
"I have great confidence in my intelligence people, but President Putin was extremely strong and powerful in his denial today," he said.
"I hold both countries responsible, I think the United States has been foolish, I think we've all been foolish, we should've had this dialogue a long time ago...we are all to blame…," Trump told reporters after he held a two-hour one-on-one, and a later expanded bilateral meeting with the Russian president. "I think that the probe is a disaster for our country, I think it has kept us apart, it's kept us separated. There was no collusion at all and everybody knows it."
Monday's meeting came three days after Rod Rosenstein, the deputy attorney general, disclosed a litany of new charges against 12 Russian nationals accused of conducting cyber espionage and believed to be members of the Main Intelligence Directorate, known as the GRU. The indictments are part of the investigation led by special counsel Robert Mueller, the former FBI director.
"We just witnessed an American president on foreign soil standing next to a Russian despot, who's accused of helping him win the election—and having the American president take the despot's side," said Brad Moss, a Washington, D.C., attorney who handles cases involving national security and represents members of the intelligence community.
Moss suggested that Defense Secretary James Mattis and National Intelligence Director Dan Coats could be compelled to consider their own futures in light of Trump's performance.
"As a matter of integrity and desire to preserve their own reputations, it's difficult to fathom individuals with that type of background to view this as appropriate behavior for an American president," Moss told Newsweek, adding on Twitter that if the president's comments did not prompt the two officials to resign, "nothing will."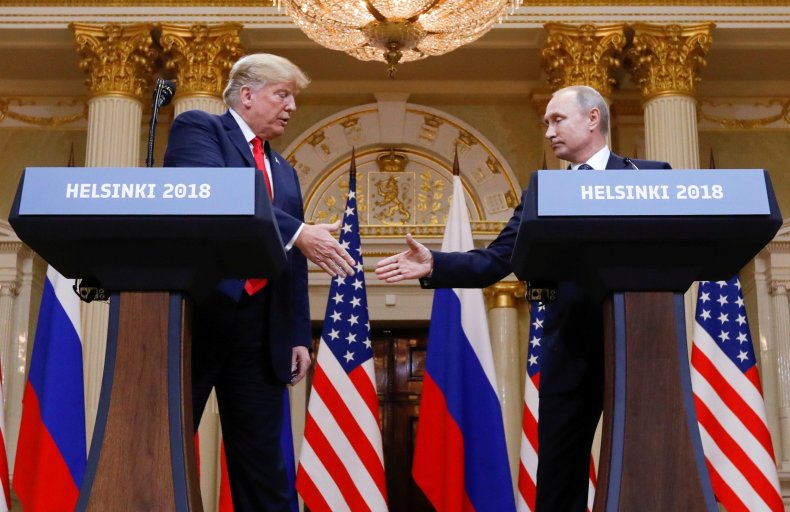 The director of national intelligence did not address the president's comments directly, but in a press statement released Monday, said, "We have been clear in our assessments of Russian meddling in the 2016 elections and their ongoing, pervasive efforts to undermine our democracy."
The meeting between the two presidents capped a weeklong trip in Europe at the annual NATO summit. Trump caused diplomatic turmoil by demanding that NATO countries double their military spending target to 4 percent of their gross domestic product. Meanwhile, conflicting reports indicated that Trump had threatened to pull out of NATO, a charge that the president did not directly deny.
A U.S. Air Force intelligence officer told Newsweek that coalition partners were angered by Trump's comments during an interview with CBS NewsSunday in which he said, "I think the European Union is a foe."
"I work with our coalition partners; let's just say the 'foe' comment didn't go over well," said the intelligence officer.
Within the Defense Department's intelligence community, Newsweek found mixed reactions about the joint press conference. While most individuals condemned Trump's comments, there were dissenting opinions.
"I would say the press is stupid to think Trump was going to insult Putin in front of him," said one U.S. Marine intelligence analyst. "He's not going to give a real answer when Putin is right there next to him."
Malcolm Nance, a former U.S. Navy intelligence analyst and author of The Plot to Destroy Democracy, which details the tools and techniques Russia used to affect the 2016 election, told Newsweek that he's not surprised that #TreasonSummit has been trending all day on Twitter.
"He threw the entire Justice Department and U.S. intelligence community under the bus, essentially calling them liars, to side with an ex-KGB officer [Putin]."
Republican Senator John McCain echoed that view.
"Today's press conference in Helsinki was one of the most disgraceful performances by an American president in memory," said the Senate Armed Forces chairman in a statement. "It is clear that the summit in Helsinki was a tragic mistake. President Trump proved not only unable, but unwilling to stand up to Putin."
After a tumultuous few days overseas, the president is scheduled to return to the U.S. on Monday night.