President Donald Trump, prompted by a reporter, told Russia's President Vladimir Putin not to interfere in the next election as the two men sat side by side during a meeting at the G20 Summit in Osaka, Japan.
A live stream of the event by Russian state television shows a reporter in the audience asking: "Mr President, will you tell Russia not to meddle in the 2020 election?"
Trump replied, turning his head slightly towards Putin and at one point pointing a finger at him: "Of course I will. Don't meddle in the election, please. Don't meddle in the election," as the Russian president chuckled.
Putin has long denied allegations that Russia interfered in the 2016 presidential election. However, it is the conclusion of the American intelligence community that Russia did seek to influence the election through cyberattacks, disinformation and inflaming societal tensions.
Special counsel Robert Mueller also concluded the same in a report following an extensive two-year investigation into the issue. "The Russian government interfered in the 2016 presidential election in sweeping and systematic fashion," said Mueller's report.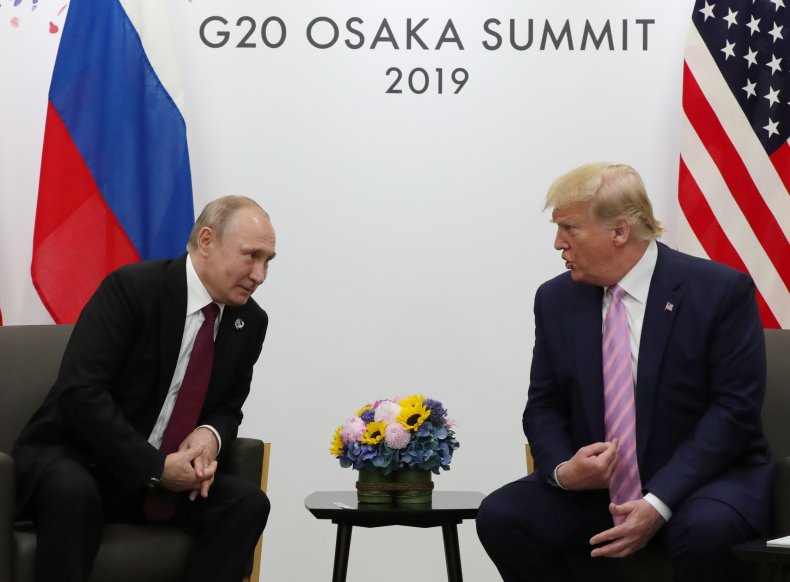 Dozens of Russians were indicted by Mueller for their alleged roles in the internet disinformation campaign and the hacking of Trump's opponents, including the DNC, which led to the leaking of embarrassing emails through WikiLeaks to damage the party's then candidate, Hillary Clinton.
The Mueller report also found that the evidence did not establish that there was a conspiracy between Trump or his campaign to coordinate with Russia in its efforts to undermine the integrity of the election.
"Russia has been accused, and, strange as it may seem, it is still being accused, despite the Mueller report, of mythical interference in the U.S. election," Putin told the Financial Times in an interview published on Thursday.
"What happened in reality? Mr Trump looked into his opponents' attitude to him and saw changes in American society, and he took advantage of this."
Trump has flip-flopped on whether or not he agrees with the conclusions of America's own intelligence agencies about Russian interference.
At a now infamous press conference with Putin in Helsinki, Finland, following a private face-to-face meeting in July 2018, Trump appeared to question what his own intelligence officials had told him.
"My people came to me, [director of national intelligence] Dan Coats, came to me and some others they said they think it's Russia," Trump said. "I have President Putin. He just said it's not Russia. I will say this: I don't see any reason why it would be."
The comments were seized upon by Trump's critics, including the former CIA Director John Brennan, who called them "nothing short of treasonous."
Trump subsequently walked back his comments, saying he accepted the findings of American intelligence agencies on the matter of Russian interference.