Trump Questions the '19' in COVID-19, Repeats 'Kung Flu' at Phoenix Rally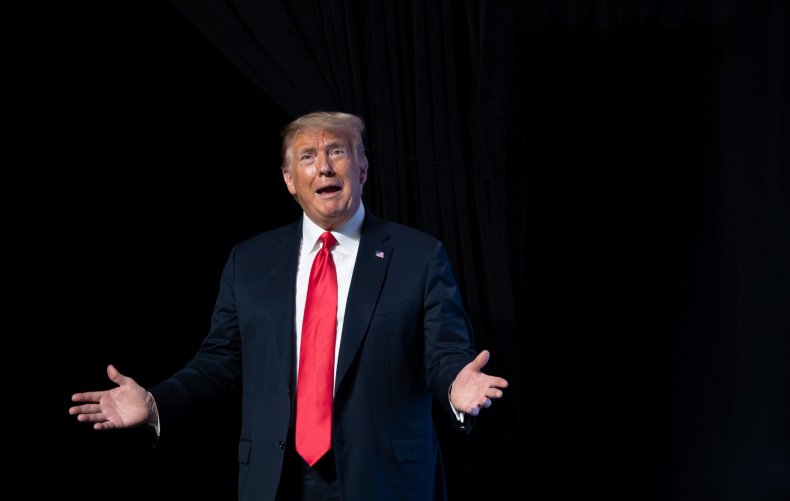 President Donald Trump repeated the phrase "Kung Flu" at his rally in Phoenix, Arizona on Tuesday night, while also telling supporters that he had questioned the meaning of the "19" in COVID-19.
Trump had first referred to the virus as "Kung Flu" during Saturday night's rally in Tulsa, Oklahoma. On Tuesday he repeated the controversial moniker, which some have deemed racist, to a rapturous applause. He also contended that "some people can't explain" the "19" in COVID-19, which refers to the coronavirus disease first being identified in 2019.
"There's never been anything where they have so many names, I could give you 19 or 20 names. Wuhan, Wuhan was catching on. Coronavirus, right. Kung Flu, yeah?" Trump told the crowd, who responded with loud cheers.
"Covid, COVID-19. I said, 'what's the 19,' COVID-19," he added. "Some people can't explain what the 19, give me the... COVID-19, I said that's an odd name."
Trump then went on tell the packed crowd, held at a church with a capacity of around 3,000, that other popular terms for the virus were "the Chinese flu," "the China flu" and simply "the China." Medical experts have noted that COVID-19 is not a "flu" of any sort, as coronaviruses and influenza are entirely different types of viruses.
White House Press Secretary Kayleigh McEnany defended Trump's use of the term "Kung Flu" on Monday, after the president uttered it during Saturday's rally in Tulsa, which was attended by an unexpectedly sparse crowd of 6,200 at a venue capable of holding 19,000.
"The president does not believe it is offensive to note that this virus came from China," McEnany told reporters in response to a question specifically about the term. "And to stand up for our U.S. military, who China is making an active effort to completely defame and that is unacceptable to the president."
McEnany also described Asian Americans as "amazing people" and stressed that "spreading of the virus is not their fault," while insisting that Trump's use of the phrase was "an indictment of China for letting this virus get here."
Months earlier, White House counselor and former Press Secretary Kellyanne Conway condemned "Kung Flu" as "very hurtful and unhelpful," demanding to learn the identity of an anonymous White House staff member who had reportedly used the term.
"I'd like to know who they are... you can't just say that and not name them. Tell us who it was," Conway told PBS's Yamiche Alcindor on March 18. "That's highly offensive, so you should tell us all who it is. I'd like to know who it is."
Trump began referring to the coronavirus as the "China virus" while the pandemic started to escalate in the U.S., heavily focusing on the fact that the virus first emerged in Wuhan, China late last year. He also ramped up criticism of the Chinese government's handling of the early outbreak, despite having earlier praised them for their response and "transparency."
Newsweek reached out to the White House for comment. This article will be updated with any response.