Trump Jokes About Stage Collapsing Under Feet Of 9/11 Survivors As He Signs Victims Compensation Funding Bill
President Donald Trump signed into law on Monday the 9/11 Victims Compensation Fund for those medically impacted from the deadly 2001 terrorist attacks in New York City, joking at one point that a stage holding several of the former first responders and family members could collapse.
Congress effectively ensured that the pot of money will be funded indefinitely by promising federal dollars for the next 70 years, easing the concerns of beneficiaries about the fund that would have been depleted by next year.
"Now, I'm going to sign this bill into law, and I don't know if this stage will hold it, but if it doesn't, we're not falling very far," Trump quipped. "But I'd also like to ask the first responders to come up and we'll give this stage a shot. Let's see how well built, made in America. Let's see how well built it is. Come on up."
First responders and their families stood around the president as he signed the measure into law, at times celebrating what capped off years of urging Congress to permanently renew funding. First responders, their families and other 9/11 victims who benefit from the funding for medical illnesses that have arisen due to breathing in toxins at Ground Zero in the wake of the attacks have long had the help of former Comedy Central star Jon Stewart. Earlier this year, Stewart offered passionate congressional testimony and shamed lawmakers for having not already ensured funding would not run dry.
The stage, which appeared to be less than a foot off the ground, did not collapse.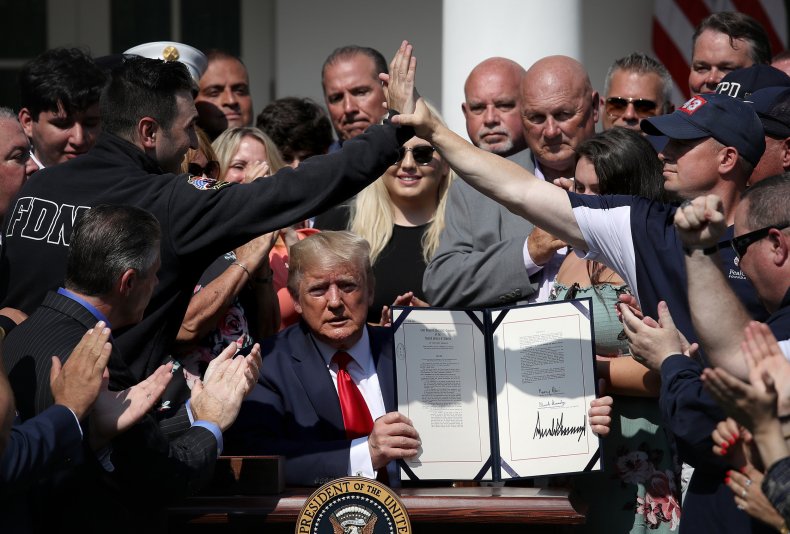 "Today, we come together as one nation to support our September 11th heroes to care for their families and to renew our eternal vow—never ever forget," Trump told a group of about 60 first responders gathered in the White House Rose Garden. "The love and loyalty of our 9/11 responders knew no bounds. They answered terror with the emotional strength of true American warriors."
"You inspire all of humanity," the president continued, noting that he "was down there also, but I'm not considering myself a first responder. The president has made questionable claims that lacked evidence about events that occurred on 9/11, including that he "watched in Jersey City, N.J., where thousands and thousands of people were cheering as that building was coming down. Thousands of people were cheering."
The bill's passage, which was approved by members of Congress through the Democratic-led House and GOP-controlled Senate with overwhelming bipartisan support, was temporarily delayed after two Republican senators blocked a unanimous consent vote. Citing fiscal concerns about the legislation's projected price tag of roughly $10 billion over the next decade costing too much, Rand Paul of Kentucky and Mike Lee of Utah said they wanted to debate the measure before voting on it.
"While I support our heroic first responders, I can't in good conscience vote for legislation which to my dismay remains unfunded," Paul wrote in a tweet last week following the vote. "We have a nearly trillion dollar deficit and $22 trillion in debt. Spending is out of control."
In a concurring floor speech, Lee suggested that, without a fixed price tag or time period for the fund for the decades to come, fraud or misuse could arise.
"Without any finite authorization, it offers no way to ensure the money gets to its intended beneficiaries and is not lost in government bureaucracy or misuse," Lee said.
The two lawmakers were the only senators to vote against renewing the compensation fund. Eleven House Republicans also voted against it.
Attorney Michael Barasch, who represents some 15,000 first responder families with VCF claims, praised Congress and Trump for passing the legislation and signing it into law.
"After 9/11, we as a nation made a solemn promise to never forget the heroes who responded to the tragedy and those who suffered in its wake. In recent months, not a day has gone by without another member of the 9/11 community dying or falling ill," Barasch said in a statement. "It is not only our brave first responders who are paying the price: Those who lived and worked in Lower Manhattan, children who went to school there, all breathed the same air and all face the same threats to their health. As that deadly toll grows, we must honor our commitment to them."
This story was updated to include comment from Michael Barasch.