Republicans Mike Lee, Rand Paul Were Lone Senators to not Renew 9/11 Victims Fund for First Responders
There were just two Republican senators on Tuesday to oppose effectively extending the September 11th Victim Compensation Fund (VCF) for 9/11 first responders and survivors indefinitely.
Rand Paul of Kentucky and Mike Lee of Utah were those two GOP lawmakers. The final vote was 97-2.
The two Republicans had temporarily stalled the bill's passage last week and ultimately did not support it over fiscal concerns.
"While I support our heroic first responders, I can't in good conscience vote for legislation which to my dismay remains unfunded," Paul wrote in a tweet following the vote. "We have a nearly trillion dollar deficit and $22 trillion in debt. Spending is out of control."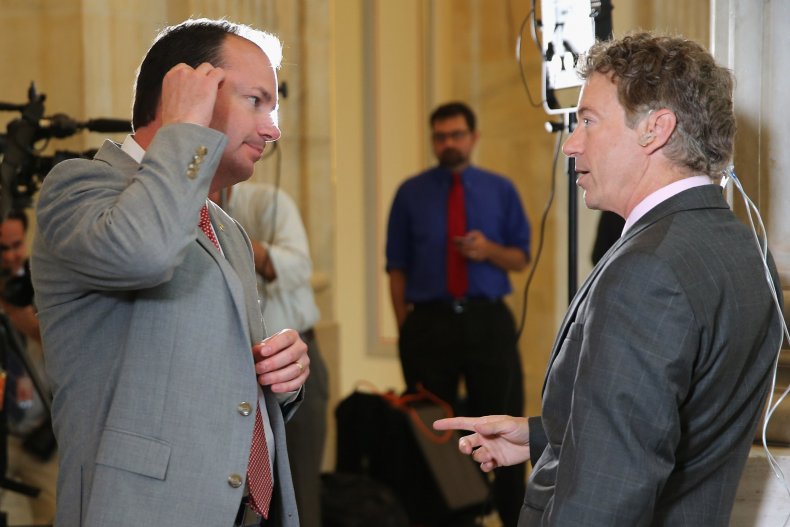 In response to New York Senator Kirsten Gillibrand, a Democrat, moving to pass the legislation by voice vote—or unanimous consent—last week, Paul and Lee blocked the move, citing budgetary concerns. The Congressional Budget Office (CBO) has projected that over the course of the next decade, the VCF will cost approximately $10 billion. The renewal of the VCF would provide medical funding for first responders and survivors through fiscal year 2092.
Amendments to the VCF offered by Paul and Lee failed to muster the required 60 votes on Tuesday. Paul's amendment sought to offset the legislation's cost, which is not capped, while Lee's would have provided $10.2 billion for the next 10 years and a subsequent $10 billion for the coming decades. Paul's amendment failed by a vote of 22-77 and Lee's failed 32-66.
The House renewed the VCF on July 12 with overwhelming bipartisan support—just 11 Republicans and one Independent voted against the measure. Nineteen lawmakers—nine Democrats and 10 Republicans—did not vote.
"It is perhaps an historical anomaly that this bill appropriates unlimited funds for a virtually unlimited time period," Paul said on the Senate floor leading up to the votes. "What would you think if someone came to you and they had a good cause and they said, 'You know, my neighbor's house has burnt down and I want to help them, and I want to give them unlimited money for an unlimited period of time'? That wouldn't be wise. No one would do that."
Lee expressed similar fiscal concerns, adding that, without a specific dollar amount or time period attached to the funding, fraud or misuse could arise.
"Without any finite authorization, it offers no way to ensure the money gets to its intended beneficiaries and is not lost in government bureaucracy or misuse," he said in a floor speech.
But Gillibrand highlighted that the lifelong funding would no longer require first responders to continually return to Washington in the future to advocate for reauthorization.
"Stand up for our heroes. End the games," she said on the floor.
Attorney Michael Barasch, who represents 15,000 first responder families with VCF claims, praised the funding's passage and expressed confidence that President Donald Trump would sign the bill into law.
"It is not only our brave first responders who are paying the price: Those who lived and worked in Lower Manhattan, children who went to school there, all breathed the same air and all face the same threats to their health," Barasch told Newsweek in a statement. "As that deadly toll grows, we must honor our commitment to them."
Democrats, first responders and comedian Jon Stewart last week were quick to blast the Republicans for hypocrisy, citing Paul's support for President Donald Trump's tax cuts, which the CBO has projected will add $1.9 trillion to the deficit by 2028.
"It's absolutely outrageous, and you'll pardon me if I'm not impressed in any way by Rand Paul's fiscal responsibility virtue signaling," Stewart told Fox News last week following Paul's blockage of the unanimous consent vote.
The former Comedy Central host is a longtime advocate for 9/11 first responders and provided passionate testimony last month to Congress, where he scolded lawmakers for having not already passed the funding that's set to expire next year.
"Rand Paul presented tissue paper avoidance of the $1.5 trillion tax cut that added hundreds of billions of dollars to our deficit," Stewart said. "Now, he's going to tell us that $1 billion a year, over 10 years, is just too much for us to handle."