Donald Trump Has 'R-Rated' Nicknames For People He Doesn't Like—But He Keeps Them 'Within The West Wing,' Anonymous Official Claims
President Donald Trump, who has a well-known penchant for giving his enemies and rivals unpleasant or mocking sobriquets, has explicit nicknames for people that he does not use beyond the West Wing, according to a new book about the administration.
The snippet comes from A Warning, the anonymously-authored book by someone who claims to be a senior official within the Trump administration and shedding light on what goes on behind closed doors in and around the current White House.
According to the book, Trump uses the "favored tactic" of nicknaming opponents "to turn attacks into instant memes" and "road tests the insulting monikers with friends."
"There's Da Nang Dick (Senator Dick Blumenthal), Pocahontas (Senator Elizabeth Warren), Low Energy Jeb (former governor Jeb Bush), Slimeball (Jim Comey), MS-13 Lover (Speaker Nancy Pelosi), Dumb as a Rock Mika (MSNBC's Mika Brzezinski), the Dumbest Man on Television (CNN's Don Lemon), and so on," says the book, published by Twelve.
"Often Trump hones in on physical features, using names like Fat Jerry (Representative Jerry Nadler), Little Marco (Senator Marco Rubio), and Dumbo (for his former Secret Service director). Other acid-tongued presidents have had words for people they didn't like, but I can't think of any who regularly went out of their way to humiliate people with childish nicknames.
"If there is any silver lining, it's that he typically keeps the R-rated ones within the West Wing. There are no two ways about it. Trump is a bully. By intimidating others, he believes he can get what he wants, not what is fair. It's a philosophy he brags about."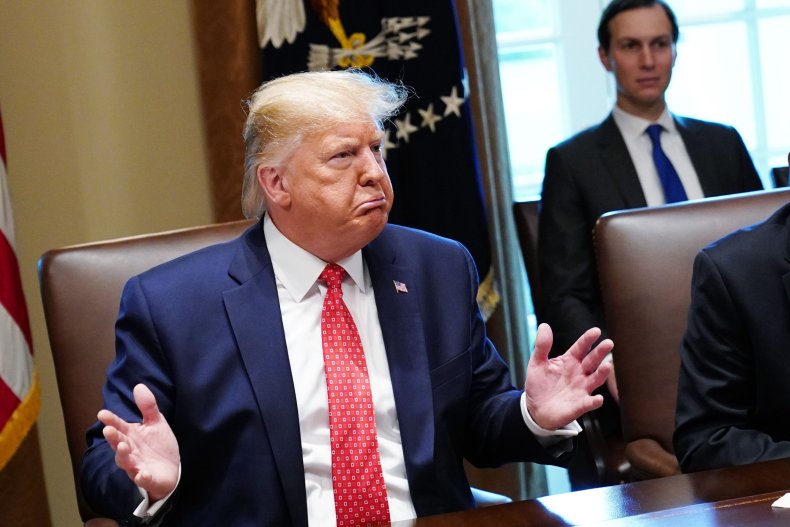 Trump's use of at times cruel nicknames on social media to his millions of followers runs counter to First Lady Melania Trump's "Be Best" initiative, which focuses in part on cyberbullying and urges children to "choose their words wisely and speak with respect and compassion."
When Trump recently mocked Greta Thunberg, the 16-year-old schoolgirl climate change activist, who has autism, on Twitter, the hashtag #BeBest trended as people tweeted to highlight the contradiction between the first lady's campaign and the president's conduct.
At a rally in Louisiana just last week, Trump used the nickname "Crying Chuck" when talking about Senate Minority Leader Chuck Schumer, a New York Democrat, and explained where it came from.
"I call him Cryin' Chuck because I saw him cry one time while making a speech. I said, 'Isn't that sad? I've never seen him cry before.' I call him Cryin' Chuck!" the president told the crowd of his supporters.
Schumer wept when Trump first came to office during a speech condemning the president's executive order banning travel to America from seven Muslim-majority countries, a policy critics said was based in racism, not security concerns as the administration claimed.