Trump Rally-Goers in Wyoming Boo Kevin McCarthy as He Begins Speech
House Minority Leader Kevin McCarthy was booed as he began a virtual appearance at former President Donald Trump's rally in Wyoming on Saturday.
Videos circulating across social media show McCarthy, a California Republican, being jeered at by Trump supporters as he made a virtual endorsement for Harriet Hagemen, a GOP candidate running for Congress against Wyoming Representative Liz Cheney.
McCarthy was recently embroiled in controversy after a leaked audio recording showed him telling Cheney and other lawmakers that he wanted Trump to resign from office after the January 6, 2021, riot at the U.S. capitol. The recording painted a much different picture of McCarthy's views than what he portrayed to the public at the time, causing several lawmakers and Republican groups to criticize him for lying and appearing to play both sides.
The House minority leader initially tried to deny the recording as being "totally false and wrong," and later attempted to say that his statements marked just one potential scenario being discussed at the time.
Since then, he has appeared at several events offering praise for Trump, leading some to believe he is afraid to tarnish a relationship with the former president amid the 2022 midterm elections. For his part, Trump said after the leaked recording that he believes McCarthy has an "inferiority complex," but later stated that the incident did not affect their relationship.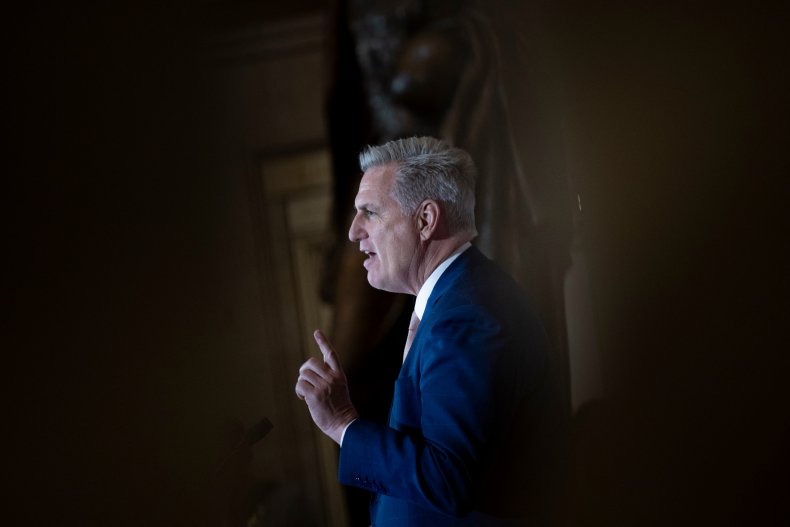 "I think it's all a big compliment, frankly," Trump told The Wall Street Journal last month, referencing McCarthy and other Republicans who initially criticized him after the insurrection but later returned to his side. "They realized they were wrong and supported me."
"I think that I've had actually a very good relationship with [McCarthy]," the former president added."I like him. And other than that brief period of time, I suspect he likes me quite a bit."
The gathering in Wyoming marks an opportunity for Trump to rally against Cheney, who voted to impeach the former president, and has been one of his most prominent Republican critics. However, the event comes after several of Trump's recent endorsements in Republican primaries have failed to gain any traction.
The rally also comes after Trump faced significant legal setbacks in New York this week. One federal judge rejected his lawsuit against New York Attorney General Letitia James, while another court ruled that two of his children—Donald Trump Jr. and Ivanka Trump— must be questioned under oath as part of the ongoing criminal probe.