Trump Knocked Kevin McCarthy's 'Inferiority Complex' After Jan. 6 Criticism
Donald Trump said House Minority Leader Kevin McCarthy had an "inferiority complex" after the former president's actions on January 6, 2021, drew public and private criticism.
In the aftermath of the assault that day on the U.S. Capitol by Trump supporters, McCarthy directly blamed the then president, saying he "bears responsibility." He also told fellow GOP lawmakers that he had challenged Trump in private conversations about the Capitol riot.
But Trump was dismissive of McCarthy's criticism in a spring 2021 interview, Punchbowl News reported on Thursday, citing a new book. The former president said the California Republican did not actually push back in private conversations, New York Times reporters Jonathan Martin and Alex Burns write in This Will Not Pass: Trump, Biden, and the Battle for America's Future, which comes out May 3.
"According to Trump, the Republican leader's tough talk after January 6 was just that—talk. No, Trump says, McCarthy had not clashed with him over the phone with the riot still in progress. 'He wouldn't say that,' Trump said. So why, then, did McCarthy go around claiming to other people that he's tougher with Trump in private than he really is? The former president packed his two-word diagnosis with contempt," Martin and Burns wrote. "'Inferiority complex,' Trump said."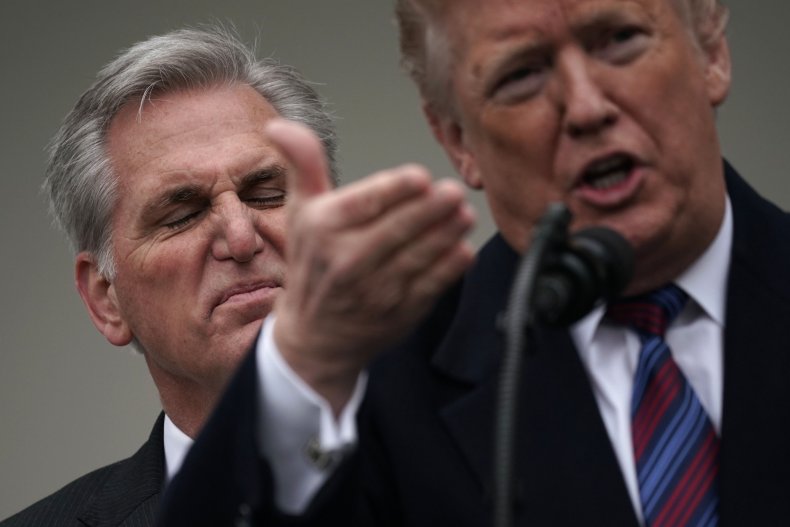 Newsweek reached out to McCarthy's spokesperson for comment.
"The president bears responsibility for Wednesday's attack on Congress by mob rioters," McCarthy said in a House floor speech on January 13, 2021. "He should have immediately denounced the mob when he saw what was unfolding."
Reuters reported on January 11, 2021, that McCarthy told fellow Republican lawmakers that he'd been "very clear" with Trump that he "bears responsibility for his words and actions" after the Capitol riot. McCarthy also reportedly spoke with Trump on January 6 as the violence unfolded, urging him to call off the mob.
Representative Jamie Herrera Beutler, a Washington Republican who voted with nine other House GOP lawmakers to impeach the former president on a charge of inciting the Capitol riot, publicly said that Trump was dismissive of McCarthy's pushback in their call during the attack.
"When McCarthy finally reached the president on January 6 and asked him to publicly and forcefully call off the riot, the president initially repeated the falsehood that it was Antifa that had breached the Capitol," Beutler said in a February 2021 statement.
"McCarthy refuted that and told the president that these were Trump supporters. That's when, according to McCarthy, the president said: 'Well, Kevin, I guess these people are more upset about the election than you are," Beutler said.
Despite McCarthy's initial criticism of Trump, he visited the former president at his Mar-a-Lago residence in Florida later in January 2021, smoothing over any tensions in their relationship. Critics of the House minority leader have contended that this visit helped rehabilitate Trump's political image after the events of January 6.
Last week, The New York Times, citing Martins and Burns' book, reported that McCarthy told fellow GOP lawmakers on January 10, 2021, that he would urge Trump to resign in the wake of the Capitol attack. The House minority leader said the reporting wasn't accurate, but the two reporters then released audio of McCarthy making the comment to fellow Republicans.
McCarthy continued to dismiss the reporting, saying he never asked Trump to resign. The former president and McCarthy reportedly remain on good terms and have spoken multiple times since the audio was leaked. Some Trump allies have been publicly critical, however.
During an interview with Fox News host Tucker Carlson on Wednesday night, Representative Matt Gaetz, a Florida Republican, said that McCarthy was "not fitting" of leadership. In a Tuesday statement, Gaetz called the House GOP leader "weak."
Right-wing strategist Roger Stone, who received a pardon from Trump in December 2020 and remains close to the former president, blasted McCarthy after the audio leak. "California RINO Kevin McCarthy is a disgrace to the republican party and he needs to resign," Stone wrote in a post on his Telegram channel on Saturday. RINO is an acronym for "Republican in name only."