Trump Ally Roger Stone Demands 'RINO' McCarthy Resign After Leaked Audio
Right-wing strategist Roger Stone, a prominent Donald Trump ally, demanded that House Minority Leader Kevin McCarthy resign, calling him a "disgrace" after leaked audio from January 10, 2021 showed that he believed the then-president should resign following the U.S. Capitol attack on January 6.
The New York Times on Thursday reported that McCarthy told other GOP lawmakers after the pro-Trump Capitol riot targeting the federal legislative branch of government that he planned to urge the then-president to step down days before the end of his term. McCarthy later released a statement saying the reporting was "totally false and wrong."
However, on Thursday evening, the Times published audio of him telling lawmakers what the newspaper had reported he said. "I'm seriously thinking of having that conversation with him tonight," the GOP House leader said in the brief clip from January 10, 2021. He added that he would tell Trump "it would be my recommendation you should resign."
Stone, who received a pardon from the former president in December 2020, contended in a Saturday morning post to his Telegram channel that McCarthy should resign. He also shared a link to a YouTube video of the leaked audio.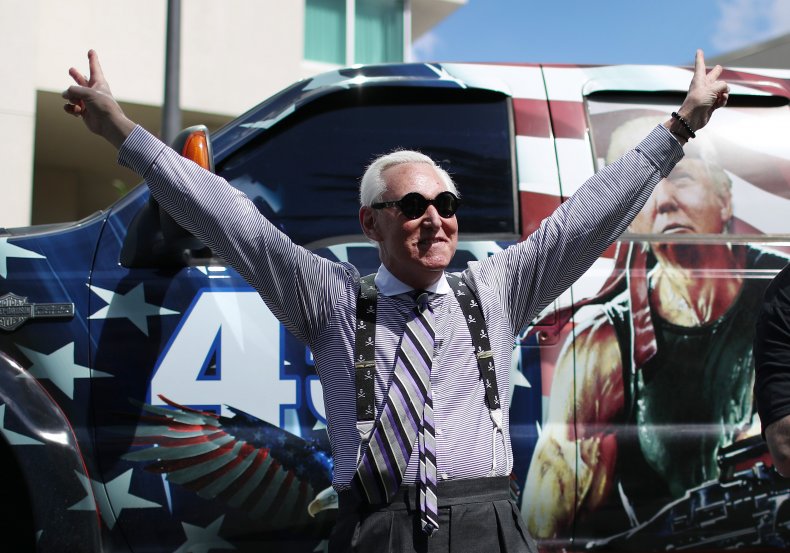 "California RINO Kevin McCarthy is a disgrace to the republican party and he needs to resign," the Trump ally wrote in the post. RINO is an acronym meaning "Republican in name only." It is readily used by Republicans against other Republicans they view as not adequately in step with their political party's ideology.
On Friday evening, McCarthy told reporters that he made the comment in the leaked audio as he "just walked through different scenarios," according to a video shared to Twitter by CBS News reporter Musadiq Bidar. The top House Republican contended that he "never thought that he [Trump] should resign."
The House minority leader insisted that he never asked Trump to step down. However, he stated in the leaked clip, "The only discussion I would have with him [Trump] is that I think this will pass, and it would be my recommendation you should resign."
The Washington Post and Fox News reported that McCarthy and Trump spoke after the audio leaked and remain on good terms. Newsweek reached out to spokespeople for Trump and McCarthy for comment.
Despite his strong support for Trump, Stone has questioned the former president's judgement in recent weeks. He criticized Trump's endorsement of physician and TV personality Mehmet Oz in Pennsylvania's GOP primary Senate race earlier this month.
"Wait ? President endoresd [sic] this guy ?" he wrote in an April 10 Telegram post. The right-wing strategist included an image of Oz on his television show flexing his bicep as former first lady Michelle Obama, a Democrat, did the same while standing next to him.