What Kevin McCarthy Tape Says About Donald Trump: Full Audio Transcript
MSNBC's Rachel Maddow aired an audio recording last night of House Minority Leader Kevin McCarthy saying he was considering calling then President Donald Trump and recommending he resign from office.
The audio was shared by reporters Alex Burns and Jonathan Martin of The New York Times, who reported on Thursday that McCarthy had considered calling on Trump to resign following the Capitol riot of January 6, 2021.
The report is based on Burns' and Martin's upcoming book This Will Not Pass: Trump, Biden and the Battle for America's Future.
McCarthy had issued a statement strongly denying the report and criticizing the newspaper before the audio was released.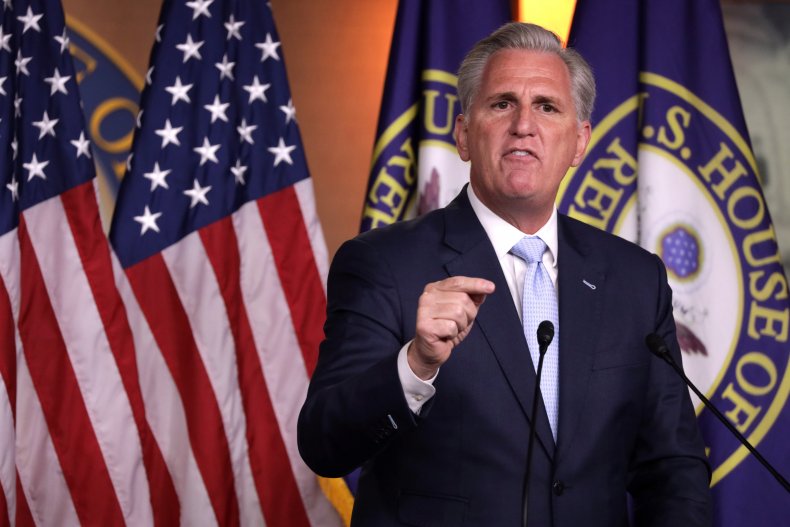 A McCarthy spokesperson, Mark Bednar, had also issued a statement before the release of the audio on Thursday, saying: "McCarthy never said he'd call Trump to say he should resign."
Maddow aired the recording of a January 10, 2021 meeting where McCarthy responded to a question from Representative Liz Cheney of Wyoming's at-large district about Trump possibly resigning. At that time, Democrats were pushing hard to impeach Trump and McCarthy addressed the matter in his comments.
Here is a transcript of McCarthy's remarks on the audio:
Cheney: Is there any chance? Are you hearing that he might resign? Is there any reason to think that might happen?
McCarthy: I've had a few discussions. My gut tells me no. I'm seriously thinking of having that conversation with him tonight. I haven't talked to him in a couple of days.
Um, from what I know of him, I mean you guys all know him too, do you think he'd ever back away? But what I think I'm going to do, is I'm going to call him.
This, this is what I think. We know it'll pass the House. I think there's a chance it'll pass the Senate, even when he's gone. Um, and I think there's a lot of different ramifications for that.
Now, I haven't had a discussion with the Dems, that if he did resign, would that happen?
Now, this is one personal fear I have. I do not want to get into any conversation about Pence pardoning.
Again, the only discussion I would have with him is that I think this will pass, and it would be my recommendation you should resign. Um, I mean that would be my take. But I don't think he would take it. But I don't know.
Transcript ends.
McCarthy had issued a statement on Thursday after The New York Times report but before the release of the audio in which he called the newspaper's reporting "totally false and wrong."
"It comes as no surprise that the corporate media is obsessed with doing everything it can to further a liberal agenda," McCarthy's statement said. "This promotional book tour is no different. If the reporters were interested in truth why would they ask for comment after the book was printed?"
The New York Times published the audio clip on Thursday night. In that clip, McCarthy also appears to dismiss the idea of then Vice President Mike Pence pardoning Trump if he became president due to Trump's resignation. No criminal charges have been brought against Trump arising from the events of January 6.
The House of Representatives passed articles of impeachment against Trump on January 13, 2021 but the Senate later acquitted him on February 13, after he had left office.
Newsweek has asked the offices of McCarthy, Cheney and Trump for comment.