Kevin McCarthy Audio Suggests 'Consciousness of Guilt' by Trump: Kirschner
Former U.S. Army prosecutor Glenn Kirschner contended that leaked audio of House Minority Leader Kevin McCarthy, a California Republican, saying in January 2021 that he would recommend former President Donald Trump "resign" in the wake of the U.S. Capitol attack, demonstrated "consciousness of guilt."
The New York Times on Thursday reported that McCarthy told other GOP lawmakers days after the January 6, 2021 pro-Trump attack against the federal legislative branch of government that he planned to urge the then-president to step down days before the end of his term. McCarthy later released a statement saying the reporting was "totally false and wrong."
Thursday evening, the Times published audio of McCarthy telling lawmakers what the newspaper had reported he said. "I'm seriously thinking of having that conversation with him tonight," the GOP House leader said in the brief clip from January 10, 2021. He added that he would tell Trump "it would be my recommendation you should resign."
Many Trump critics slammed McCarthy after the audio leaked since he was caught in an apparent lie. Kirschner, who has previously called for Trump's indictment and said he believes the former president committed "treason" with his actions on January 6, gave his assessment of the audio and what it shows on Friday morning.
"One important takeaway from the Cheney/McCarthy tapes: KMC said he was going to tell Trump to resign but was afraid Trump would bring up a 'Pence pardon.' This suggests Trump had raised that issue previously. Because Trump KNEW he committed crimes. This = consciousness of guilt!" Kirschner, who now works as a legal analyst for MSNBC and NBC News, tweeted on Friday morning.
"This is yet ANOTHER compelling reason McCarthy should testify to the House select committee AND to a federal grand jury investigating Donald Trump's crimes," the attorney added.
McCarthy in January rejected a request from the House select committee to testify. The House minority leader said in a January 12 statement that the investigators wanted to interview him "about public statements that have been shared with the world, and private conversations not remotely related to the violence that unfolded at the Capitol." He said he had "nothing else to add."
In the audio released Thursday, McCarthy was speaking with Representative Liz Cheney, a Wyoming Republican. Cheney joined 10 other House Republicans in voting to impeach Trump for inciting the attack against the U.S. Capitol. She now serves as vice-chair of the select committee investigating the events of January 6, and was ousted from her No. 3 leadership role as the House Republican Conference chair in May 2021 for her impeachment vote and committee participation.
"Is there any chance? Are you hearing that he might resign? Is there any reason to think that might happen?" Cheney asks McCarthy in the audio recording. McCarthy responds saying he plans to "call" Trump to discuss the pending impeachment hearings and potential next steps.
"Now, I haven't had a discussion with the Dems, that if he did resign, would that [the impeachment] happen? Now, this is one personal fear I have. I do not want to get into any conversation about Pence pardoning [Trump]," McCarthy said.
"Again, the only discussion I would have with him is that I think this will pass, and it would be my recommendation you should resign. Um, I mean that would be my take. But I don't think he would take it. But I don't know," he said.
Some lawmakers and analysts suggested that Cheney leaked the audio, but the congresswoman has denied doing so. "The select committee has asked Kevin McCarthy to speak with us about these events but he has so far declined. Representative Cheney did not record or leak the tape and does not know how the reporters got it," her spokesperson told Punchbowl News on Friday.
Amid the attack on the Capitol, the House minority leader reportedly spoke with Trump by phone to urge him to call off his supporters. Representative Jaime Herrera Beutler, a Washington Republican, previously said that Trump responded to McCarthy by saying, "Well, Kevin, I guess these people are more upset about the election than you are."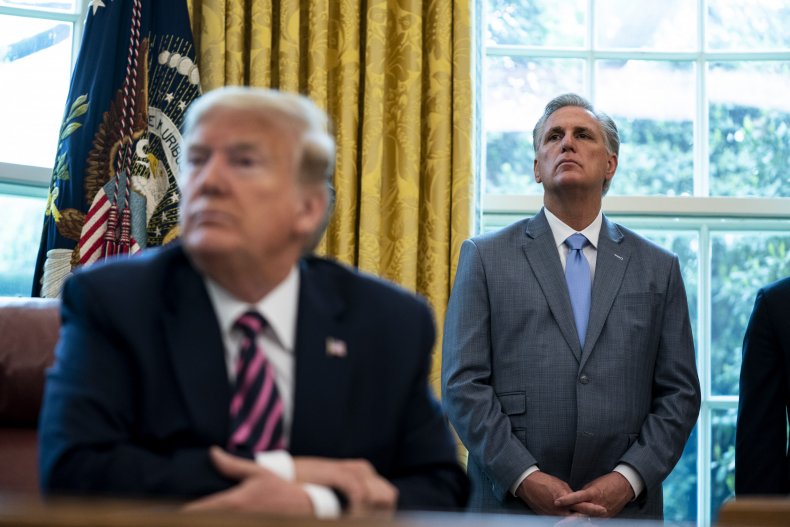 McCarthy initially blamed Trump and criticized him for the violence of January 6. "The president bears responsibility for Wednesday's attack on Congress by mob rioters," McCarthy said in January 13, 2021 remarks on the House floor. "He should have immediately denounced the mob when he saw what was unfolding."
But by the end of January 2021, McCarthy had traveled to meet with Trump at his Mar-a-Lago, Florida residence. Critics of the GOP House leader have contended that this visit and his subsequent actions were key to rehabilitating the former president's political image in the aftermath of the January 6 violence.
Newsweek reached out to spokespeople for Trump and McCarthy for comment.