Liz Cheney Denies Being Behind Kevin McCarthy Tape Leak
Representative Liz Cheney has denied leaking an audio recording of House Minority Leader Kevin McCarthy saying he was considering advising then President Donald Trump to resign in January 2021.
The audio clip was shared by reporters Alex Burns and Jonathan Martin of The New York Times and aired by MSNBC's Rachel Maddow on her Thursday night show. It is highly unlikely Burns and Martin will reveal how they obtained the recording.
Some social media users had suggested that it was Cheney who gave the reporters the recording. The Republican, who represents Wyoming's at-large congressional district, speaks during the first part of the clip and asks McCarthy about Trump resigning.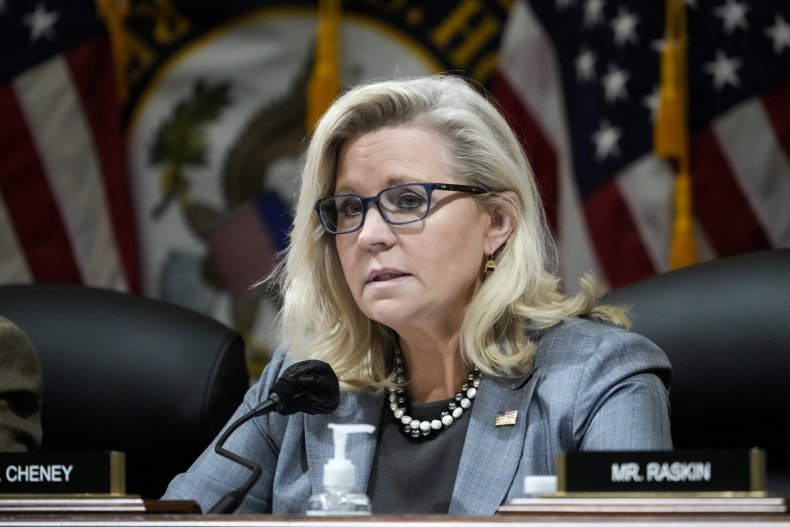 However, a spokesperson for Cheney told Punchbowl News in comments published on Friday that she was not responsible.
"The select committee has asked Kevin McCarthy to speak with us about these events but he has so far declined. Representative Cheney did not record or leak the tape and does not know how the reporters got it," the statement said.
Cheney's office told Newsweek on Friday that the statement was accurate.
The recording was reportedly made on January 10, 2021—days after the Capitol riot on January 6 and at a time when Democrats were preparing to pass articles of impeachment against Trump.
McCarthy had strongly denied The New York Times' reporting on Thursday before the audio became public, while his spokesperson Mark Bednar issued a statement saying: "McCarthy never said he'd call Trump to say he should resign."
MSNBC contributor Sam Stein had speculated on Twitter that Cheney was the person who provided the audio and others also made the same suggestion.
"Well McCarthy's denial that he ever recommended Trump resign looks dead and Liz Cheney (with a recorded phone call and a strategic leak?) looks like she murdered it," Stein said.
Tom Fitton, president of conservative group Judicial Watch, wrote: "So Liz Cheney secretly recorded and leaked their phone conversation?"
Republican Representative Matt Gaetz replied to Fitton, writing simply: "Obviously."
The popular political Twitter account Palmer Report wrote: "Where did these tapes come from? Who recorded these private conversations? If Liz Cheney has been setting up Kevin McCarthy all this time, these public January 6th Committee hearings are going to be wild!"
Doug Sovern, political reporter with San Francisco's KCBS Radio, suggested that other members of the House Republican caucus could also have leaked the audio, pointing to the fact that the caucus was on the call with McCarthy and Cheney.
"It wasn't just with Cheney, it was his whole caucus. I would guess a fellow Republican who doesn't want him to be Speaker saved it and shared it. Not necessarily Cheney, but perhaps," Sovern wrote.