Trump Critics Rip McCarthy After Audio Leak Shows He Wanted Trump to Resign
Critics of former President Donald Trump took aim at House Minority Leader Kevin McCarthy after leaked audio showed that he told other GOP lawmakers on January 10, 2021, that he would encourage Trump to resign days before the end of his term.
After the January 6, 2021, assault on the U.S. Capitol, McCarthy said he would recommend that Trump step down, The New York Times first reported on Thursday. McCarthy then released a statement describing the reporting as "totally false and wrong."
Later on Thursday, the Times published audio of McCarthy telling lawmakers what the newspaper had reported he said. "I'm seriously thinking of having that conversation with him tonight," the California Republican said in the brief clip from January 10, 2021. He added that he would tell Trump "it would be my recommendation you should resign."
Many critics of the former president quickly slammed the House minority leader on Twitter. Some expressed frustration that McCarthy had gone from criticizing Trump in the wake of the U.S. Capitol attack to quickly defending him. The GOP leader traveled to visit Trump at his Mar-a-Lago home in Florida in late January 2021, which critics have said was key to rehabilitating the former president's political future after the violent riot on January 6.
"Hey @GOPLeader," Sari Beth Rosenberg, an educator and writer, tweeted, "I just heard part of the tape. Why did you end up choosing Trump over America?"
"God these tapes are so infuriating," Sarah Longwell, publisher of conservative news site The Bulwark, wrote in a Twitter post. "Kevin McCarthy is casually discussing 25th Amendment, telling Trump to resign, and making sure Pence won't pardon him...WITH LIZ CHENEY. Only to, weeks later, kick Cheney out of leadership for saying the same things he did."
Representative Liz Cheney, a Wyoming Republican, was one of the 10 House Republicans to vote to impeach Trump for inciting the January 6 attack. She has continued to be one of his harshest critics. She was ousted from her No. 3 leadership role as chair of the House Republican Conference in May 2021.
"Kevin McCarthy—after the death threats many of your elected colleagues have endured for telling the truth about Jan 6 & all of your hypocrisy towards Liz Cheney as you continuously lead the GOP to kowtow to Trump—everyone knows you're a liar. There are tapes," Olivia Troye, a former homeland security adviser to former Vice President Mike Pence, wrote in a Twitter post.
"I think there would be no more fitting end to Kevin McCarthy's dream of becoming speaker than the 'scandal' of him being exposed as privately believing the right and moral thing," Jonah Goldberg, the editor-in-chief of conservative online magazine The Dispatch, tweeted.
"No party leader in American history has had to disavow as many of his own audio-recorded words as Kevin McCarthy, dating back at least to 2016," David Frum, a former speechwriter for President George W. Bush, wrote in a tweet. Notably, Trump was first elected in November 2016.
"The most important question for @GOPLeader is will Trump forgive him? Will the Freedom Caucus forgive him? Kevin has been disloyal to all parties and the Constitution of the United States. He did all this to climb that greasy pole to the top in Washington," Steve Schmidt, a political strategist who worked on high-profile Republican campaigns, tweeted.
Newsweek reached out to spokespeople for Trump and McCarthy for comment.
McCarthy aims to become House speaker if the GOP, as is widely expected, takes back control of the lower chamber of Congress following the 2022 midterms. While a number of Republican lawmakers believe McCarthy has the support he needs to become speaker, some—such as GOP Representative Matt Gaetz of Florida—have floated the idea of nominating Trump instead.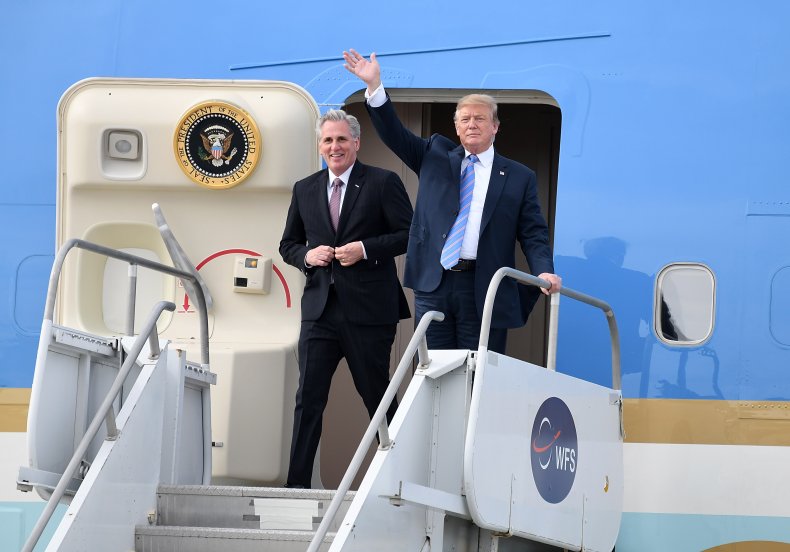 Although House speakers are traditionally elected from among the members of the chamber, the Constitution technically allows for anyone the legislative body chooses to assume the role. Gaetz and other staunch Trump loyalists, such as right-wing strategist Steve Bannon, have said the former president should be put in charge of the House if the GOP takes back control from the Democrats. Representative Jim Jordan, an Ohio Republican who chairs the House Freedom Caucus, has also been suggested as a potential contender for the role.
While some McCarthy critics are predicting his demise, others believe the controversy over the leaked audio will simply blow over.
"You think something Kevin McCarthy said on some tape is going to hurt him or Republicans politically? Bulls**t. Hell, Donald Trump incited a F***ING INSURRECTION, and he'll STILL be the Republican nominee in 2024," former GOP Representative and failed 2020 Republican presidential candidate Joe Walsh tweeted.
"Get out of your MSNBC bubble and start changing hearts & minds," he added.