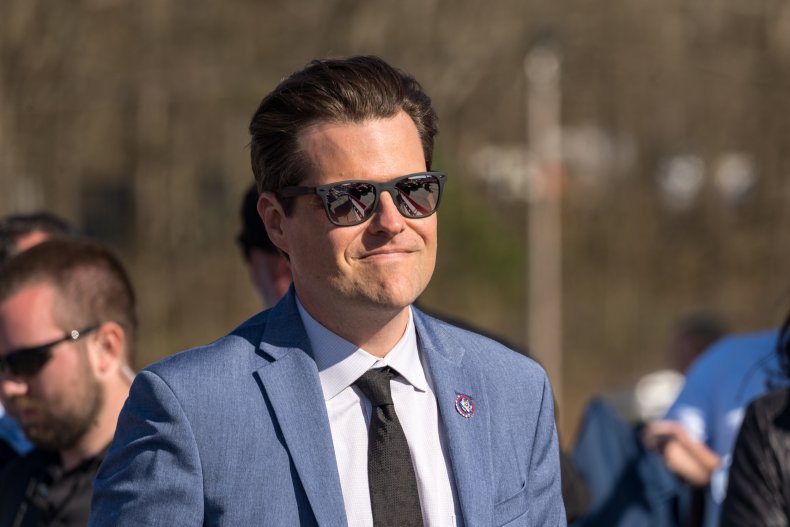 Republican Representative Matt Gaetz of Florida has lashed out at "weak" GOP House leadership following a report that they were privately concerned about his behavior following the January 6, 2021, attack on the U.S. Capitol.
Gaetz said in a statement on Tuesday that House Minority Leader Kevin McCarthy of California and House Minority Whip Steve Scalise of Louisiana were "weak men," accusing them of sharing disparaging opinions about him and former President Donald Trump indirectly during "sniveling phone calls" with Republican Representative Liz Cheney of Wyoming.
"Rep. McCarthy and Rep. Scalise held views about President Trump and me that they shared on sniveling phone calls with Liz Cheney, not us," Gaetz said. "This is the behavior of weak men, not leaders."
"While I was protecting President Trump from impeachment, they were protecting Liz Cheney from criticism," he added. "You just have to listen to their own words as they disparage Trump and the Republicans in Congress who fight for him."
Earlier on Tuesday, The New York Times reported that McCarthy, during a January 10, 2021, GOP leadership call, had accused Gaetz of "putting people in jeopardy" with comments he made in the days following the Capitol riot.
Scalise reportedly backed up McCarthy's concerns, which were at least partly focused on the safety of Cheney, a then-member of the leadership team who would become known as one of Trump's top Republican critics following January 6.
"He's putting people in jeopardy," McCarthy said of Gaetz during the call, according to the Times. "And he doesn't need to be doing this. We saw what people would do in the Capitol, you know, and these people came prepared with rope, with everything else."
"It's potentially illegal what he's doing," added Scalise.
Times reporters Alexander Burns and Jonathan Martin obtained audio from the call for their forthcoming book This Will Not Pass: Trump, Biden and the Battle for America's Future.
The newspaper reported last week that, during the same call, McCarthy told his fellow leaders that he would urge Trump to resign from office over his behavior on January 6.
McCarthy quickly issued a statement claiming that the report was "totally false and wrong." The Times then released an audio clip from the call that appeared to contradict his denial.
"I'm seriously thinking of having that conversation with him tonight," McCarthy said during the call, explaining that he planned to tell Trump "it would be my recommendation you should resign."
Gaetz was one of many to heavily criticize McCarthy after audio of the call was released. On Twitter, the Florida Republican referred to McCarthy as a "RINO," or "Republican in name only," and appeared to float Representative Jim Jordan, a fellow Trump loyalist, as his replacement for House GOP leader.
Newsweek reached out to the offices of McCarthy and Scalise for comment.