McCarthy, Scalise 'Not Fitting of Leadership,' Gaetz Tells Tucker Carlson
Republican Representative Matt Gaetz of Florida has continued his attack on GOP House leadership in an interview with Fox News host Tucker Carlson.
Gaetz said that House Minority Leader Kevin McCarthy of California and Minority Whip Steve Scalise of Louisiana were "not fitting of leadership" during a Wednesday night appearance on Tucker Carlson Tonight. The previous day, Gaetz accused the leaders of being "weak men" for speaking about him and former President Donald Trump indirectly during "sniveling phone calls" with Republican Representative Liz Cheney of Wyoming.
Carlson lamented that McCarthy and Scalise "did not apologize for what they did" during a closed-door GOP meeting on Wednesday. According to ABC News, McCarthy instead received a standing ovation from Republican colleagues after defending himself over the phone call.
Gaetz told Carlson that he doubted whether McCarthy was still "in line to be" speaker of the House if Republicans if regain control of the chamber during the November midterm elections, suggesting that the phone call was evidence of disloyalty toward Trump.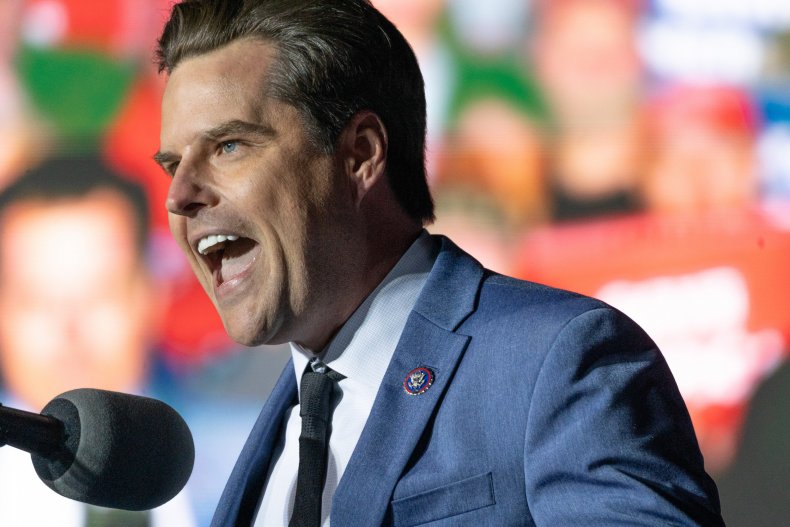 "I don't know if the guy gets an account on Truth Social at this point, based on the inconsistency between the recordings and what he says to us," Gaetz said, referring to Trump's fledgling social media platform.
"And it is debasing for Republicans to give this guy a standing ovation after he smears Trump, lies to the country and then tries to sic Big Tech and the DOJ on members of Congress whose views he doesn't agree with," he added.
Gaetz argued that McCarthy's alleged actions were done "for the sake of protecting Liz Cheney," who became one of Trump's fiercest Republican critics following the January 6, 2021, attack on the U.S. Capitol.
"This notion that you can have these sniveling calls and try to foment action against Republicans by Big Tech and DOJ is not fitting of leadership," said Gaetz.
On Tuesday, The New York Times reported that during a GOP leadership call held on January 10, 2021, McCarthy accused Gaetz of "putting people in jeopardy" with comments he made on Twitter in the days following the Capitol attack.
Scalise reportedly backed up McCarthy's concerns, which were at least partly concerned with the safety of Cheney, a then-member of the leadership team who following January 6 became an outspoken detractor of the former president.
"He's putting people in jeopardy," McCarthy said of Gaetz during the call, according to the Times. "And he doesn't need to be doing this. We saw what people would do in the Capitol, you know, and these people came prepared with rope, with everything else."
"It's potentially illegal what he's doing," added Scalise, according to the Times.
Carlson asked Gaetz whether Scalise had "apologized" to him for his remarks on Wednesday, to which Gaetz responded that Scalise told him "he was sorry if it caused me any problems."
"[Scalise] wasn't reacting to something, he raised the prospect of the illegality of my statement that Liz Cheney was anti-Trump," said Gaetz. "That's not what leaders do."
During the same call discussing Gaetz, McCarthy told his fellow GOP leaders that he was considering confronting Trump and urging him to resign from office over his behavior on January 6.
McCarthy quickly issued a statement claiming that the report was "totally false and wrong" after the call was first reported on last week. The Times then released an audio clip from the call that appeared to contradict his denial.
Newsweek reached out to the offices of McCarthy and Scalise for comment.