Trump's Fears About Liz Cheney Race May Be Coming True
Wyoming Republican Representative Liz Cheney raised a personal fundraising record of $2.94 million for the first quarter of 2022, according to a Monday report.
Politico reported that Cheney's campaign will soon announce that it has raised $2.94 million in the first quarter of 2022, which will bring her total to over $10 million. The outlet also said the representative currently has $6.8 million cash on hand with four months left until the August 16 primary.
The substantial amount of money raised by her campaign gives the congresswoman a financial advantage over her opponents in the upcoming GOP primary race for her seat. The news of her fundraising figures comes as former President Donald Trump's strategy of uniting his supporters behind one challenger to defeat Cheney is in jeopardy.
Cheney was the highest-ranking Republican to vote to impeach Trump in January 2021 over allegations that he played a role in inciting the riot on the U.S. Capitol. She has also publicly countered his unproven claims that the 2020 presidential election was stolen from him, and she drew more ire from his supporters by accepting a vice-chair position on the House select committee investigating the Capitol riot.
"The easiest way to defeat Deplorable Liz Cheney is by having only ONE Conservative candidate run and WIN!" Trump said in a statement released on July 30, 2021.
However, Cheney's campaign war chest and the fact that several other GOP candidates are vying for the nomination—in addition to the one endorsed by Trump—may aid Cheney's path to reelection.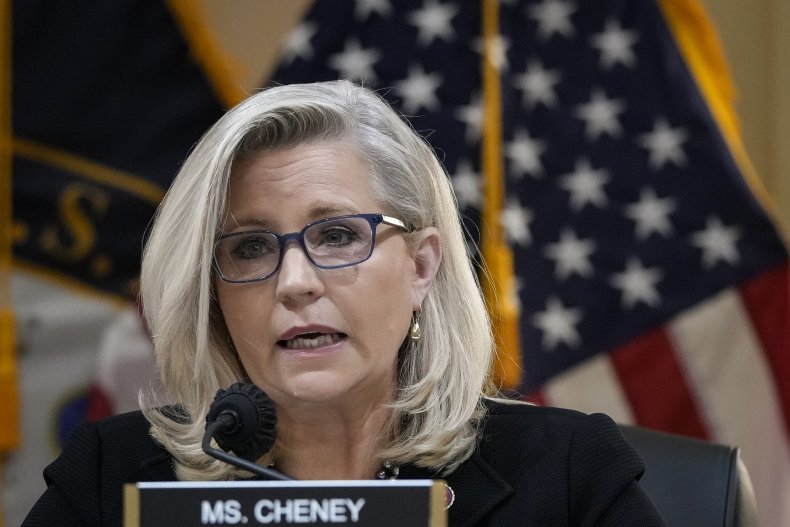 Trump endorsed attorney Harriet Hageman last September in the race to unseat Cheney. In that announcement, the former president referred to Cheney as a "disloyal Republican" and "the Democrats' number one provider of sound bites."
So far, Hageman is losing the money race. According to Politico, Cheney's first-quarter total is over double the figure Hageman's campaign raised last quarter. Meanwhile, Hageman may also not have as firm of a grasp on Trump's base as his endorsement would typically deliver.
For one, numerous outlets have picked up on previous statements Hageman made about Trump in 2016. The New York Times reported she not only opposed her party in naming Trump as its presidential nominee at the 2016 Republican National Convention, but she also referred to him as "racist" and "xenophobic."
There are also at least three other Republican candidates in addition to Hageman, including state Senator Anthony Bouchard, who has long been a Trump loyalist. Politico speculated Bouchard may draw MAGA voters away from Hageman, but a recently divulged incident from his past may cost him some support. The Casper Star-Tribune reported in December that Bouchard admitted to impregnating a 14-year-old girl when he was 18. Bouchard legally married the girl in Florida, though they reportedly were divorced three years later.
Cheney has faced repercussions within her party for her stance against Trump. Last May, she was removed from her leadership position among House Republicans when party members ousted her as conference chair. Later, in November, the Wyoming Republican Party voted to no longer recognize Cheney as a member of the party.
Yet, her defiance has also resulted in a surge in out-of-state contributions to her campaign. Open Secrets, which tracks money in U.S. politics, reported on March 24 that most of Cheney's campaign donations came from outside of Wyoming. In 2021, she raised about $7 million, with just $202,980 of that coming from Wyoming, which placed seventh on the list of states in terms of her donations. With more than $556,430 in donations, Texas topped the list for Cheney, followed by California's $541,880.
Newsweek reached out to Cheney and Trump for comment.