'November Rain' Plays at Trump Michigan Rally, Despite Axl Rose's 'Disdain' For President
Guns N' Roses' classic hit "November Rain" was played at a Trump rally this week—and it is apparently a song the president has always wanted on his rally playlist.
The 1991 rock anthem was likely played at the packed Donald Trump campaign event in Michigan Thursday without permission from the band as is a common occurrence with music used at such rallies. The President has a track record with using songs without permission, prompting complaints from several artists over the years.
According to Sarah Huckabee Sanders' book, the song 1991 rock anthem and its famous video is a favorite of the President's who asked for it to be placed on his rally playlist back in 2018.
Former White House Press Secretary wrote in her book—"Speaking for Myself: Faith, Freedom, and the Fight of Our Lives Inside the Trump White House"—that Trump told her the video for 'November Rain' was "the greatest music video of all time" and made her watch it with him in the Oval Office to prove his point, though she "didn't disagree."
White House Reporter for Bloomberg Jennifer Jacobs tweeted the extract from the book following the Michigan rally this week.
Newsweek has reached out to Guns N' Roses' management for comment.
The band's frontman Axl Rose has been incredibly outspoken about his disdain for the Trump Administration in recent years, though he is yet to publicly react to his hit being used.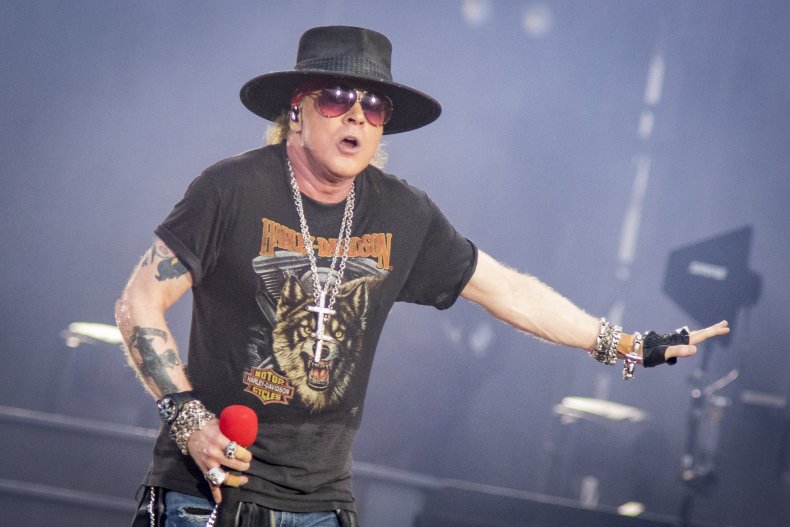 In fact, he previously lashed out at the President for unauthorized use of his music in 2018 in a lengthy Twitter thread.
"Just so ya know... GNR like a lot of artists opposed to the unauthorized use of their music at political events has formally requested r music not b used at Trump rallies or Trump associated events," he began.
"Unfortunately the Trump campaign is using loopholes in the various venues' blanket performance licenses which were not intended for such craven political purposes, without the songwriters' consent. Can u say 's***bags?!'"
Rose also joked that he was amused by Trump supporters listening to "anti-Trump" music at such events.
"Personally I kinda liked the irony of Trump supporters listening to a bunch of anti Trump music at his rallies but I don't imagine a lot of 'em really get that or care," he said.
More recently, in July, Rose spoke of his "disdain" for Trump's presidency, tweeting: "My disdain 4 r current administration n' what I perceive as it's threat to r democracy is no secret."
He went on to say: "In general my posts in regard to current events, politics or social issues r usually coming from a sense of outrage, obligation n' responsibility to say something at times when I feel not to is being complicit (as opposed to a desire for attention or self promotion.)
"I'm nobody, just a citizen that like everyone else has my own opinions n' believes in my heart that ultimately I want what's best for not just r country but for humanity, wildlife n' r environment n' other's as opposed to right, left or any other wing fascism r at least in this country free to disagree."
One of the most recent artists to take issue with their music being used by Trump was "Electric Avenue" singer Eddy Grant.
Grant has since filed a lawsuit against the President for using his hit song in a bizarre anti-Biden clip shared to Twitter,