Trump Rally Student Says Aunt Jemima Was 'Picture of the American Dream'
A student at the Trump Rally in Arizona on Tuesday said Aunt Jemima was a "picture of the American Dream."
Reagan Escudé said: "Aunt Jemima was canceled. And if you didn't know, Nancy Green, the original, first Aunt Jemima, she was the picture of the American dream. She was a freed slave who went on to be the face of the pancake syrup that we love and we have in our pantries today."
"She fought for equality and now the leftist mob is trying to erase her legacy. And might I mention how privileged we are as a nation if our biggest concern is a bottle of pancake syrup."
The original image of Aunt Jemima, as depicted by Nancy Green was that of a "mammy" caricature. The offensive image depicted female slaves as happy to care for the white family of the slave owners and were happy to be enslaved.
Additionally, the brand got its name from the song "Old Aunt Jemima," which was performed at minstrel shows, often by a white man wearing blackface.
Despite her lifetime contract with the brand, Nancy Green worked as a housekeeper until she died.
The clip of Escudé speaking about Aunt Jemima that was shared by Peter Wade has more than 3.5 million views and has received backlash on social media.
Yvette Nicole Brown shared the video on Twitter and said: "Sadly, [Reagan] doesn't realize that HER biggest problem being pancake syrup shows HER privilege. It's not MY biggest problem by a mile.
"NO ONE I know is marching and protesting during a pandemic over #AuntJemima or pancakes. But go off, [Reagan.] Go off."
Kurt Eichenwald said: "Ummm...Aunt Jemima was a fictional character first created for a minstrel show by Chris Rutt, a popular racist from the late 19th Century who danced and sang in blackface.
"Do ANY conservatives/Trumpers know ANYTHING about the topics they whine about?"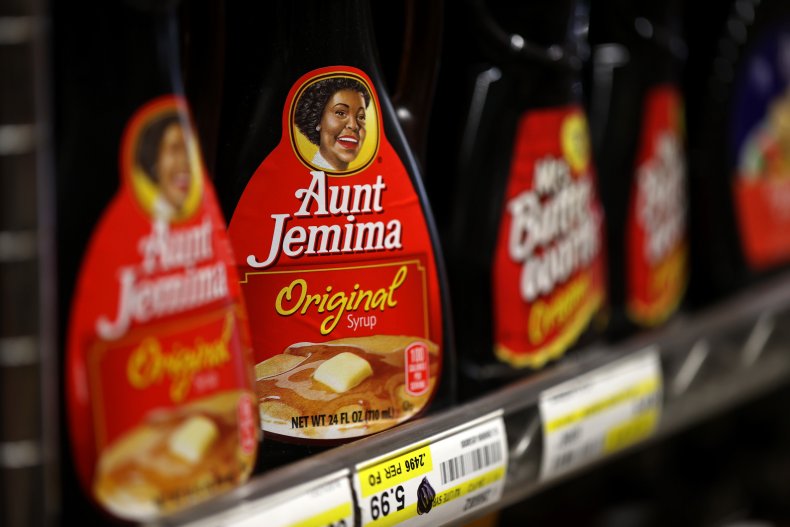 Yashar Ali shared an article from AP with the headline: "No evidence former slave who helped launch Aunt Jemima products became a millionaire" and said: "Can't believe I have to tweet this but I keep seeing this false claim posted...and by the way, even if she was that doesn't make racist imagery and product names ok."
Bradley P. Moss said: "These kids are too stupid to know Aunt Jemima was not a real person. They are obnoxiously and proudly ignorant. They don't care how dumb they sound."
Before speaking about Aunt Jemima, The Northwestern State University graduate began her speech on cancel culture and told the audience how she was fired over an Instagram video.
In her speech at the Turning Point Rally, which was spoken on a stage shared with President Donald Trump, Escudé says her video was to remind the pastors that: "racism is a problem in the heart, it is a sin problem that cannot be solved by any law, protest, or march."
In her Instagram video, Escudé said that amid the "chaos of the Black Lives Matter movement" she wanted to express her disappointment with the church's reaction.
She said that the "rioting and destruction" is a result of fatherlessness and said how BLM supports LGBTQ empowerment and Black Power, which she called "racist," and listed other beliefs of the BLM movement like Universal Income and racial reparations, which she said Christians should not support.
The video received backlash from her "leftist followers," and she was called racist and homophobic. An ex-co-worker posted Escudé's place of work on social media which resulted in calls to her employer, who eventually fired her, due to "the reaction of the leftist mob."
Escudé ended her speech by thanking Trump and said "we are so blessed to have a president who stands on the frontlines, walks through the fire every day to fight for our god-given American freedoms.
"Do not apologize to the mob and thank you President Trump for never apologizing for the mob, for always standing firm, for being here for the American people and fighting for our best interests, because you are the change we need to see in America."