A Brand New Law Could Be Donald Trump's Undoing
Donald Trump is facing more legal issues when a new law comes into effect on Thanksgiving that allows alleged victims of sexual assault to sue even after the criminal statute of limitations has expired.
E. Jean Carroll, a former Elle magazine columnist who accuses the former president of raping her at a Bergdorf Goodman dressing room in the mid-1990s, previously confirmed her intention to sue Trump once New York's Adult Survivors Act takes effect on November 24. The former president has always denied any wrongdoing.
Carroll, who is currently suing Trump for defamation in relation to how the former president denied the rape allegations, has said she will file a new battery lawsuit in the Federal District Court in Manhattan on Thursday.
While Carroll has alleged Trump sexually assaulted her since 2019, the expiry of the statute of limitations from the alleged incident meant that she couldn't formally file any legal accusations against Trump.
Carroll will now use the Adult Survivors Act—a law passed in May that will give alleged adult sexual assault victims one year to bring lawsuits even if the statute of limitations has expired—to sue Trump.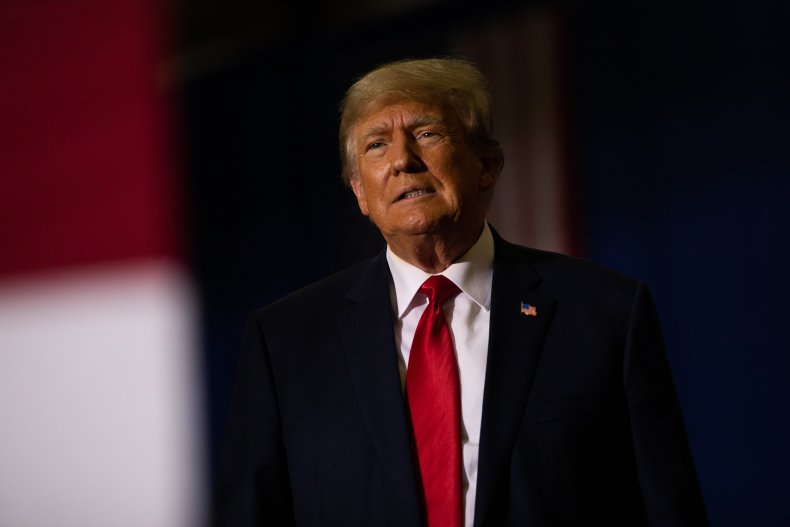 "Gird your loins, friends. We are filing the new complaint on November 24, Thanksgiving Day," Carroll tweeted on November 20.
The confirmation about plans to sue Trump for battery using the new law were also made in court filings made last week in which Carroll's legal team said they had launched a new defamation lawsuit against the former president over his continued denials surrounding the alleged rape.
Carroll's original lawsuit focused on how Trump defamed her character and claimed that Carroll was "not my type" in 2019. Trump also accused Carroll of lying about the alleged assault to sell books and "make money," as well as mock her physical appearance.
Trump's lawyers have attempted to quash the suit by claiming the Republican was just doing his job as president by denying the rape allegations.
However, in a lengthy October 12, 2022 statement, 21 months after he left the White House, Trump described the suit as a "complete con job," while once again denying the rape claim because Carroll is "not my type."
"It is a Hoax and a lie, just like all the other Hoaxes that have been played on me for the past seven years. And, while I am not supposed to say it, I will. This woman is not my type," Trump said.
Carroll's lawyer, Roberta Kaplan, asked that the upcoming November 24 lawsuit be tried with the original defamation case stemming from Trump's 2019 comments.
Trump already appeared for a deposition hearing at his Mar-a-Lago resort in Florida on October 19 as a part of the original defamation lawsuit brought forward by Carroll.
Trump attorney Alina Habba said plans to file a new lawsuit was "typical gamesmanship" from Kaplan.
"This filing is completely inappropriate and we will take up this issue with the court," Habba said in a statement.
In an October ruling denying Trump's request to delay his deposition in Carroll's lawsuit, judge Lewis Kaplan—no relation to Carroll's lawyer—said the question of whether Trump raped Carroll is "central" to the current lawsuit and the one that "will almost certainly" be filed on November 24.
"Accordingly, discovery and evidence related to whether or not the rape occurred is relevant to both cases," Kaplan wrote.
Trump's lawyers have been contacted for comment.