Trump Rebukes Barr After AG Finds No Evidence of Widespread Fraud in 2020 Election: 'He Hasn't Looked'
President Donald Trump rebuked Attorney General William Barr Thursday for disputing his unsubstantiated allegations of widespread voter fraud in the presidential election.
"Well, he hasn't done anything. So, he hasn't looked," Trump told reporters in the Oval Office. "They haven't looked very hard, which is a disappointment, to be honest with you, because it's massive fraud."
The president's remarks come days after Barr declared that the Department of Justice (DOJ) has uncovered no evidence of widespread fraud after following up on specific complaints and information the agency had received.
"To date, we have not seen fraud on a scale that could have affected a different outcome in the election," Barr told the Associated Press on Monday.
The attorney general added, "There's been one assertion that would be systemic fraud, and that would be the claim that machines were programmed essentially to skew the election results. And the [Homeland Security Department] and DOJ have looked into that, and so far we haven't seen anything to substantiate that."
The statement was yet another blow to Trump's narrative that the election was rigged and stolen by the Democrats. The president has refused to concede the race to President-elect Joe Biden, who was projected the winner on November 7. Biden soundly defeated Trump in the electoral vote, winning 306 to Trump's 232. He's also leading the national popular vote by nearly 7 million.
Trump's legal team has launched dozens of lawsuits, mostly in key battleground states, refuting the election's results. Nearly all of them have failed. Barr told the AP that the civil lawsuits being launched by the president's campaign and his Republican allies were the appropriate legal action.
But on Thursday Trump asserted that the attorney general should be looking at the matter through a criminal lens.
"This is not civil. He thought it was civil," Trump told reporters. "This is not civil. This is criminal stuff. This is very bad criminal stuff."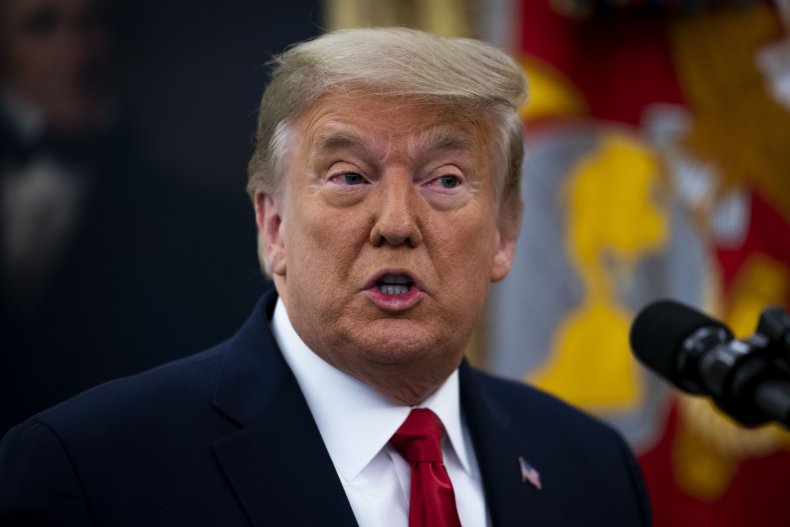 Barr has been one of the president's most loyal Cabinet members since his appointment in 2019. Like Trump, he assailed the special counsel's investigation into Russian election interference and ties to the president's campaign in 2016. His department has also interfered in investigations of Trump's former allies, including Roger Stone and Michael Flynn.
But when asked Thursday if he still had confidence in his attorney general, Trump declined to say. It's been reported by CNN, ABC and The Washington Post that Trump is angry with Barr and considered firing him for declaring that no widespread voter fraud has been found.
"Ask me that in a number of weeks from now," the president replied. "They should be looking at all of this fraud."
Newsweek reached out to the DOJ for comment on Trump's remarks but did not receive a response in time for publication.