Trump 'Red Mirage' Election Night Victory Is Unlikely, Political Scientists Say
A "red mirage" election victory for President Donald Trump is unlikely on 3 November, according to elections experts and a veteran Democratic strategist. Fears that Trump could appear to win in a landslide are apparently unfounded.
The possibility of a shock Trump victory on election night was floated by Josh Mendelsohn, CEO of Hawkfish, a data and analytics firm funded by former New York Mayor Mike Bloomberg which has done work for Democrats.
Mendelsohn told Axios on 1 September that Trump could appear to pull off a staggering victory on election night, only to lose days later once mail-in ballots are counted. However, this scenario has been seriously questioned.
Prof. Barry Burden, director of the Elections Research Center at the University of Wisconsin-Madison, told Newsweek that Mendelsohn's prediction was unlikely.
"There is likely to be a shift in some states between preliminary totals on election night that favor Trump to final results days later that favor Biden. There is a real possibility of a 'red mirage' in some states that ultimately gives way to Democratic victory," Burden said.
"But the Hawkfish analysis exaggerates the shift that is likely to take place. It seems implausible that preliminary results on election night will show Trump with over 400 of the 538 electoral votes. The analysis unfortunately does not appear to account for real differences across states in how ballots are actually processed.
"In states such as Pennsylvania and Arizona, it may take many days to tabulate ballots and the vote margin could shift significantly. But states such as Florida and Minnesota are able to process absentee ballots in advance, which will speed up the tabulation and blend the election day votes with votes that are cast in advance by mail."
"It is essential for the public to realize that election night totals are preliminary and that patience is required to produce a complete, accurate count of the vote," he said.
"In addition to the state-by-state allocation of electoral votes, the national popular vote is likely to shift toward Biden over the weeks that follow mostly because of California's slow process. In 2016 Clinton's advantage over Trump grew day by day as deep-blue California added more votes to the total. Red states tend to be smaller and faster in reporting near-final results."
Charles Stewart III is Kenan Sahin Distinguished Professor of Political Science at MIT. He told Newsweek that Hawkfish's claims were "sensationalist and reflect a serious lack of understanding of how election returns are reported and counted."
Stewart also criticized how Axios chose to report Hawkfish's analysis.
"[T]he Axios article is unreflective about how election results have been reported in the past, and ignorant about how the national media decision desks operate," he said.
"Media outlets have always provided caveats that the early returns aren't representative, and have always provided analysis to allow readers and viewers put the early returns in context.
"All of the decision desks are following the absentee ballot requests and returns, and are preparing their editorial staff for what will happen election night.
"Even taking the inaccurate description of how quickly absentee ballots are counted as given, which media outlet is going to report, 'Trump has a huge lead in the election day vote in central Pennsylvania, looks like a landslide to us...'?"
"There is a big market in this country for stoking anxiety about the possibility that Trump might somehow pull this election out of the hat, and I regard this report as pandering to that anxiety, and nothing more," Stewart said.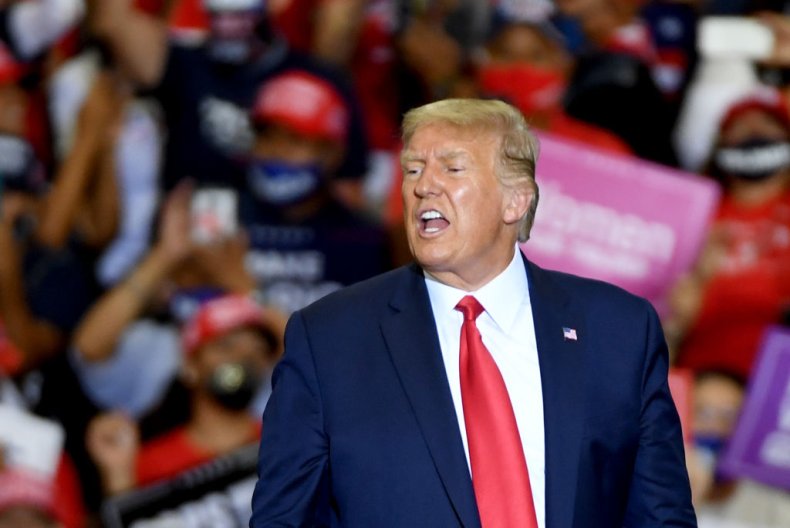 Stewart explained that early results on election night would be "shaded toward" Trump and said that talk of a Trump landslide "massively overstates things."
Michael Gordon, a former Clinton administration official who served as spokesperson for Attorney General Janet Reno, also cast doubt on the chances of an illusory Trump landslide.
"There's one bit of good news that has gotten lost in the panic over a red mirage: six of the key states that will decide the election also require that absentee ballots arrive by election day," the Democratic strategist told Newsweek.
"That means all of these states will have their ballots in hand on election day, and if they can get the resources they need to count them that day, we could know the results election night. The six states are Arizona, Colorado, Florida, Michigan, Pennsylvania and Wisconsin.
"Many states are a foregone conclusion," Gordon said. "We know California will vote blue and Alabama will vote red. But if most or all of the six states vote the same way and we know election night, we can safely know who the President will be because most of the other states are clearly in the red or blue column."
"The key is whether the officials in these states have the resources they need to accurately count results and release them election night," he said.