Trump Won't Condemn Self-Proclaimed White Nationalist Christopher Hasson Because "Those Are His People," Ex-RNC Chair Says
The former head of the Republican National Committee blasted President Donald Trump on Friday, speculating in a cable news appearance that Trump may have tempered his remarks about a self-identified white nationalist and domestic terrorist because "those are his people."
"Why are we acting like this is a space that Donald Trump is going to go in and behave of the American ideal?," said Michael Steele, who is also a former lieutenant governor of Maryland, in an appearance on MSNBC. "No, he is not. These are his people. And he's not going to thank law enforcement because he's probably not happy about what law enforcement did."
Steele, who served as the chair of the Republican National Committee from 2009 to 2011, delivered some of his harshest criticism of the Trump administration to date during the appearance. The remarks came while discussing reports that Trump failed to adequately condemn Christopher Paul Hasson, a U.S. Coast Guard lieutenant whom FBI officials accuse of concocting a plot to assassinate Democratic officials and journalists. Hasson, arrested Feb. 15, allegedly had a cache of weapons in his home and a hit list that investigators say included prominent politicians, including freshman Rep. Alexandria Ocasio-Cortez and former congressman and MSNBC commentator Joe Scarborough.
Trump characterized the Hasson allegations as a "shame" in a meeting with White House reporters, though critics have said he should have gone further to condemn Hasson in light of a flurry of statements Trump has previously made accusing reporters being the "enemy of the people."
"I think it's a shame," Trump said while speaking to reporters in the Oval Office on Friday. "I think it's a very sad thing when a thing like that happens. I've expressed that." He rebuffed accusations that his harsh language could have played a part in Hasson's plot, saying he thinks his "language is very nice."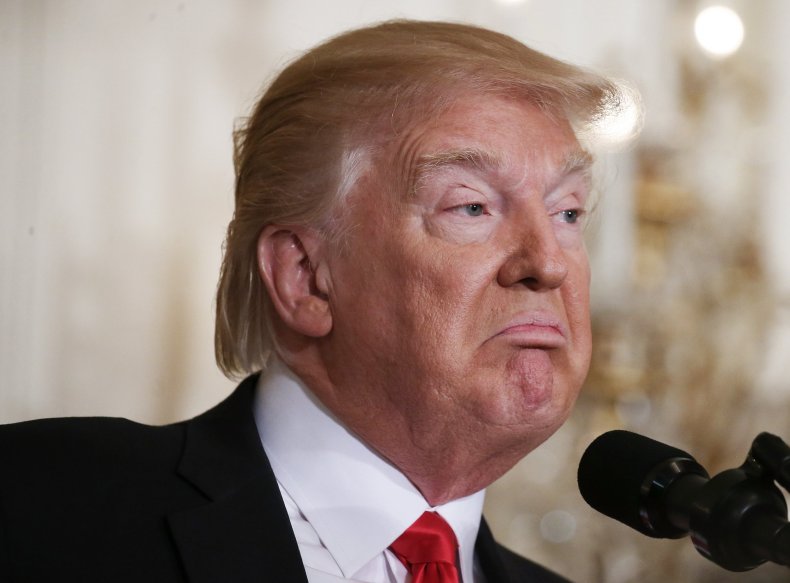 In the Friday interview with MSNBC, Steele suggested waiting for condemnation from the president was unrealistic.
"I'm not going to dress it up and be pie in the sky and hopeful that, oh, maybe in the next incident Trump will actually get it right, that he will have matured in his presidency enough to act like a president," Steele said.
White House Spokesperson Sarah Sanders defended Trump and pivoted the blame back toward media on Friday.
"I certainly don't think that the president at any point has done anything but condemn violence against journalists or anyone else," Sanders said when pressed about Trump's previous inflammatory statements about media and his political opponents. "In fact, every single time something like this happens the president is typically one of the first people to condemn the violence and the media is the first people to blame the president."
That statement, too, was rebuffed by journalists and political commentators, who pointed out that Trump had previously shared doctored gifs of him physically sparring with CNN and defended Republican Montana Rep. Greg Gianforte after he body-slammed a reporter.
"Any guy that can do a body slam, he is my kind of guy...He's my guy,'" Trump said at the time.