Trump 'Reinstatement Day' Latest Failure in Predictions He'll Resume Presidency, Oust Biden
Predictions that former President Donald Trump will be reinstated continue to fall flat, but about 1 in 10 registered voters continue to believe the former president will be back in the Oval Office before the year's end.
Religious leaders and Trump's supporters have thrown out a number of dates that the former president was expected to return to power and the failure for the prediction to come true prompted some to double down, throwing out new expectations. The most recent theory, peddled by MyPillow CEO Mike Lindell, was that Trump would be back in office "by the morning" of August 13, a date that came to be referred to as Trump's "reinstatement day."
"The morning of August 13 it'll be the talk of the world, going, 'Hurry up! Let's get this election pulled down, let's right the right, let's get these Communists out, you know, that have taken over,'" Lindell told Brannon Howse in early July.
Lindell previously told Steve Bannon that Trump would be back in office "by August," but recently tried to temper expectations about the exact date the former president would be reinstated. He told the Daily Beast that his earlier August prediction was "an estimate at the time" and that the timeline depends on when the Supreme Court takes up the issue.
Fact checkers have routinely debunked the belief that Trump could be reinstated and one of the former president's most ardent supporters even encouraged people to let go of the theory. Representative Marjorie Taylor Greene supports the belief that there were improprieties in the election that helped propel President Joe Biden to victory, but told Bannon in July people need to be "careful in what they believe" regarding Trump's reinstatement.
"I would hate for anyone to get their hopes up thinking that President Trump is going to be back in the White House in August because that's not true, and I'm telling you that as a member of Congress, that's a very difficult thing to do," Greene said.
Lindell's August 13 prediction wasn't the first to fail and Biden was still inaugurated on January 20, the day that some believed the election would be overturned. Biden also remained in office after March 4, another day that was floated for Trump's reinstatement.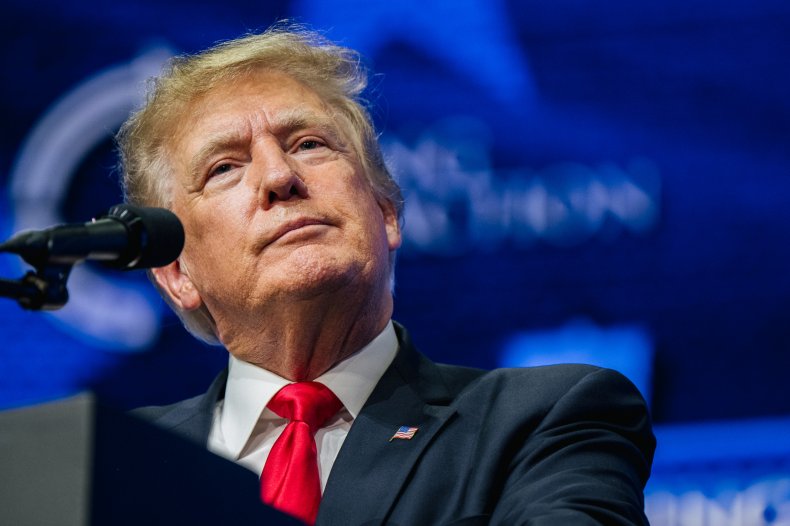 Self-proclaimed prophets have also made their own predictions about Trump's return to office, all of which have failed to come to fruition. While some religious leaders backed off the theory after Biden's inauguration, others have doubled down on the belief that Trump is the rightful president and will once again sit in the Oval Office.
Pastor Jeff Jansen, once of the most vocal believers that Trump will be reinstated, baselessly claimed the U.S. military would reinstate Trump by the end of April. Instead of admitting the "prophecy" was wrong, Jansen continued to back the claim, saying that Trump was "stepping into his place" and then threw out the date of June 23.
"The Trump administration is on its way in. The pedophilia Biden administration, the fake administration, the Biden administration is on its way out," Jansen said on June 8.
Days later, Pastor Hank Kunneman, also a self-described prophet, defended the failed prophecies. He said God hadn't put Trump back into office to make it look like the prophets were wrong. He also predicted there would be a "shift" on July 4 because "God's had enough of it" and it was the "season of fulfillment."
Few people have defended the belief that the 2020 election was stolen from Trump more than his attorney, Jenna Ellis. However, just like Greene, she wouldn't get on board with the idea that the former president would return to office before the next presidential election.
Ellis posted on Twitter that impeachment and conviction is the only way to remove a sitting president. Therefore, Trump can't be "reinstated" and Ellis noted that even if Biden was properly removed from office, it wouldn't yield a second Trump term because of the constitutionally-mandated line of succession.
Her comments came in response to a claim another former Trump attorney, Sideny Powell, made. Powell told attendees of a "For God & Country Patriot Roundup" conference that Trump can "simply be reinstated" and serve the remainder of the term.
Despite the failed predictions, a number of voters still believe the former president will be reinstated before the end of the year, although that number has seemed to waned over the past few months. A Morning Consult/Politico poll released on Wednesday found 25 percent of Republicans thought it was at least "somewhat likely" that Trump would be reinstated. That's down from 29 percent in June.
With a margin of error of 2 percent, the number of Republicans who believe it's "very likely" Trump will return to office has remained essentially unchanged. In June, 17 percent thought it was "very likely," and that number was at 16 percent on Wednesday's poll. The Morning Consult/Politico survey found 11 percent of all registered voters believe Trump will be reinstated by the end of the year.