Trump Relection Campaign Asks for 10,000 Donations to Help President 'Hold China Accountable for Their Lies'
President Donald Trump's reelection campaign sent potential donors an email on Tuesday that promised their money would be used to "hold China accountable" for the COVID-19 pandemic.
Trump has increasingly focused blame on China for the pandemic amid criticism that his own actions may have helped the virus ravage the U.S. on a scale greater than anywhere else in the world. The campaign cited the Chinese government's early efforts to cover up knowledge of the virus.
"China has been lying and doing everything they can to cover up the spread of COVID-19 in their country. It's absolutely disgraceful and we can't stand by and do nothing," the email reads. "President Trump has always been tough on China, but he can't hold them accountable on his own."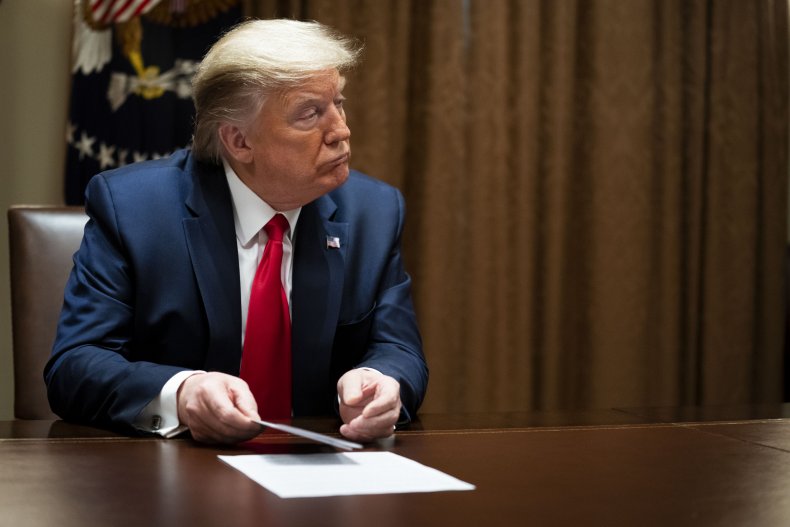 The Chinese government did work to suppress information about the virus when it first emerged in late December, according to numerous medical experts who attempted to act as whistleblowers. Although Trump has claimed that he was unaware of the situation early on, the news was first reported publicly in early January.
The email suggests that campaign contributions will fund an effort to punish China, although it is unclear how donating to the president's political campaign would directly affect China.
"He is calling on YOU to stand with him and hold China accountable for their lies and deceptions during the Coronavirus pandemic," the email continues. "Our goal is to get 10,000 donations by 11:59 PM TONIGHT to give President Trump the necessary funds to hold China accountable."
Newsweek reached out to the Trump campaign for comment but did not receive a response in time for publication.
Trump's statements about China and the pandemic have changed over time. When the virus first became public in January, he praised Chinese President Xi Jinping for his handling of the crisis.
"China has been working very hard to contain the Coronavirus," Trump tweeted on January 24. "The United States greatly appreciates their efforts and transparency. It will all work out well. In particular, on behalf of the American People, I want to thank President Xi!"
Trump continued to make statements in support of China and Xi's handling of the virus until late February, when the situation in the U.S. began to escalate. In March, the president and his allies ramped up criticism of the country and Trump began referring to the virus using terms such as "the China virus" or "the Wuhan virus."
During Tuesday's Coronavirus Task Force briefing at the White House, the president cut funding for the World Health Organization, which he has called "China-centric," saying the organization had not done it's "basic duty" by failing to stop the virus from spreading beyond China.