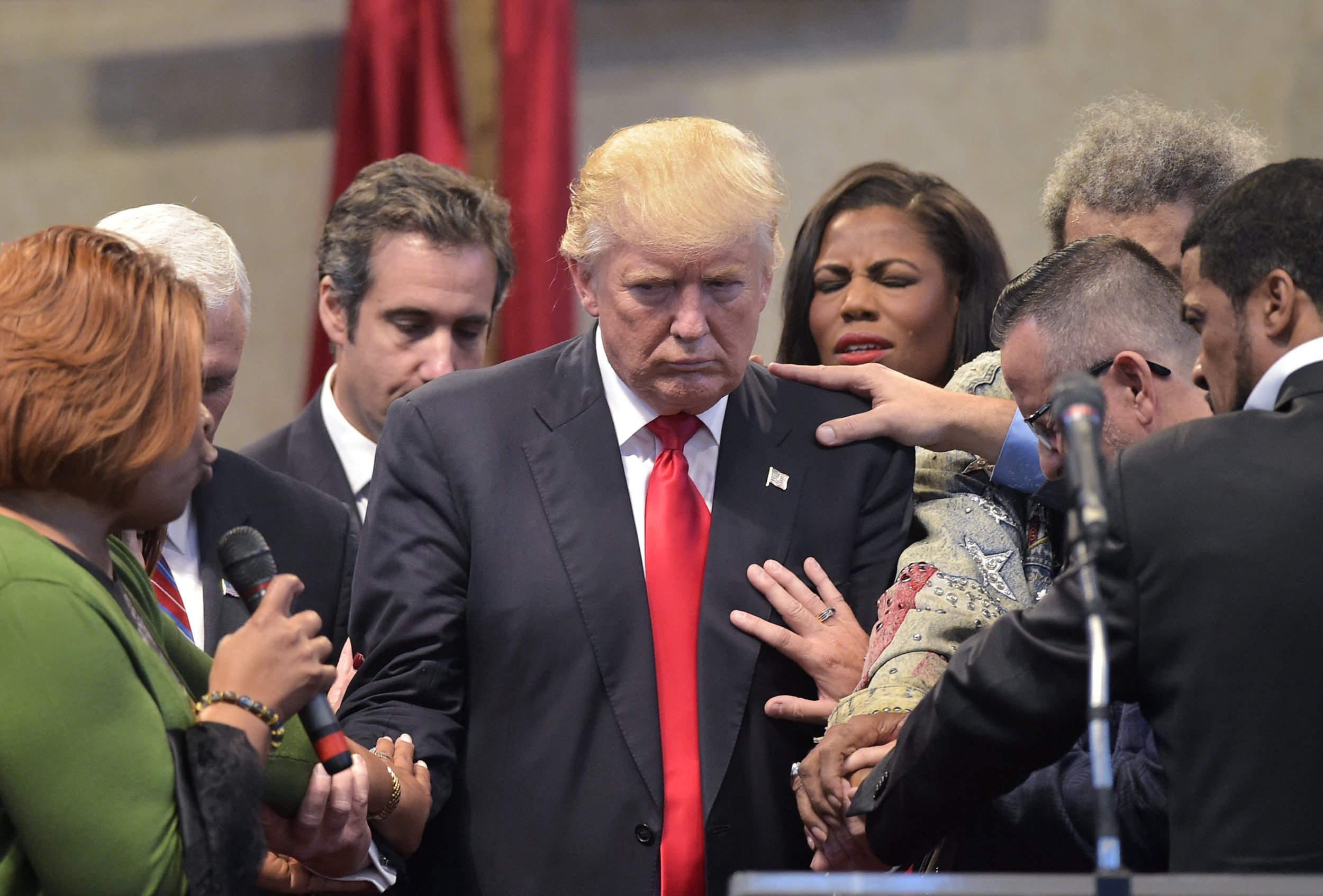 Do you think the devil will send you straight to hell if you sell a woman a birth control device, or bake a wedding cake for a gay marriage? Are you a wealthy person who would like to give more money to your favorite candidate but have reached the legal limit and need a front group by which to pony up more?
If so, the deity you believe in was smiling on you when President Donald Trump—a most unlikely vehicle for implementing the fondest hopes and dreams of the religious right—signed the oxymoronic Religious Freedom executive order on Thursday.
A thrice married New York libertine who has said avoiding herpes during the Disco Years was his Vietnam, Trump started running for a second term the day after his inauguration, and is still bombarding the airwaves with ads hawking the self-described accomplishments of his first 100 days. During his campaign, he pandered to the Evangelicals from the get-go, and he ramped it up when Republicans and savvy advisers forced him to choose Mike "Let's Jail Miscarrying Mothers" Pence as his running mate.
Now, he's doing what he can to maintain their allegiance. To keep them on the Trump Train, he stacked his Cabinet with nine Evangelicals, and he has often given hope and succor to the fanatical minority that wants to de-fund Planned Parenthood and turn American women into the baby-producing handmaids who populate Margaret Atwood's Gilead.
Perhaps because the religious right is a minority, and perhaps because the sect teaches members to suspect nonbelievers, Evangelicals often complain that they are "under attack." A president who got elected by piquing white, older Americans' sense of bewilderment and loss could never resist championing the grievances of the least actually aggrieved—like white Christians, among the most defended humans on Earth.
"We will not allow people of faith to be targeted, bullied or silenced ever again," Trump told the audience before he signed the order, which directs federal agencies to exempt some religious groups from providing birth control to employees and staff, as required under Obamacare, and puts the attorney general in charge of "guidance interpreting religious liberty."
The White House said the order is necessary to protect religious groups "persecuted by the Obama administration," such as the Little Sisters of the Poor, which refused to pay for contraception under Obamacare.
But polls have found that 61 percent of Americans actually oppose allowing small-business owners in their state to refuse service to gays and lesbians, regardless of whether it offends their religious beliefs. And there is no broad support among religious sects. According to PRRI, a nonpartisan national polling and research organization, only three religious groups—Mormons, white Evangelical Protestants and Jehovah's Witnesses—oppose gay marriage, and together those religions comprise only 19 percent of American religious people. More than 1,300 clergy members took out a full-page ad in Politico to proclaim that the order was "a license to discriminate" that would turn religious freedom "into a weapon…against broad swaths of our nation, including LGBTQ people, women, and children in foster care."
The order also directs the IRS to to "exercise maximum enforcement discretion to alleviate the burden of the Johnson Amendment"—effectively putting restraints on a 60-year-old American law that forbids religious institutions from giving money to political candidates.
"A crippling financial punishment," Mr Trump said. "Very, very unfair. But no longer."
Aaron Scherb, legislative affairs director for Common Cause, called the order a "backdoor" way to get more secret money into politics. "The order would allow a billionaire to funnel money through a religious organization, it would be secret, the group would never have to disclose it, and the billionaire donor would get a tax write-off," he said.
Bottom line: The American taxpayer will be subsidizing the billionaire's political speech.
But some among the godly might find that a small price to pay for not having to sell wedding cakes to gay people, or sell drugs and devices that help women control when they have babies.