Is Trump Republican? Timeline of President's Shifting Political Views After He Sides With Democrats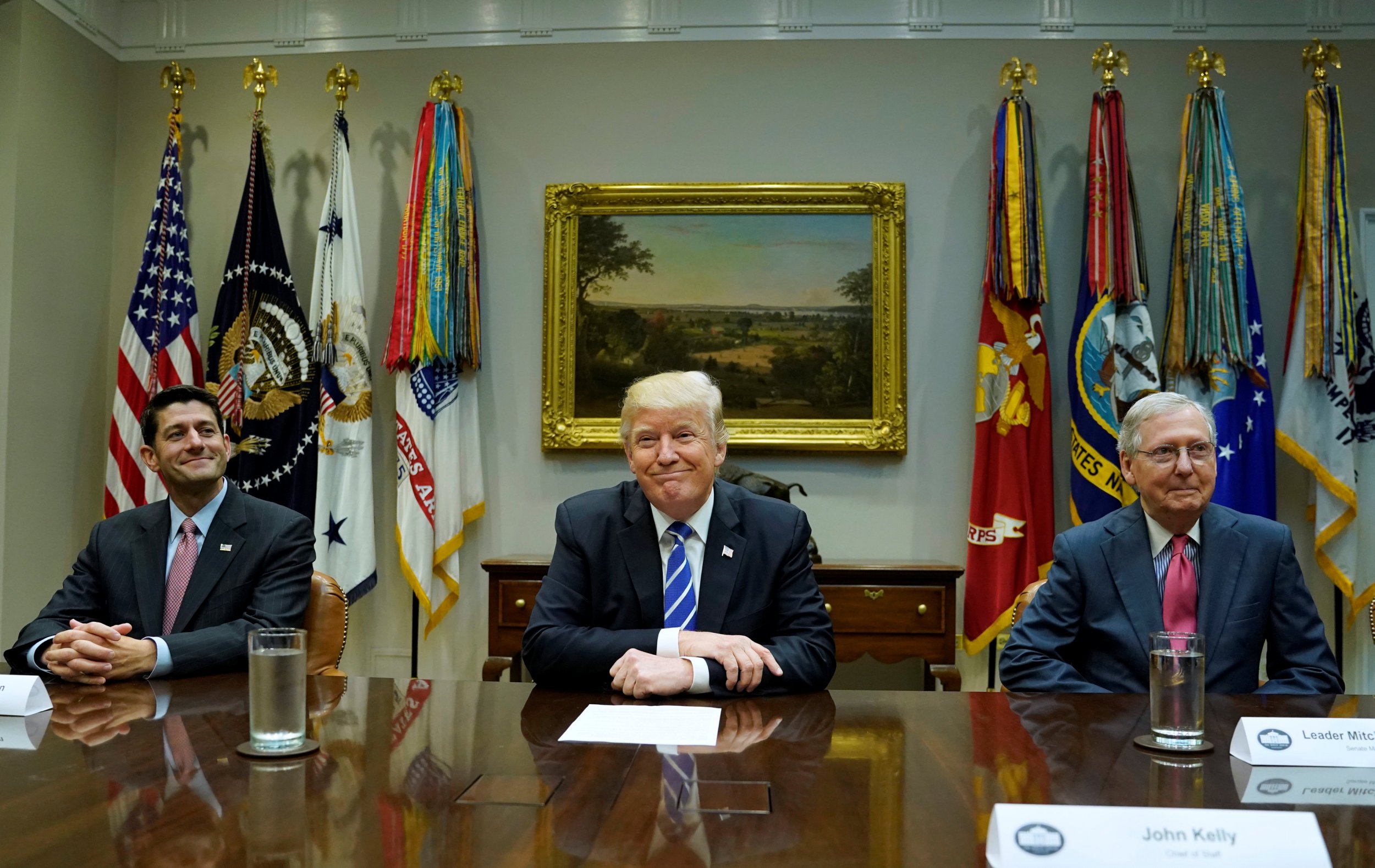 President Donald Trump delivered a stunning rebuke to Republican leaders Wednesday when he opted to side with the Democrats' plan for a short-term increase in the debt ceiling. In doing so, he returned to the forefront a question that repeatedly surfaced during his campaign for the White House: Is Trump truly a Republican?
Related: Trump sends DACA tweet after request from top Democrat Nancy Pelosi
It is a question Republicans have been asking both privately and publicly for some time. Indeed, one notable critic, Arizona Senator Jeff Flake, has even written a book about it, titled: Conscience of a Conservative: A Rejection of Destructive Politics and a Return to Principle.
During the 2016 campaign, one of Trump's chief GOP rivals, Jeb Bush, leveled the accusation that "Mr. Trump doesn't have a proven conservative record. He was a Democrat longer in the last decade than he was a Republican."
There is, indeed, some truth to Bush's contention. Trump's political allegiance has flipped repeatedly during his time in the public eye.
In 1987, the year his famed book The Art of the Deal was released, Trump registered as a Republican in New York, according to Politifact. The following year, he even floated the idea of running for the party's presidential nomination. Yet, despite his stated allegiance to the GOP, Trump donated more money to Democrats than Republicans between 1989 and 2009.
Further demonstrating his political promiscuity, Trump turned his back on both major parties in 1989 by registering as an independent. In 2000, he mounted his first actual run for president, as a candidate for the Reform Party. Despite an early withdrawal from the contest, he won the party's primary in California.
Trump's allegiance switched again in 2001, when he registered as a Democrat. Speaking in 2004, Trump shed some light on his rationale.
"In many cases, I probably identify more as Democrat," Trump said in an interview with CNN. "It just seems that the economy does better under the Democrats than the Republicans. Now, it shouldn't be that way. But if you go back, I mean it just seems that the economy does better under the Democrats.... But certainly we had some very good economies under Democrats, as well as Republicans. But we've had some pretty bad disasters under the Republicans."
Trump has previously voiced support for some traditionally liberal policies, too. In his 2000 book The America We Deserve, Trump advocated for a policy even many Democrats have failed to back.
"We must have universal health care," he wrote. "I'm a conservative on most issues but a liberal on this one. We should not hear so many stories of families ruined by health care expenses."
But before long, Trump was turning once again. In 2009, less than a year after Barack Obama's election win, he had switched back to the Republican Party. That would last for just two years, however, before the real-estate magnate registered as an independent in order to leave his options open for a third-party run in the 2012 election. As it turned out, Trump returned to the GOP fold just a few months later and endorsed Republican candidate Mitt Romney in his losing battle against Obama.
Since that time, Trump has been a reliable and prolific donator to the GOP. He has not, though, been a reliable follower of the party line. During the 2016 campaign, he frequently launched vociferous attacks against his Republican primary opponents, the Republican leadership and past Republican presidents. He also refused to rule out running as an independent if he failed to secure the Republican nomination.
Republicans would swallow their unease about Trump after he unexpectedly won them back control of the White House. But now, after weeks of increasing criticism of the Republican leadership and vulnerable 2018 incumbents such as Senators Jeff Flake and Dean Heller, Trump is flirting with Democrats in a way many in the GOP always feared.