Trump Sends DACA Tweet After Request From Top Democrat Nancy Pelosi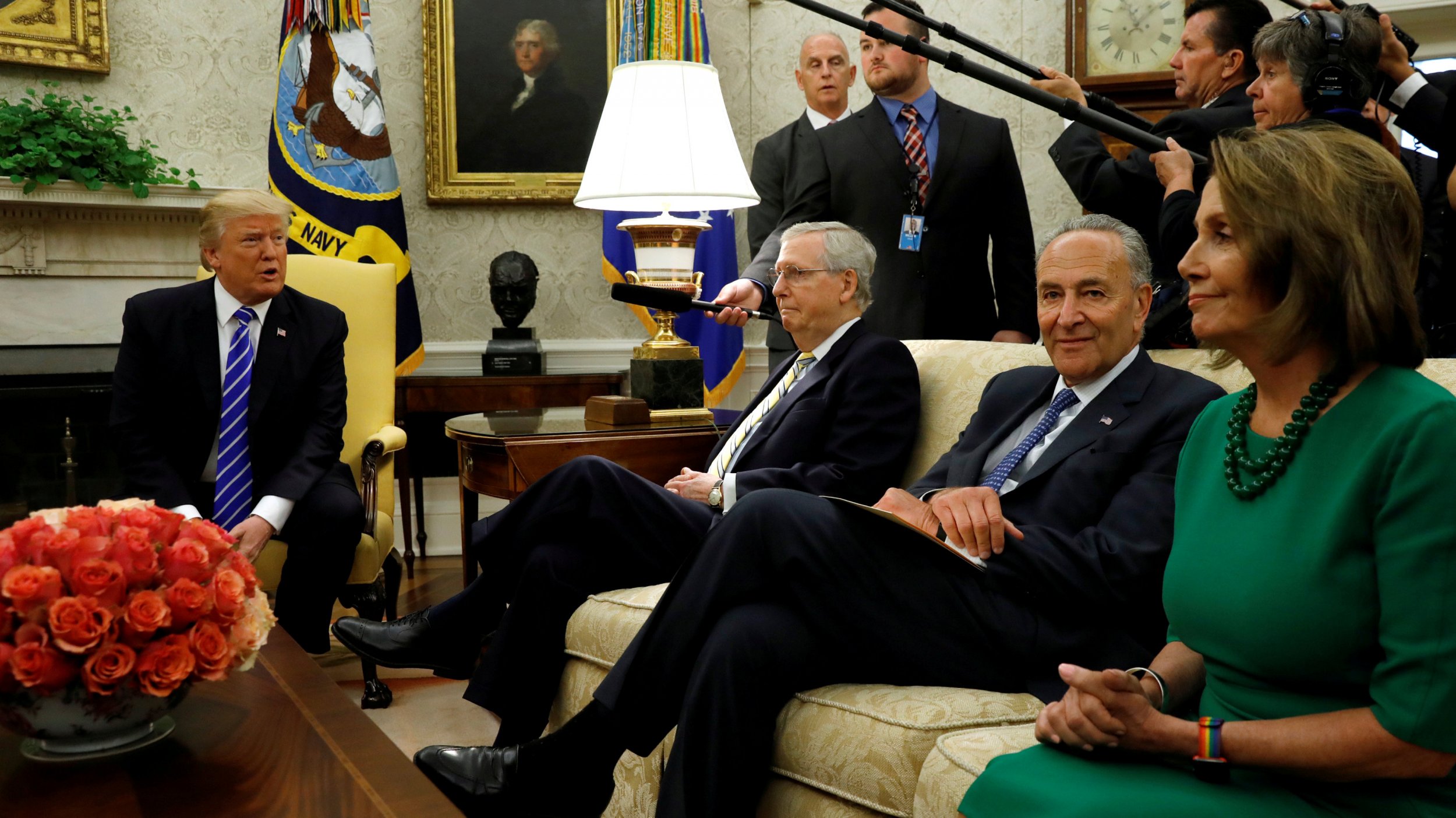 Donald Trump's dalliance with Democrats continued Thursday, as the Republican president sent out a tweet at the request of House Minority Leader Nancy Pelosi.
During a phone conversation initiated by Trump, Pelosi asked the president to send a tweet making clear that the so-called Dreamers would not be subject to deportation during a six-month window Congress has been given to come up with a legislative solution to Trump's discontinuation of the Deferred Action for Childhood Arrivals (DACA) program. Pelosi then relayed the message to colleagues at a whip meeting on Thursday morning, a Democratic aide told Newsweek.
Related: Trump is now working with Democrats to run the country. Will it last?
Just before 10 a.m. EST, Trump tweeted the following:
"For all those (DACA) that are concerned about your status during the 6 month period, you have nothing to worry about—no action."
Pelosi later confirmed the chain of events during a news conference. "I was telling my colleagues, This is what I asked the president to do, and boom boom boom, the tweet appeared," she said.
Earlier this week, it was announced that Trump planned to end DACA, a program signed into law by President Barack Obama in 2012 that shields from deportation nearly 800,000 immigrants who were brought to the United States illegally as minors. In announcing the plan, Attorney General Jeff Sessions said the program was "unconstitutional," and Congress was given six months to come up with a legislative solution.
In the meantime, the plan's Dreamers will not be able to apply for legal status or work permits, and renewals of their two-year work permits are scheduled to end after October 5. However, Trump has since signaled a shift in tone on the issue. On Tuesday, he tweeted that he will "revisit the issue" if Congress fails to come up with a plan to "legalize" DACA.
Trump's tweet Thursday is further evidence of his softening tone, and it will also be seen as a further embrace of the Democrats. On Wednesday, he delivered an unexpected rebuke to Republicans when he opted to side with Democrats in negotiations to raise the debt ceiling. The Republican leadership had sought an 18-month extension to fund the government, but instead Trump chose to go with the three-month fix sought by Pelosi and Senate Minority Leader Chuck Schumer.
Earlier in the day, House Speaker Paul Ryan slammed the Democrats' proposal to tie the short-term hike with relief for Hurricane Harvey as "ridiculous and disgraceful." Following the deal, Republican Senator Ben Sasse said plainly, "The Pelosi-Schumer-Trump deal is bad."
This story has been updated to include confirmation from Nancy Pelosi.