Trump Retweets, Deletes Defense of His Removal From Office Under 25th Amendment
President Donald Trump shared a Twitter post defending the legal framework that could lead to his potential removal from office under the U.S. Constitution's 25th Amendment, before quickly deleting it on Thursday.
Trump shared a tweet from White House reporter Andrew Feinberg, who was commenting on a tweet from Republican Rep. Mark Green of Tennessee that suggested House Speaker Nancy Pelosi might be planning "to stage a coup" after she mentioned the 25th Amendment in relation to the president.
"The 25th Amendment does not work that way, and also it's not a coup to use it," Feinberg tweeted.
The president quickly deleted his retweet and tweeted Green's original tweet, which was itself commenting on a C-SPAN video of Pelosi at a Thursday press conference discussing Trump's recent behavior and saying she would "be talking about the 25th Amendment" tomorrow.
Pelosi and Rep. Jamie Raskin (D-Md.) plan to introduce legislation dubbed the Commission on Presidential Capacity to Discharge the Powers and Duties of Office Act on Friday. The proposal would establish a Congressional panel to determine any president's fitness under the amendment, a provision of which allows for the removal of presidents "unable to discharge the powers and duties" of the office.
Trump's health has recently been in question due his announcement that he and first lady Melania Trump had been diagnosed with COVID-19 early last Friday, with the president being hospitalized over the weekend at Walter Reed Medical Center.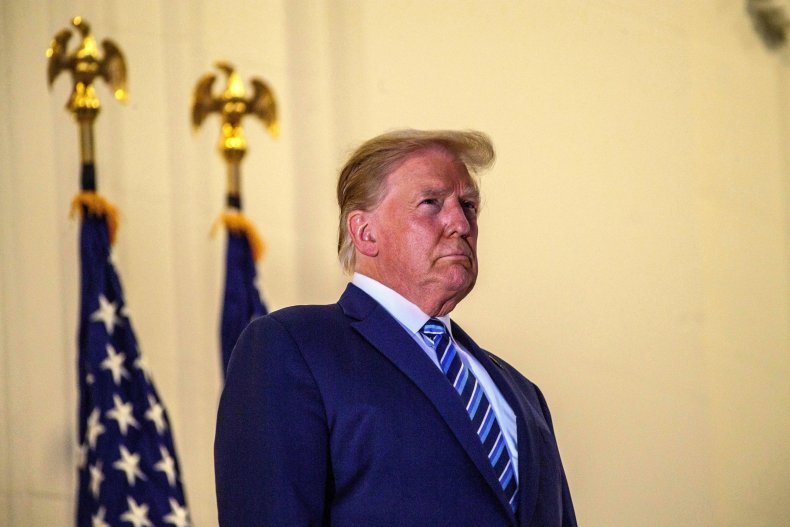 The president's behavior since the diagnosis, and his subsequent return to the White House after his hospital stay, has also led some to question the state of his mental health. Pelosi said that Trump is "in an altered state right now" during her press conference, adding that "the disassociation from reality would be funny if it weren't so deadly."
"I'm back because I am a perfect physical specimen and I'm extremely young," the 74-year-old president claimed during a Thursday morning Fox Business interview. "So, I'm lucky in that way."
Trump also claimed during the interview that there was "nothing wrong" with him and insisted that he did not feel "contagious at all," despite having the illness for less than a week. He also suggested that he should be immediately holding in-person campaign rallies.
In addition to those who may question Trump's youth and "perfect" physical condition, no credible medical experts are likely to support the notion that the president is not currently contagious, based on the length of time infected people are known to shed the virus with the possibility of infecting others.
The Centers for Disease Control and Prevention (CDC) says that COVID-19 patients should remain isolated until 10 days after the onset of symptoms, provided they have no symptoms remaining at the end of the 10 days, including no fever without the aid of medication.
The CDC recommends patients who become severely ill with the virus remain isolated for up to 20 days after the onset of symptoms. Other experts estimate patients could remain contagious until 10-14 days after symptoms subside, according to Harvard Medical School.
Trump's retweet of Feinberg, likely by mistake, was one of several tweets and retweets the president made concerning the 25th Amendment on Thursday. Many were focused on disparaging Pelosi and anyone else who would question the president's current physical or mental health.
"Crazy Nancy is the one who should be under observation," Trump said in one tweet. "They don't call her Crazy for nothing!"
Newsweek reached out to the White House for comment.