Pelosi Wants to Create Panel Under 25th Amendment to Help Oust Unfit Presidents
House Democrats will introduce new legislation to establish a commission that would help determine whether any sitting president is unfit for office, as House Speaker Nancy Pelosi on Thursday continued to raise questions about President Donald Trump's health and recovery from COVID-19.
The proposal, which will be introduced on Friday by the California Democrat and Rep. Jamie Raskin (D-Md.), would create a panel to operate under the confines of the 25th Amendment that outlines presidential removal procedures.
The 25th Amendment allows for any president to be removed from office if the vice president and either the majority of the Cabinet members or "of such other body as Congress may by law provide" believes the president is no longer fit to serve. In this case, the Democrats' legislation would create the "other body."
Pelosi made reference to the constitutional remedy on Thursday.
"Come here tomorrow, we're going to be talking about the 25th Amendment," she told reporters during her weekly press conference.
She declined to offer details and sidestepped a question about whether she thought Trump should be removed from office with the amendment.
"I'm not talking about it today except to tell you, if you want to talk about that, we'll see you tomorrow," Pelosi continued. "But you take me back to my point: Mr. President, when was the last time you had a negative test before you tested positive? Why is the White House not telling the country that important fact about how this made a hotspot of the White House?"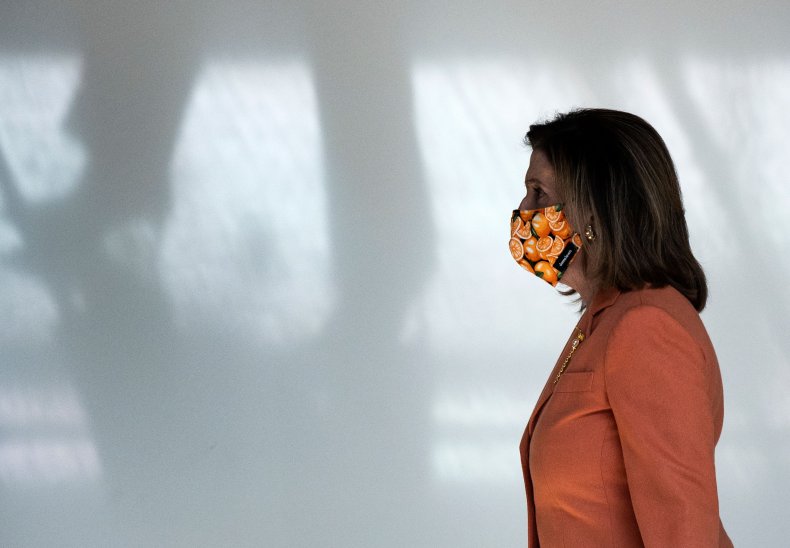 The commission is expected to largely mirror previous legislation from Raskin in 2017. His panel would consist of 10 people, and it would be comprised of physicians, psychiatrists and retired public officials, such as past presidents, vice presidents and Cabinet members.
The National Republican Congressional Committee (NRCC) lambasted Pelosi and her "tinfoil hat wearing caucus," saying Democrats want to "rewrite the rules to try and throw the president out of office" if Democratic presidential nominee Joe Biden loses.
"Every week, Nancy Pelosi and House Democrats remind voters that they are a dangerous threat to the country," NRCC spokesman Michael McAdams said in a statement.
After speaking with reporters on Thursday, Pelosi told Bloomberg News that Trump is in "an altered state right now" because of his ongoing coronavirus treatment and his consumption of experimental drugs. She has also questioned his mental capacity while being on such medicine, citing his sporadic public statements on stimulus negotiations.
Trump responded via tweet while utilizing the nickname he coined for her.
"Crazy Nancy is the one who should be under observation," the president wrote. "They don't call her Crazy for nothing!"
The bill has essentially no chance of becoming law, given Congress' current political makeup. However, it highlights the severity of the commander in chief being infected with a deadly disease that has so far killed north of 211,000 Americans.
The White House and Trump's doctors have refused to reveal when the president last received a negative Covid-19 test, which could help narrow the time frame for when he first contracted the virus. Officials have cited medical privacy in their refusals to provide details on his condition. Trump could wave such privacy protections and allow them to inform the public, if he so chose. The president first revealed he had coronavirus in an early morning tweet Oct. 2.
Dozens of White House staffers and administration officials have since tested positive. The outbreak is thought is have originated from a White House "superspreader" event on Sept. 26 with Supreme Court nominee Amy Coney Barrett, though it's not been confirmed. The White House initially declined offers from the Centers for Disease Control and Prevention to help with contact tracing but eventually accepted and were receiving assistance as of Thursday, according to The Washington Post.
The event, though it was outside, featured hundreds of people with no social distancing and very few masks. Rapid tests were performed beforehand, but they are known to be frequently inaccurate.
This story was updated to include a statement from the NRCC.