House Speaker Nancy Pelosi rebuffed President Donald Trump's insistence that Congress move forward with immediate and targeted pandemic aid for industries like airlines, reiterating her stance on Thursday that she will not support any legislation short of a comprehensive stimulus package.
The California Democrat's rejection of a swift airline bailout while the industry sheds jobs by the thousands comes amid a whirlwind of confusion among Washington insiders over another potential stimulus, as Trump's contradictory comments leave politicians and administration officials struggling to find a way forward.
"There is no standalone bill without a bigger bill," Pelosi told reporters at her weekly press conference while sporting the Speaker's Mace pin on her left lapel, an historic symbol of authority that highlights that the Legislative Branch's co-equal authority with the Executive Branch.
"If we don't have a guarantee that we're going to be helping our state and local employees, that we're going to be able to crush the virus, that we're going to be able to have our children go to school safely, that we're going to have safety in the workplace, that we're going to address unemployment," Pelosi said, "it's not going to happen."
On Tuesday, Trump abruptly shattered the ongoing talks between Pelosi and Treasury Secretary Steven Mnuchin in a series of erratic tweets after returning to the White House from the hospital to continue his recovery from COVID-19. The president accused Democrats of being unwilling to compromise, and he told Republicans that they should put a stimulus deal on the backburner until after he wins re-election to focus instead on confirming Supreme Court nominee Amy Coney Barrett.
"The president wants to wait until he wins the election," Pelosi said. "Well, that might be an eternity."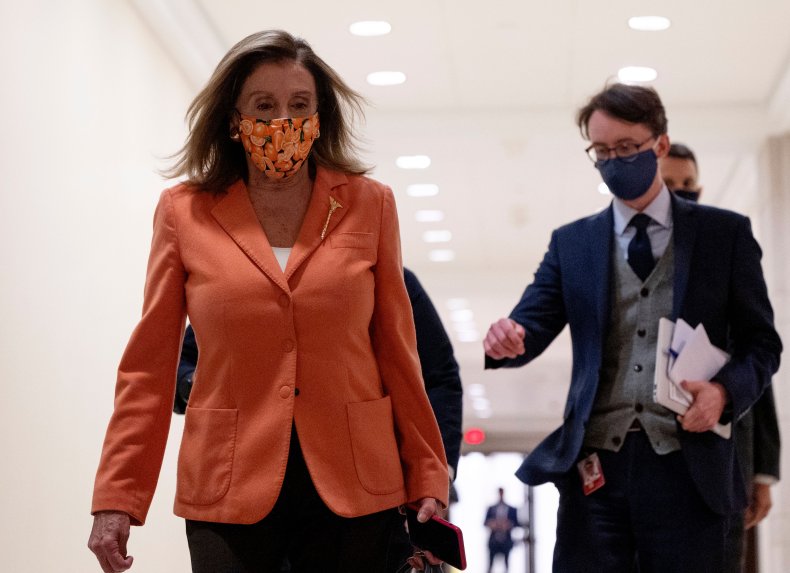 Just hours after Trump's Tuesday tweets, he followed suit with even more, saying Congress should immediately pass $25 billion in relief for airlines as they begin to furlough tens of thousands of workers. House Republicans blocked Democrats' efforts to pass $25 billion for airlines last week. And two Senate Republicans, Mike Lee (Utah) and Pat Toomey (Pa.), largely shot down the potential for airline relief unless certain strings are attached.
The mixed messaging from the president has only muddied the waters for Mnuchin, Pelosi and Republicans to come to a consensus on any sort of pandemic-related aid.
The latest jobs report released Thursday showed that another 840,000 people applied for unemployment benefits for the first time, narrowly eclipsing Wall Street's projections. Tens of millions of Americans continue to receive jobless aid as White House economic advisers—including Federal Reserve Chairman Jerome Powell and Trump economic adviser Kevin Hassett—warn of the impending consequences if the federal government fails to quickly dole out more relief.
Further sowing confusion, Trump on Thursday morning told Fox Business: "I shut down talks two days ago because they weren't working out. Now, they're starting to work out."
The strategy from the president remains unclear. Pelosi has suggested Trump is experiencing side affects from his medicine and suggested Thursday that his health is in jeopardy because of Covid-19.
"Come here tomorrow, we're going to be talking about the 25th Amendment," Pelosi told reporters without going into detail. She later told Bloomberg News that Trump is in "an altered state right now."
The 25th Amendment is the process by which the vice president becomes president in times of death, resignation or removal from office.
Pelosi made clear Thursday that she will not go along with any piecemeal legislation, something she also told Mnuchin by phone on Wednesday. Democrats continue to push for the $2.2 trillion proposal the House approved last week. The White House has offered a topline of $1.6 trillion, and Senate Republicans largely remain opposed to anything north of $1 trillion.
"I said, 'you still haven't given us a response to the language, after all this time,'" Pelosi said of her talks with the administration. "We're at the table. We're at the table. We want to continue the conversation."
Several Republicans—including Lisa Murkowski (Alaska), Susan Collins (Maine) and Rep. John Katko (N.Y.)—expressed frustration at Trump's stimulus messaging, urging both sides to immediately return to the negotiating table.
Senate Majority Leader Mitch McConnell also addressed the need for additional relief on Thursday. However, he highlighted the forthcoming election and the two parties' remaining sticking points—which is centered on hundreds of billions of dollars that Democrats want for state and local governments—and has remained steadfast in his focus on confirming Barrett instead of passing another stimulus.
"It's no question that the proximity to the election has made this much more challenging," McConnell told local outlets in Kentucky. "Let me tell you what we do agree on: We do agree that another rescue package is needed. We have vast differences on how much we should spend."