Trump's Mixed Messaging On Another Stimulus Further Muddies the Waters on Next Bill
Conflicting remarks from President Donald Trump over the last 24 hours about more pandemic relief for the millions of Americans still without work have sown confusion and frustration on Capitol Hill, including among members of his own party.
Trump abruptly ended bipartisan negotiations on Tuesday between House Speaker Nancy Pelosi and Treasury Secretary Steven Mnuchin until after the election—negotiations which had been held on a daily basis recently. That move surprised congressional aides and even some White House staff.
Then came the next surprise—in a barrage of tweets.
Roughly seven hours after declaring an end to the negotiations, Trump tweeted that Congress should immediately pass piecemeal relief bills.
The end result was irritation from both sides of the aisle over his dithering strategy, one that will make it all the more cumbersome for both sides to someday reach a deal as airlines lay off tens of thousands of workers, high unemployment persists and Trump administration officials warn more aid is desperately needed.
The only thing that has become increasingly clear is that no additional aid will be afforded to Americans before Election Day.
Pelosi and Mnuchin spoke once again by phone Wednesday morning, according to the California Democrat's deputy chief of staff, Drew Hammill. Mnuchin reportedly "inquired about a standalone airlines bill." Trump, in his series of contradictory tweets, has pushed Congress to "Move Fast" and approve legislation for a second round of $1,200 checks, $25 billion for airlines and $135 billion for small businesses through the Paycheck Protection Program.
"All the president wants is his name on a check," Pelosi told reporters, "and that doesn't—we're here to honor our heroes, crush the virus, put money in the pockets of the American people beyond a check with his name on it."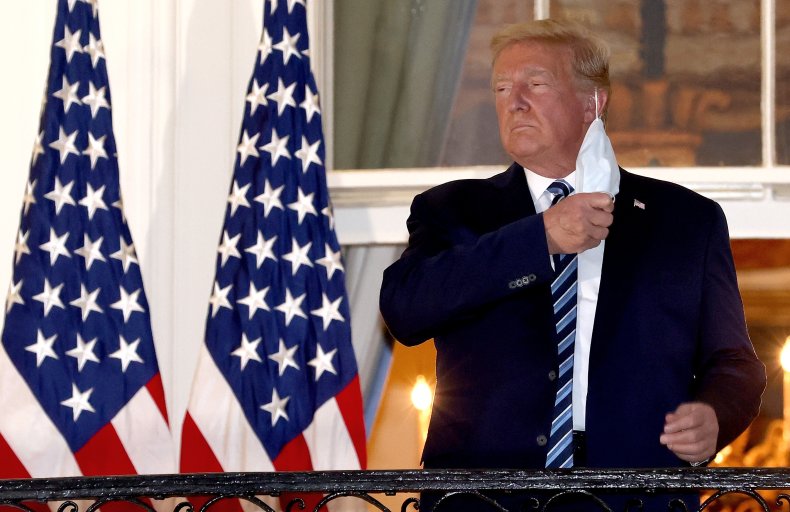 On Friday, House Republicans blocked a move by Transportation and Infrastructure Committee Chairman Peter DeFazio (D-Ore.) to pass a standalone $25 billion airlines measure, which had been part of the $2.2 trillion proposal the House approved last week.
"The Speaker reminded [Mnuchin] that Republicans blocked that bill on Friday," Hammill said, "and asked him to review the DeFazio bill so that they could have an informed conversation."
Democrats remain opposed to a targeted approach, and continue to push for their $2.2 trillion proposal. The White House has countered with $1.6 trillion. The two remain billions of dollars apart on aid to state and local governments, among other things.
While anything north of $1 trillion causes heartburn for many Republicans, several moderates quickly derided Trump's directive to end discussions. Sen. Susan Collins (R-Maine), who faces a tough re-election battle, called it a "huge mistake"; Sen. Lisa Murkowski (R-Alaska) said "now is not the time" to stop talking; and Rep. John Katko (R-N.Y.), also fighting for re-election, said "I strongly disagree with the President."
Trump's top White House aides offered conflicting claims about the president's desires for more relief. White House chief of staff Mark Meadows told Fox News on Wednesday morning that Trump is "still fully engaged." Then, he emphasized to reporters that although "the stimulus negotiations are off," the president is also ready to strike a targeted deal.
"There's about 10 things that we agree on, and if the speaker is willing to look at those things on a piece-by-piece basis, then we're willing to look at it," Meadows said. "It became very obvious over the last couple of days that a comprehensive bill was just going to get to a point where it didn't have really much Republican support at all. It was more of a Democrat-led bill, which would've been problematic more so in the Senate than the House."
In Trump's original tweet stating stimulus talks were over, which came after he phoned top congressional Republicans telling them as much, he urged the Senate to instead focus on confirming Supreme Court nominee Amy Coney Barrett before Nov. 3 rather than passing more economic relief.
White House economic adviser Larry Kudlow made a similar suggestion to CNBC Wednesday about directing their energy to the Supreme Court, predicting there was "low probability" for a stimulus before the election.
"We've only got four weeks to the election, and we have a justice of the Supreme Court to get passed," Kudlow told the network. "It's too close to the election—not enough time to get stuff done at this stage in the game. What the president was saying is, 'We're too far apart for a gigantic bill.'"
Trump's backtracking on a comprehensive measure came despite another warning just hours earlier from Jerome Powell, the chair of the Federal Reserve.
"The risks of overdoing it seems, for now, to be smaller," Powell said. "Too little support would lead to a weak recovery, creating unnecessary hardship for households and businesses."