Trump Rhetoric Linked to Elevated Stress in Latina Mothers, Study Finds
A new study suggests the political rhetoric of former President Donald Trump could be linked to elevated stress and anxiety levels among Latina mothers in the U.S.
For Hispanic Americans, a group described as "historically disadvantaged on many fronts," the study's data "indicate that in a more hostile political landscape their well-being is even more threatened," researcher Amy Non said in a Monday press release. Non, an associate professor in UC San Diego's Department of Anthropology, co-authored the study with Elizabeth Clausing, an assistant professor at the University of Nebraska, and Kimberly D'Anna Hernandez, a psychology professor at Marquette University.
The study cites data dating to before the 2016 Republican National Convention, at which Trump officially became that year's GOP presidential nominee. Publication of the study's findings comes amid frequent hints from Trump about a potential run for office in 2024.
"Findings show increased depression, anxiety and perceived stress in a border city and reduced coping resources in both a border and interior US city," UC San Diego's press release said.
The data gathered "didn't occur in a vacuum," the release said. "The increased stress experienced by Latina mothers, along with reductions in coping resources, were likely related to the rhetoric of Donald Trump as a candidate and as president."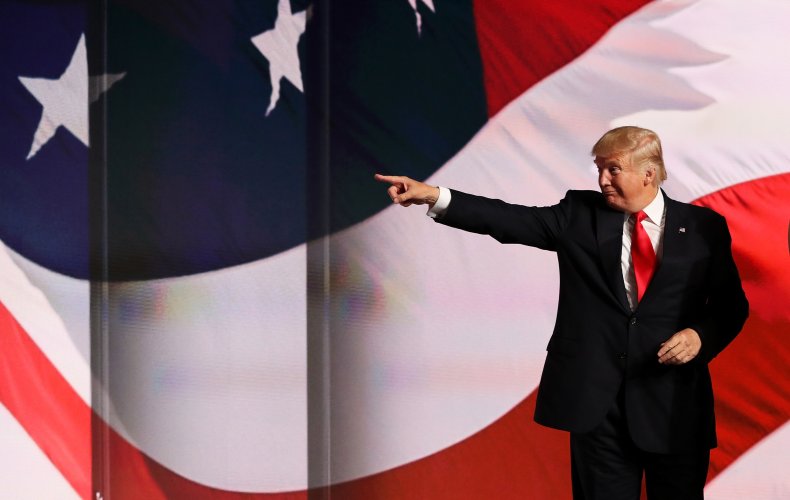 Over the last several years, researchers said they have gathered data from two groups of Latina mothers: one in Nashville, Tennessee, and another in San Diego, California. San Diego has a large population of Hispanic residents due in part to its location near the U.S.-Mexico border, and its border patrol sector is among the country's most hectic, researchers noted.
Additionally, "Californian Latinos are also unique in showing a higher level of political knowledge than other states, which could make these participants more aware of harmful political rhetoric and new policies directed towards immigrant groups," the study said, though researchers told Newsweek political awareness was not among the variables measured for the study.
While Nashville is not a border city, researchers said Tennessee does have a growing Hispanic population that was estimated to be at about 10.5 percent of the state's total population in 2019.
The study said depression and anxiety rates were already higher among new Latina mothers when compared with depression and anxiety rates of other women in the U.S. Researchers wrote in the study that they initially hypothesized there would be an increase in discrimination and immigration-related stress, as well as overall drops in mental health, among the study's participants following sociopolitical changes after Trump's 2016 nomination.
"The stressors we measured were influenced by the changing and increasingly hostile political climate toward Latinas following the nomination and election of Donald Trump," Non said in the release. Researchers assessed coping and perceived stress variables, Non said, finding that decreased coping abilities paired with increased perceived stressors "led to higher levels of mothers' psychological distress" among study participants.
The study's 83 San Diego participants were first surveyed between February 2013 and July 2016, and again between December 2016 and May 2019. The Nashville group of 39 participants were surveyed between June 2015 and June 2016, and between March 2018 and September 2018.
In both cities, the study found "a similar decrease in protective factors over time," which researchers said included variables like optimism and social support. Those overall decreases were different from one city to the next, the study said.
"For example, in the border city we saw increases in acculturative stress and discrimination, while in the interior city there was no change in immigrant-related stress, but a small decrease in reported discrimination," the study said.
Researchers also found "high levels of anxiety, depression, and perceived stress" among Latina mothers in San Diego and Nashville, with San Diego participants showing a gradual worsening of these feelings.
A discussion section for the published study returned to researchers' initial hypothesis about potential links between their data and Trump's rhetoric.
"As hypothesized, our data support heightened levels of sociocultural stressors since President Trump's political emergence," the study said, though it noted the two cities did not experience the exact same changes. Anxiety and perceived stressors were found to have increased in the San Diego group, while there were "significant increases in tiredness" among Nashville participants.
The study noted that increases in perceived stress variables could be a result of "increased awareness of discrimination and acculturative stress over time lived in the US" rather than a direct result of "a 'Trump effect,'" but said most participants from the San Diego group were "long-term U.S. residents."
"We believe that the different demographics and histories of the cities influenced some of the differing findings across the two cities, such as higher discrimination reported over time in San Diego, and reduced discrimination in Nashville," Non told Newsweek.
As an example, Non said reported discrimination may be less frequent in Nashville due to the city's concentrated ethnic neighborhoods, which can be a form of protection for residents. "In contrast, San Diego has a longer history of integrating immigrants into the community, and thus women may have been more surprised—and more aware, perhaps—of the uptick in discrimination after the Trump election," she said.
Researchers also found "a dramatic increase in hate crimes in California in the year following the [2016] election, in a state that has traditionally been more welcoming than Tennessee," Non said. "But an important caveat is that we used different measures to capture similar concepts in each site, so they can't be directly compared," she added.
Looking forward, Non said the growing Hispanic community in the U.S. could have "contrasting effects on future levels of anxiety and stress," with elevated levels of community support just as possible as increased opportunities for "resentment" in non-Hispanic communities.
"Nashville has traditionally been known as a liberal city within a conservative state, so it's hard to predict how the particular culture of this city, and surrounding neighborhoods, will respond to rising levels of Latinx residents," Non said.