Trump is Right That NFL Ratings are Down, But He Probably Gets The Reasons Wrong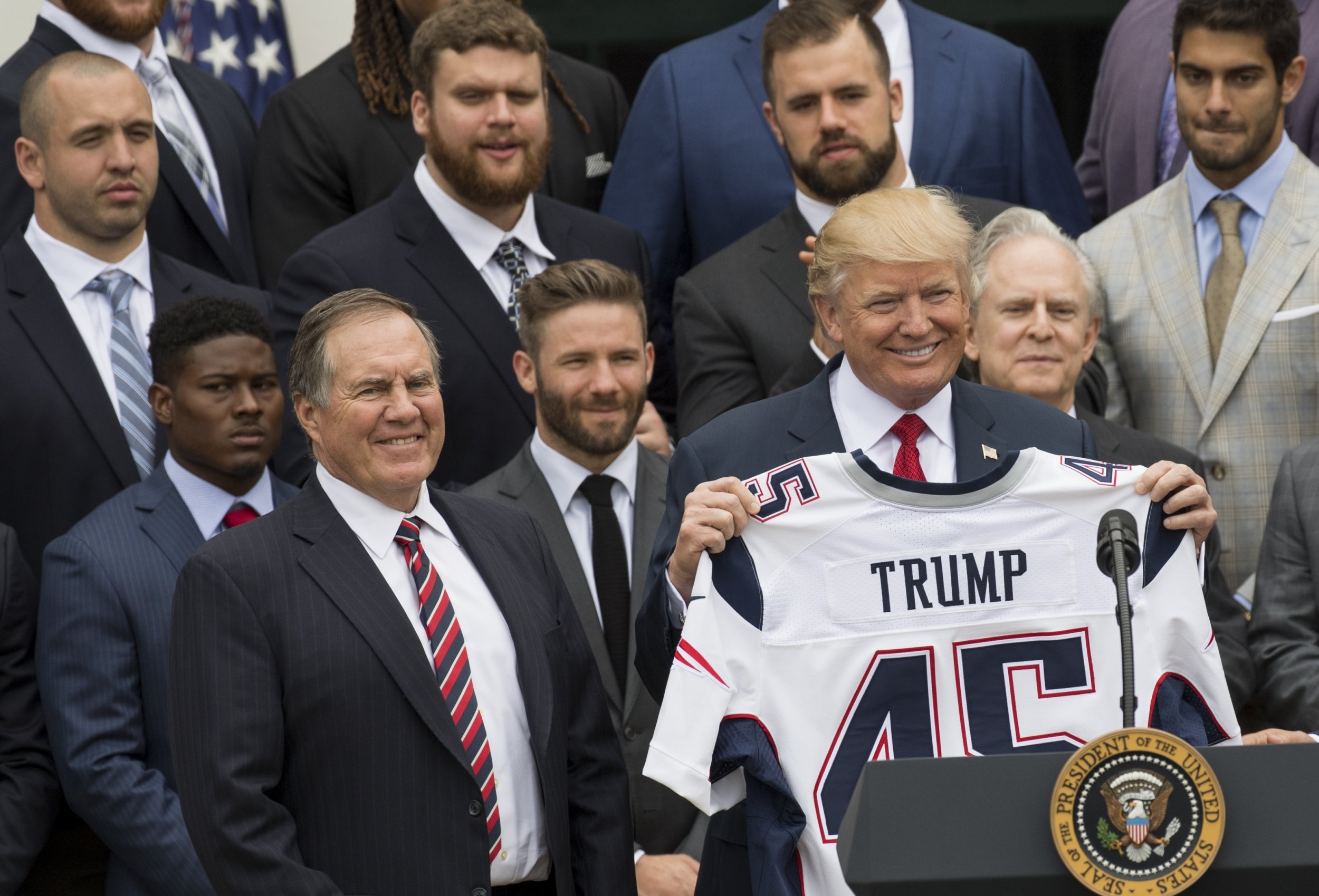 President Donald Trump tweeted Sunday about the NFL's television ratings being down—and for the most part that's correct. But he seemed to be somewhat wrong about why the ratings were down.
"NFL attendance and ratings are WAY DOWN. Boring games yes, but many stay away because they love our country. League should back U.S." he tweeted early Sunday as NFL players took knees and locked arms during the national anthem amid the president's repeated recent criticisms of players who do so.
"Great solidarity for our National Anthem and for our Country. Standing with locked arms is good, kneeling is not acceptable. Bad ratings!" he tweeted later.
For the most part, NFL ratings are down. (It's worth noting that even bad NFL ratings are amazing compared with nearly everything else on television, including every other major American sport.)
The website Sports Media Watch posted a helpful graphic of the major games thus far in the NFL season (not counting Sunday's matchups since the ratings were not out yet) and nearly every important game had ratings that were down or relatively flat. This week's Thursday Night Football game, however, was actually up 38 percent. The late game on Fox last week was up 17 percent as well. But most of the other major games were down anywhere from 3 percent to 28 percent. CBS's Sunday games, for instance, were down about 10 percent from last year. The Hollywood Reporter reported that ratings were down 15 percent in Week 2, even after ratings were down 8 percent last year.
Trump tweeted that the NFL being "boring" had some effect on its ratings, and he might have a point there. Some league observers have noted the quality of play has been down, including Kevin Clark at The Ringer in a story titled "How Football Stopped Being Fun."
But experts have said the ratings in the first week were likely affected by massive hurricanes that the struck the country. It's also very early in the season and—importantly—if ratings are actually down and stay that way, it's likely more a sign of the changing media landscape rather than fans tuning out because of protests.
"In general people's attention spans have changed," Brian Hughes, a senior vice president at audience tracking firm Magna, told CNN. "There's evidence that people are intensely interested in fewer things and generally interested in more things, and I think that's a function of deluge of content that we are finding ourselves in nowadays."
Sports Illustrated's media reporter Richard Deitsch wrote this week that you "can make some legitimate ratings assessments by Week Four," while Ad Age's Anthony Crupi wrote about NFL ratings on Twitter: "It's early yet. No need to snort a Xanax."
The effect of the protests on ratings, which Trump apparently feels is real, is not 100 percent clear either. Even as the Kaepernick controversy continues (many league observers think he deserves an NFL job), the protests were actually less of a story this season until Trump resurfaced the issue. It wasn't as much a part of the national conversation as it was last year, when the quarterback was in the league.
But some fans certainly have expressed the anthem protests playing a part in tuning out. As reported by ESPN, a J.D. Power poll found that just 12 percent of respondents (who went to at least one major sporting game) described watching fewer NFL games. Of those who said they watched fewer football games, 26 percent described doing so because of anthem protests (note the survey was not open-ended, meaning this option was presented to them). Still, other reasons combined to outweigh the anthem protests, such as domestic violence issues within the league (24 percent), excessive commercials (20 percent), being distracted by the 2016 election (16 percent) and cord-cutting (5 percent).
This survey has been oft-cited by conservatives like Trump, but as a Washington Post analysis of the poll pointed out that if you actually look at the data it shows some people likely did tune out because of the protests but it's not a "fair conclusion" to say it was the main driver for a ratings decline.
So Trump was correct that ratings have been down and he's not wrong that some may have tuned out because of protests. But a lot of nuance got lost in the 140 character missives.