Will Donald Trump Be Impeached? Despite Comey Memo and Russia-ISIS Leaks, Republicans Aren't Ready to Abandon the President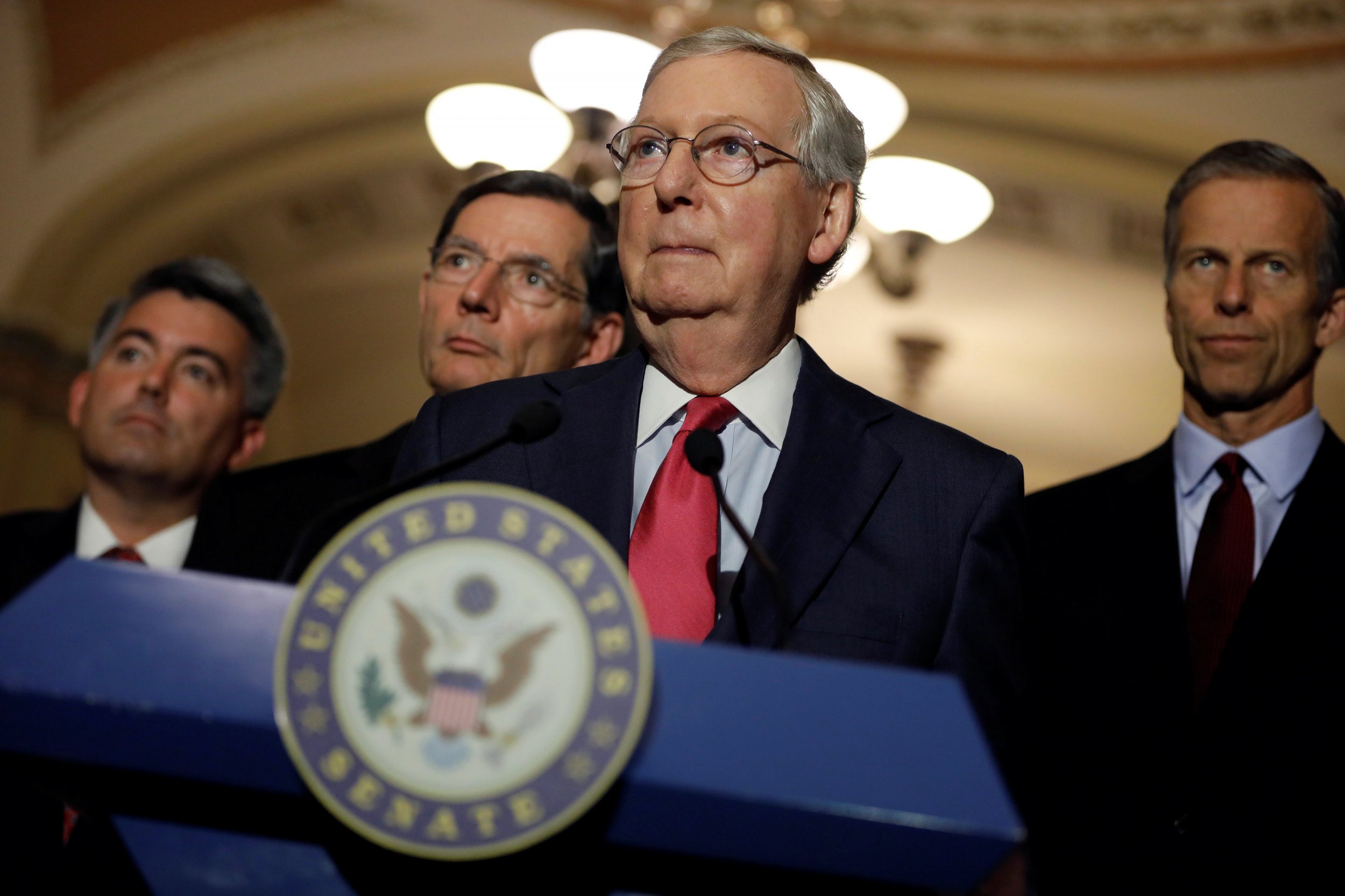 Another day, another White House scandal involving Russia. For Republicans in Washington, the past week has had a grim Groundhog Day quality, each morning bringing news of yet another scandalous breach in protocol or intemperate tweet from their party's commander in chief. Republicans' responses, however, have been remarkably unchanging, despite the rising sense that the Trump White House is in deep crisis. Republican lawmakers express concerns about Donald Trump's behavior, but are they ready to abandon the president? Not so much.
Related: Trump's Russia-ISIS slip unprecedented in U.S. presidential history
Asked Tuesday if he had concerns about the president's ability to handle classified information, given reports Trump had shared highly sensitive information to Russian officials, Senate Majority Leader Mitch McConnell chuckled briefly before replying, "No." Is he starting to lose confidence in President Trump? Again, "No."
It's not just party leaders like McConnell and Speaker Paul Ryan who are standing by the president. Even the latest bombshell, that Trump asked former FBI Director James Comey to quash the investigation into his former national security adviser, Michael Flynn, drew a shrug from New York Representative Peter King. "I'll have to wait and see," King told reporters at the Capitol Tuesday evening. Coming out of a briefing with CIA Director Mike Pompeo regarding Trump's meeting with Russian officials last week, King said, "My level of concern is not high."
While a handful of Republicans have started to speak out more forcefully about Trump's erratic behavior—abruptly firing Comey last week, followed by allusions to a White House recording device and then this week's revelations—it's hardly a groundswell. And that's what it would take for the GOP to support an independent investigation into the Trump campaign's ties to Russia—let alone impeachment.
Democrats are trying to ramp up pressure on the GOP to break with the president. "This is not how a White House should operate. Firing an FBI director who's investigating the president's campaign, disclosing classified information to a country that wishes us harm," Senate Minority Leader Chuck Schumer said at a press conference Tuesday. "We need our Republican politicians to join us in standing up, to put country over party and work with Democrats to get the truth."
Most Republicans, however, continue to ignore Democrats' calls for a special prosecutor to take over the FBI investigation into the election and possible Trump-Russia collusion. Meanwhile, the Department of Justice is unlikely to go along with the idea unless it faces bipartisan political pressure. There's even less support for impeachment, which Republicans in Congress would have to instigate.
There are several reasons why Republicans seem to believe standing with the White House is still in their interest. Here are a few of the most prominent:
Policy Goals
Republicans in Congress acknowledge the endless series of headlines on Trump and Russia aren't helping them advance their work to overhaul health care and the tax code. "These are daily—not daily, but seems like, lately, daily—distractions, and you just have to manage around them," South Dakota Senator John Thune conceded Tuesday. But he also said that with Democrats slow-walking Trump administration confirmations, the chamber would probably be moving at the same pace, regardless. "We multitask here," Thune added optimistically.
What Thune didn't say, but Republicans undoubtedly know, is that launching impeachment proceedings, or even an independent probe on Russia they can't control, would create a far bigger and more durable set of distractions than those Trump is creating right now. Their ambitious legislative agenda is already facing a time crunch, as it is, with 2018 election season not far away. A serious move to oust Trump would all but guarantee none of their conservative priorities get accomplished. Instead, Republicans continue to hope, despite all the indications otherwise, that the president can be reined in, and his White House can stanch the self-inflicted wounds.
"Everything's another day," Alabama Senator Richard Shelby calmly told reporters Tuesday. "We'll see what happens in the next six or seven weeks."
The Polls
Yes, Trump's poll numbers are historically bad for this point in his presidency. And he's seen a drop among his core supporters, including white men and people without a college degree. But overall, his support among Republicans remains strong—82 percent approved of his performance as president in the most recent Quinnipiac poll, while just 13 percent of Republicans disapproved. Compare that with approval ratings for Republicans in Congress. Overall, 71 percent of Americans disapproved of their performance, including 39 percent of Republicans, the same poll showed.
In these polarized times, Trump's overall approval rating is less important than maintaining the loyalty of the Republican base. It may not be as strong as it once was, but Trump still enjoys broad support within the party, including a die-hard set of devotees he helped bring out to vote in 2016. Most Republicans represent so-called "red" districts and states, where GOP voters dominate and their biggest electoral threat is likely to come from the right, not from Democrats. It will take further erosion of Trump's public support before there's much electoral incentive for these Republicans to buck the president.
The Economy
After dashing out a series of tweets Tuesday morning defending his discussions with Russian officials last week, Trump sought to change the subject. "U.S. Industrial Production Surged in April," the president tweeted, linking to an article in The Wall Street Journal. Vice President Mike Pence also took to Twitter to tout the same headline. Not surprisingly, it didn't make much of a ripple in a news cycle once again dominated by Russia. But coming on top of a string of other positive economic indicators, it also can't be dismissed as just a distraction.
While official Washington may be working itself into a lather over what some are warning is a constitutional crisis in the making, many Americans are far more concerned about issues that affect their daily lives. What Trump may have told Comey or Russian officials behind closed doors does not meet that threshold. But jobs do. And unemployment has now dropped to its lowest rate in 10 years, according to the latest figures. Consumer confidence is up. So is the stock market.
There are plenty of reasons to question whether the new president deserves credit for these developments, but that's not a debate most voters are interested in parsing. Growing economic optimism will inevitably boost the sitting White House and dampen other concerns. The economy was something Georgia Senator David Perdue pointed to when explaining why he continued to have confidence in Trump. That, Perdue reasoned, is "why the president got elected."