Trump Considered Business With the Russian Government in 1987, and Newsweek Met Him in Moscow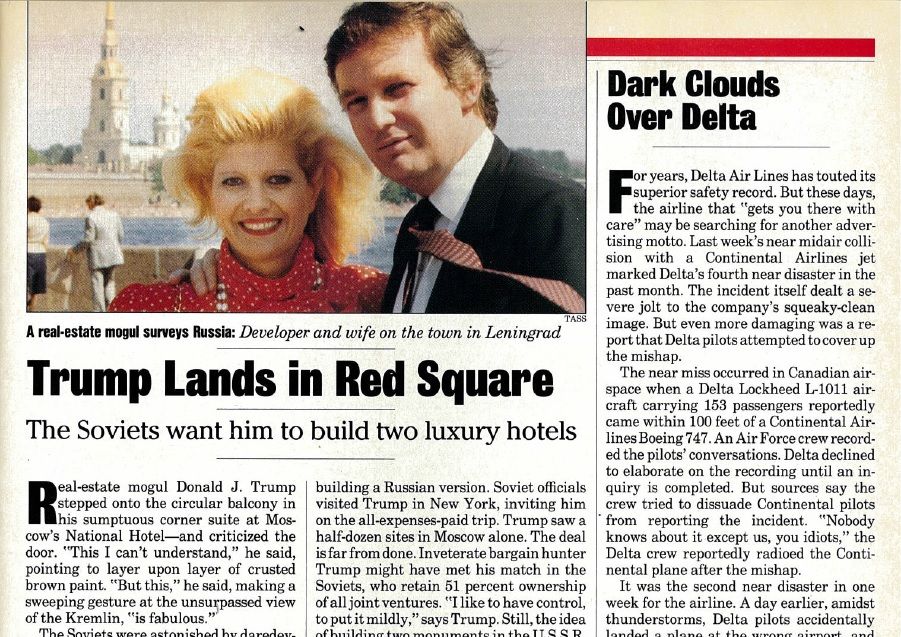 Donald Trump once believed he understood why Westerners were hesitant to visit the Soviet Union. "Some people at a high level of lifestyle enjoyment want the ultimate hotel," he told Newsweek during an interview at Moscow's Hotel National in 1987. "They don't want to have to come to Moscow and sacrifice their lifestyle."
The real estate mogul was in Russia visiting sites for a potential tower. Yuri Dubinin, then the Soviet ambassador, had proposed the idea to Trump while the two were having lunch in New York in late 1986 or early 1987. Because of the ambassador, Trump wrote in 1987's Trump: The Art of the Deal, "I'm talking about building a large luxury hotel, across the street from the Kremlin, in partnership with the Soviet government. They have asked me to go to Moscow in July."
Related: Meet Felix Sater, Who Bragged Moscow Project Could Help Trump Win
The trip was likely Trump's first attempt to do business in Russia, but it would not be his last. Beginning in September 2015, around two and a half months after Trump formally announced he was running for president, representatives for the Trump Organization began discussing licensing Trump's name for a tower in Moscow, The Washington Post reported Sunday. When the project stalled, a Trump Organization executive sought help from a spokesperson for Russian President Vladimir Putin, the Post reported Monday, citing documents submitted to Congress. Michael Cohen, the Trump Organization executive who emailed the Putin spokesperson, said in a statement to the Post, "The Trump Moscow proposal was simply one of many development opportunities that the Trump Organization considered and ultimately rejected."
A business associate of Trump, Felix Sater, also boasted that opening a Trump Tower in Moscow would help Trump's presidential campaign, according to a report by The New York Times on Monday.
A Department of Justice special counsel is overseeing an FBI investigation into Russian meddling in the 2016 presidential election and possible coordination with the Trump campaign. Congressional committees also are looking into the matter.
Almost three decades earlier, Joyce Barnathan, then Newsweek's Moscow bureau chief, learned that Trump would be visiting the city and secured an interview with him. They met in his hotel room, which Trump would describe in The Art of the Deal as "Lenin's suite." "He had the nicest suite there, there was no question, but even the nicest suite was a little bit dingy," recalls Barnathan, now president of the International Center for Journalists, a nonprofit. "It was the type of hotel where you'd go into this big grand ballroom to try to get a meal and every table would be virtually empty, and then they'd say, 'We're too busy' or 'We can't take you.'"
Perhaps Trump saw opportunity in those shortcomings. "The workers' state just doesn't know how to run a posh operation," Barnathan wrote at the time. "Many tourists have to cope with tiny rooms and a lack of simple amenities like good toilet paper, sink stoppers and shower curtains."
"My feeling was that he came on an exploratory visit," she recalls. "The Russians had invited him to come in. My memory was that he was a bit skeptical. He didn't know the landscape."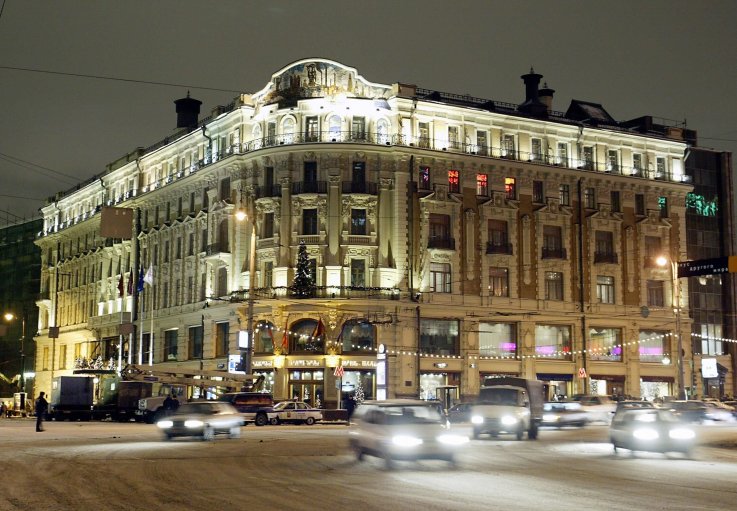 When Trump visited the Soviet Union, the perestroika movement was under way, and Russia under Mikhail Gorbachev was seeking to reform. "Having this megacapitalist come in was just a complete departure from the past," Barnathan says. Back then, Trump was involved with projects not only in New York City but also in Atlantic City and Las Vegas. "Whether he's walking on Wall Street or Red Square, it's impossible to second-guess Trump," Barnathan wrote.
At one point during the interview, Trump asked his then-wife, Ivana, to join them, Barnathan recalls. The Newsweek reporter was six months pregnant and had told Trump she planned to give birth at a particular hospital in New York City. "He got very, very excited because that's where he had his kid. And so he started calling for Ivana to come out and tell me all about what it was like to have a baby in that hospital," she says. "She was in the shower, so he got her out of the shower, and she comes out in this white robe with her hair up in a towel, looking kind of ticked off."
At one point during the interview, Barnathan wrote, Trump pointed to crusted brown paint on the door. "This I can't understand," he said. "But this," he added, gesturing to the view of the Kremlin from his balcony, "is fabulous."