Trump Said He Was Wrong on Inauguration Crowd Size, New Book Says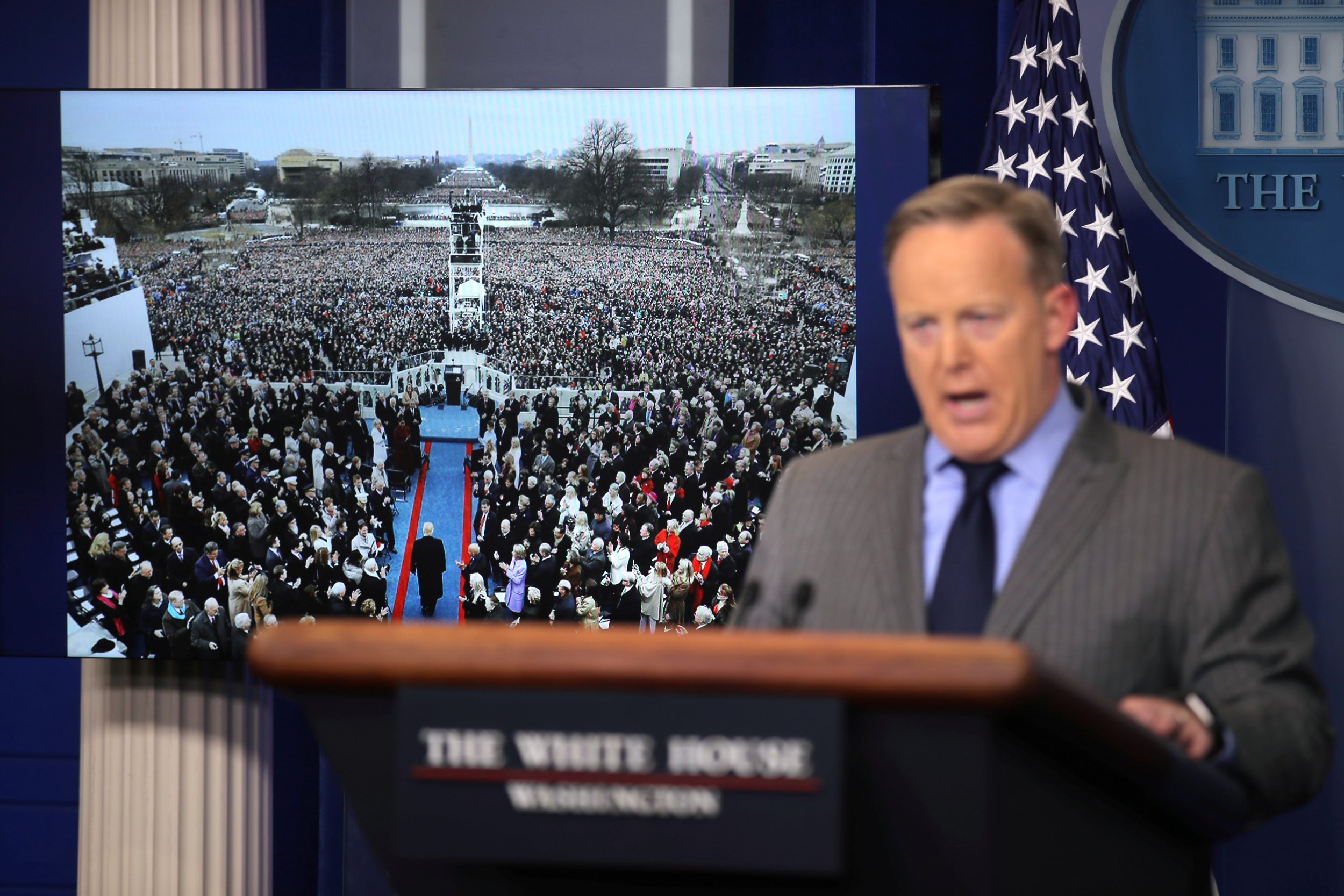 Another book about President Donald Trump's White House is about to drop just weeks after author Michael Wolff's controversial Fire and Fury put the administration on the back foot with its portrait of Machiavellian doings and disunity in the West Wing.
According to Fox News host Howard Kurtz's new book, Media Madness: Donald Trump, the Press, and the War Over the Truth, Trump made "a rare admission" to aides after his inauguration. After he sent former press secretary Sean Spicer out to attack the press about accurate reports that the crowd size was smaller than at President Barack Obama's inauguration, he admitted it might not have been the right decision.
"I shouldn't have done that," Trump told aides, after insisting that Spicer dispute the numbers during his first press conference, Kurtz writes, according to excerpts obtained by The Washington Post.
Counselor to the president Kellyanne Conway had advised Trump not to attack the media for accurately reporting on the crowds, according to Kurtz. "She invoked a line that she often employed when Trump was exercised over some slight," he claims. "'You're really big,' she said. 'That's really small.'"
"You were right," Trump told aides after Spicer lashed out at the media, according to the book, which goes on sale January 29.
Related: On their wedding anniversary, Melania Trump cancels trip with president to Davos
Kurtz is a former columnist for the Post and host of Fox News's Media Buzz, an hourlong show of media analysis and criticism.
Much like Wolff's Fire and Fury: Inside the Trump White House, excerpts from Media Madness describe a chaotic White House where senior officials are regularly kept out of the loop and scramble to respond to and write policy around the president's whims.
Kurtz describes how former chief of staff Reince Priebus was caught off guard and "nobody in the White House quite knew what to do" when last March Trump, without citing any evidence, accused Obama of wiretapping his phone in Manhattan's Trump Tower during the election campaign.
"Once the president had committed to 140 characters, he was not going to back off," Kurtz describes. "Priebus knew the staff would have to fall into line to prove the tweet correct, the opposite of the usual process of vetting proposed pronouncements."
Last September, a court filing by the Justice Department said neither the department nor the FBI has any records to support Trump's claim.
The book also describes how White House aides privately called Trump's actions "Defiance Disorder" because he regularly does the opposite of what his advisers recommend, leaving them to pick up the pieces.
Trump has also repeatedly called on officials to hunt down leakers in his administration, but Kurtz suggests he may be reporters' biggest source, something in line with reports in Wolff's book that said the president frequently called friends outside the White House.
"Trump would talk to so many friends and acquaintances that key information would quickly reach journalists," Kurtz writes in the book.