Trump's Past Comments About Saudi Arabia Resurface After Defending Golf Tour
Donald Trump's previous comments in which he blamed Saudi Arabia for the 9/11 attacks have reemerged after the former president claimed "nobody's gotten to the bottom" of the attack while defending the LIV Golf tour.
Trump was asked about the controversy surrounding the Saudi-backed golf tour, which is due to hold its second event in the U.S. at the former president's golf club in Bedminster, New Jersey, starting Friday.
Trump defended hosting the tournament, which has been accused of being an exercise in "sportswashing," while downplaying any links between the Saudis and 9/11.
"Well, nobody's gotten to the bottom of 9/11, unfortunately, and they should have as to the maniacs that did that horrible thing to our city, to our country, to our world," Trump said. "So nobody's really been there."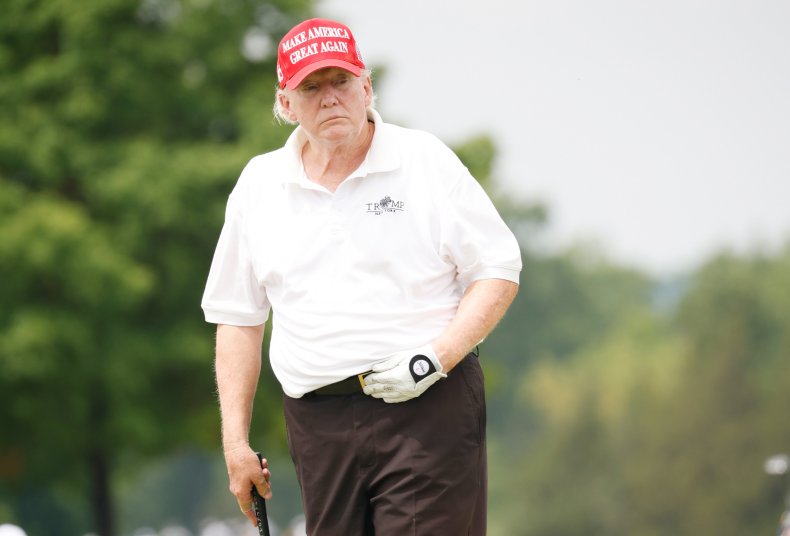 In the wake of Trump's remarks, a number of people have pointed out that the former president has frequently accused Saudi Arabia of orchestrating the 9/11 attacks.
"Who blew up the World Trade Center? It wasn't the Iraqis, it was Saudi—take a look at Saudi Arabia, open the documents," Trump told Fox News in February 2016.
Trump also made similar remarks during a political rally in Bluffton, South Carolina, reported The Intelligencer.
"It wasn't the Iraqis that knocked down the World Trade Center," Trump said. "It wasn't the Iraqis. You will find out who really knocked down the World Trade Center, because they have papers in there that are very secret. You may find it's the Saudis, OK? But you will find out."
Intercept reporter Ken Klippenstein shared an image on Twitter comparing The Intelligencer's February 2016 headline reading "Donald Trump suggested Saudi Arabia was behind 9/11 multiple times Wednesday" with a Daily Beast headline noting Trump's "nobody's gotten to the bottom of 9/11" remarks.
"Before vs. after your son-in-law's investment firm gets $2 billion from the Saudis," Klippenstein wrote, in reference to reports Jared Kushner received a major investment for his private equity firm from a fund led by the Saudi Crown Prince Mohammed bin Salman six months after leaving the White House.
Citizens for Responsibility and Ethics in Washington, a nonpartisan government watchdog, tweeted: "Trump in 2016: Saudi Arabia is responsible for 9/11 and needs to be held accountable. Trump in 2022: It's great how much money Saudi Arabia is paying me."
Families of 9/11 victims have criticized Trump for agreeing to hold the golf event at his club over allegations the Saudi government supported the 2001 terror attacks in New York, a city which Trump has close connections to.
Protests are set to take place near to the Trump National Golf Course in Bedminster on Friday to coincide with the start of the LIV tournament.
Terry Strada, chair of 9/11 Families United, said that Trump "knows full well" that Saudi Arabia was at least partly responsible for the September 11 attacks.
"He did everything in his power to protect the kingdom while in office by reneging on a promise he made to 9/11 families he would declassify FBI reports re: Saudis involvement in 9/11," Strada told CNN.
Fifteen of the 19 terrorists who carried out the 9/11 attacks were Saudi nationals. In 2021, the FBI released previously classified intel which suggested the Saudi government gave support to some of the hijackers, allegations the kingdom denies.
Trump has been contacted for comment.