Trump Says 'Nobody's Gotten to the Bottom of 9/11' at Saudi-Backed LIV Golf
Donald Trump on Thursday praised Saudi Arabia's backing of the LIV Golf tournament at his Bedminster, New Jersey, club. Asked about the families of 9/11 victims who plan to protest the event because of Saudi Arabia's involvement, the former president told an ESPN reporter, "Nobody's gotten to the bottom of 9/11, unfortunately."
Intelligence reports from the CIA and FBI have suggested possible Saudi links to the 2001 attacks on the United States. Fifteen of the 19 hijackers were from Saudi Arabia, as was Osama bin Laden. Saudi Arabia has long denied any link to the attacks.
Some families of 9/11 victims have criticized Trump for hosting the event only a couple of dozen miles away from the former Twin Towers site in Manhattan. Protests are planned for outside of the club during the tournament.
Speaking to ESPN, Trump called those responsible for 9/11 "maniacs" and referred to the attacks as a "horrible thing to our city, to our country, to the world."
"But I can tell you that there are a lot of really great people that are out here today, and we're gonna have a lot of fun, and we're going to celebrate. Money's going to charity—a lot of money's going to charity," he said.
The former president teed off Thursday during a pro-amateur event at Trump National Golf Club Bedminster ahead of the 2022 LIV Golf Invitational Series, which begins Friday. Well-known names expected to participate in the event include Caitlyn Jenner, Charles Barkley and football Hall of Famers Lawrence Taylor and Brian Urlacher.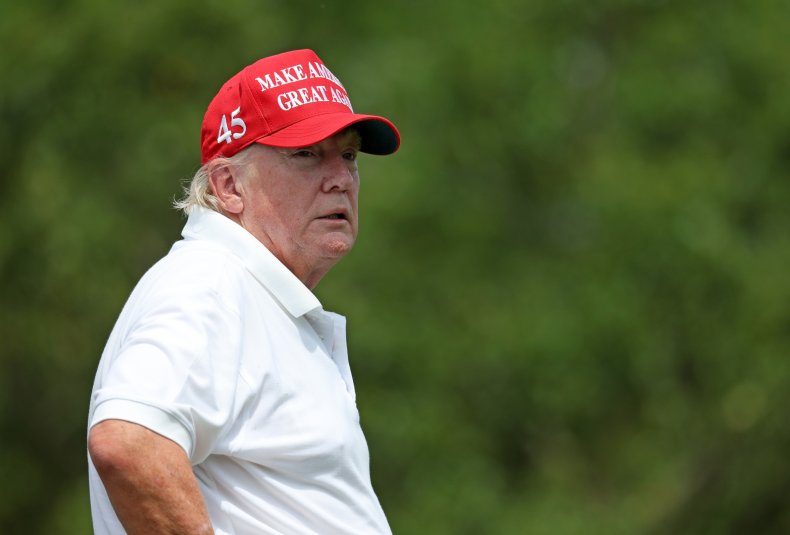 Last month, the PGA Tour suspended 17 players because of their participation in the LIV Golf tour, and the tournament has been criticized by such top golf stars as Tiger Woods and Rory McIlroy. Other top golfers, including Phil Mickelson, Dustin Johnson and Sergio Garcia, are scheduled to participate in the tour.
Trump criticized the PGA as well as the players who stayed out of the LIV tour.
"The PGA was not loved by a lot of the players, as you know, for a long time. Now they have an alternative, and nobody would have ever known there was going to be a gold rush like this," Trump told ESPN.
He added, "Remember this, if there's a merger, the people that didn't come will never get anything except a thank-you from the people who took advantage of them."
LIV Golf is backed by the Public Investment Fund, the sovereign wealth fund of Saudi Arabia. Along with families of 9/11 victims protesting LIV, activists have condemned the tournament because of accusations of human rights abuses in Saudi Arabia, including allegations that the royal family and the Saudi government were involved in the 2018 killing of journalist Jamal Khashoggi.
Trump, however, defended LIV Golf's financial supporters on Thursday.
"I've known these people for a long time in Saudi Arabia. They've been friends of mine for a long time," Trump told ESPN. "They've invested in many American companies, they own big percentages of many, many American companies, and frankly what they're doing for golf is so great."
Newsweek reached out to a Trump spokesperson for comment.
Update 7/28/22, 1:25 p.m. ET: This story has been updated to include more background as well as comments made by Trump to ESPN.